By Cary Randolph Fuller (@caryrandolph)
For the first eight years and five marathons of my running habit, shoes weren't a priority—I ran in various Asics Gel models with a heel-to-toe strike and never suffered a single injury.  Then lightweight trainers happened, specifically adidas' Adizero Feather. Suddenly, eight-minute miles became 6:30, my shifted to mid-foot, and my entire perspective on running against the clock changed. But with speed and newfound agility came injuries—a broken metatarsal, a nasty shin splint. I can live with pain and in heeling discovered yoga and cycling, but about a year after first slipping into those Adizeros and out of the simple "run for fun" mindset: I signed up for an ultramarathon. What happened? Certainly not the shoes. A moment where the habit became a passion and running faster became a need.
The Can Lake 50 Ultramarathon takes place each October and traces a single 50-mile loop around upstate New York's Canandaigua Lake (one of the area's famous Finger Lakes). It's an all-road course peppered with weekend homes and the occasional horse farm. Not one bit of it is flat. This year, a record 93 runners entered the race. 90 finished, myself included.
Gearing up for Race Day, one of my primary concerns was, of course, what to wear. I knew about all the extra gear that ultra runners take with them: vests, gaiters, tape, Camelbak packs, head lamps, visors, gloves, extra socks and singlets; and I ignored all of it. I wore Nike Pro pants cut just below the knee, a Nike sport bra, a Lululemon Swiftly Tech long-sleeved shirt for the cold start and, below it, a Ralph Lauren white cotton tank that last made an appearance at a cocktail party. Around my waist, I fastened one of those nerdy fuel belts that Central Park runners prefer at Saturday morning 10-Ks. Counting the Camelbaks at the starting line that morning, I felt both woefully unprepared and rogue, unencumbered in a sexy way, if anything about ultra racing can be sexy.
My shoes, a brand new pair of adidas' Energy Boost, were the result of weeks of hemming and hawing. I'd run my last marathon in Nike's Lunaracer and swore never again; I wanted to believe the hype surrounding the Energy Boost (namely that it alone can make a runner faster). Ultimately, the shoe provided all the cushioning and stability of a standard running shoe without much weight, and its sock-like vamp and toe box were comfortable, flexible. Once on, I didn't think about them much. Along for the ride with my support team was an even newer pair of adidas Adios Boost, should I need variety mid-race. Things I forgot: sunglasses, sunscreen and a health insurance card.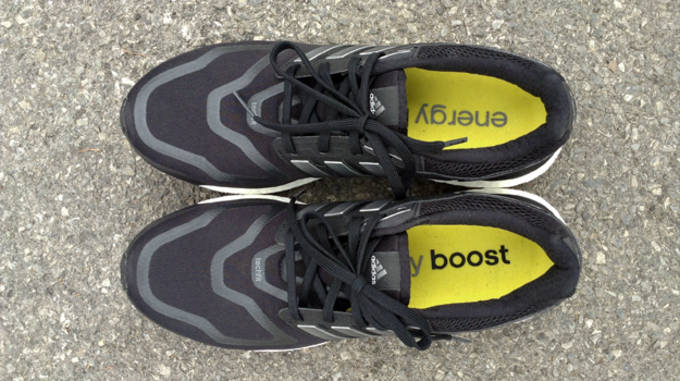 adidas' Adios Boost might be the perfect shoe for a mid-distance, mid-foot-striking runner who craves both speed and comfort. Most lightweight shoes lack support and cushioning, but the Adios has both plus a patented Quickstrike outsole to add flexibility, all this despite barely registering on the scale at 6.6 ounces. Its cushioning isn't exactly on the level of a Posture-Pedic mattress, but compared to a racing flat or a Vibram barefoot shoe (or, you know, your bare feet), it's the Holy Grail.
In a timed 5- or 10-K race, this shoe could win medals. 10-K, however, might be its limit. After eight miles on a test run, the soles of my feet started to burn and I found myself striking further and further back on my feet to compensate. A few days later at the Can Lake 50-Mile Ultramarathon, I swapped them out after just mile four to put on the cushier Energy Boost. Yes, the latter feels heavier and clunkier (despite all its hype, which practically promises to make every runner faster by virtue of its price tag), but with 46 miles left to cover, I wanted all the cushioning I could get.
In recovery, however, I switched back to the Adios Boost immediately, a testament to its strength as a mid-distance champion. It looks like a basic, no-nonsense running shoe. What it lacks the promise of the Energy Boost, it more than makes up for in performance. It just might be the perfect everyday running shoe, provided you don't plan on crushing ultras every day.
So many things surprised me about my first 50-mile ultra: the speed with which time passed, the hills' steep inclines, the number of spectators, my own resolve to finish. Looking back now, I cannot remember much pain, but I do remember the exhilaration I felt watching the sun rise over the lake at mile five and how it seemed to have moved so high in the sky when I reached the summit of the infamous Bopple Hill. Crossing the marathon mile marker after four and a half hours was weirdly uneventful. I glanced down, saw 26.2 spray-painted on the road, and kept running without pause. My appetite tended toward salt and chocolate; I ate a lot of fun-size Snickers and Reese's peanut butter cups. Every runner who came within earshot gave and received shouts of encouragement. We were each alone and all in it together, but mostly, we were alone. I listened to a mix of music: Rob Zombie, Richard Wagner, a lot of Depeche Mode and George Strait. I listened to leaves crunch and hard breathing and cars drive by.
The last mile was the longest. We reached a road's dead end, veered left and ran across a vacant lot before turning back onto the college campus drive that served as our predawn start. I could barely lift my feet but couldn't stop to walk. It was now 3:36 in the afternoon, and I had been running for almost ten hours. I rounded a corner, waved to my parents, who stood off to the side of the finishers' chute. They had driven from southwest Missouri a couple days before to help me race. Thinking of the and how far they'd come to see me come so far, especially my dad, who had never seen me race till then, was ultimately what kept me going.
I crossed the finish line. It's hard to know what to do next. Walk around some, check in with a medic, get a brief massage, look around wildly, disoriented. In one second, it's all over, but the pain is just beginning. My body was in shock. I became wildly fearful that my organs were shutting down. I remember reaching around back, feeling for my kidneys. Were they working? Was everything working, or had I just accidentally killed myself? For a day or so, I couldn't keep food down. My mother shook her head, at once proud of her daughter and amazed at her stupidity: This is what you get, she said. Think you'll do it again?
That day, no, I never wanted to do it again. And six weeks later, it's hard to get outside and run with the same verve and purpose that I had pre-ultra. But it's there, temporarily dormant, the desire to try again. For one thing, I only placed second in my age group and ninth overall among women. I know I can do better. The only way to prove that is to run the Can Lake 50 again in 2014.
RELATED: adidas Adios Boost vs. Nike Zoom Streak 3: Comparing the Two Most Popular Shoes Worn in the 2013 NYC Marathon
RELATED: The First 100 Shoes to Cross the NYC Marathon Finish