Denver star running back Knowshon Moreno is back to work preparing for the Broncos' divisional playoff game against the San Diego Chargers this weekend.
During Denver's first-round bye, we got a chance to sit down with the 5-year pro on the set of the upcoming Reebok ZQUICK commercial for a quick Q&A regarding a brand new collection of running sneakers from Reebok, his training habits, as well as his thoughts on the Broncos winning it all this year.
Interview by Gurvinder Singh Gandu / @gurvindersg
SR: To start off, how do the new Reebok ZQUICK's feel on your feet?
KM: They feel good man. They're really comfortable and snug to my feet, so they feel pretty good.
Have you had much time to test them out?
Actually, I just got them today. So far so good though. You'll have to check them out yourself.
Indeed. Can you tell us a bit about the ZQUICK collection?
It's a play on tires. They're really snug to your feet like I said before. They're flexible, lightweight; they're pretty cool. Great concept.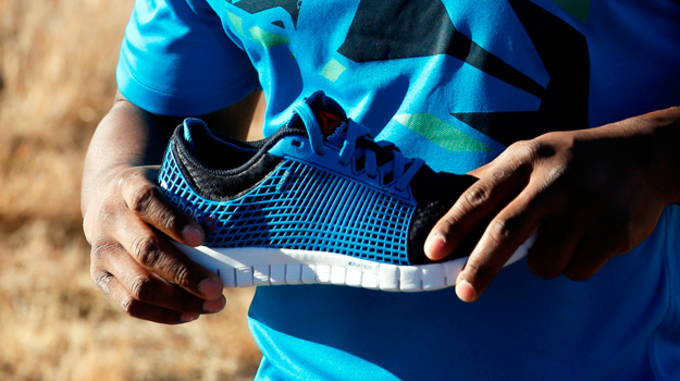 I know you've only had them for a day so far, but how do they compare to training sneakers you've worn in the past?
They're definitely way lighter and comfortable. That's the main thing; when you're running, you want to be comfortable. That's the bottom line.
The inspiration behind ZQUICK is fast sports cars, like that Lambo parked outside for the commercial. Are you a big car guy yourself?
A little bit, not too much (laughs).
What type of car do you drive?
Camaro.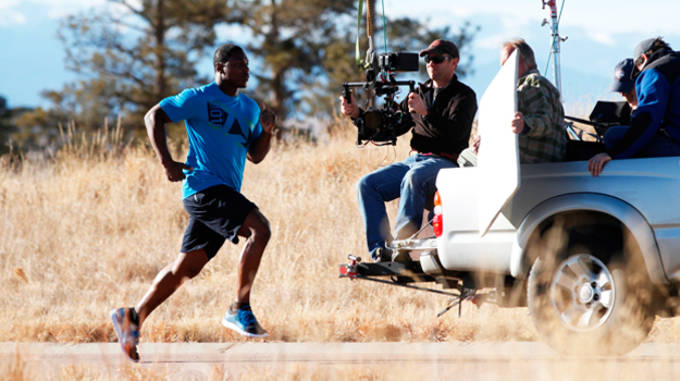 You've been with Reebok since your rookie year back in '09. How's your relationship with the brand?
Great man, great. You know, every year they're coming up with new things, new technology, you know what I mean. The people treat you good so definitely it's been a pleasure.
Do you have a favorite Reebok shoe of all time?
They've got so many shoes, you know what I mean. I like the retro ones—the old school ones, but these one's [points to the ZQUICK] are pretty nice also.
When will we see a Knowshon Moreno signature shoe from Reebok?
(Laughs) That's a great question to ask them.
You ready for one though?
Oh yeah, for sure!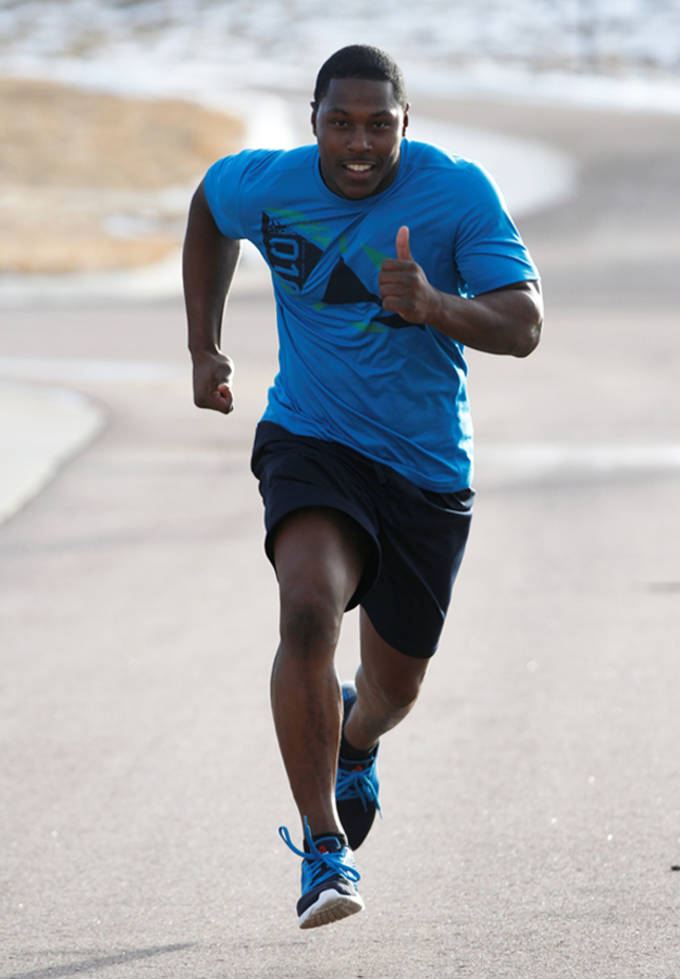 What's the most important thing you look for when choosing running gear?
For me it's all about comfort, you know what I mean; they've got to be comfortable. You don't want to be running in shoes that hurt your feet.
Right. So we know you got into Crossfit a few years back. Do you still implement it into your everyday training regimen?
Not right now. I might try to get back to it at some point, but not right now. I'm just keeping it regular pretty much.
When you were involved with Crossfit, do you think it helped your performance on the field?
I think so, yeah. It's different training though, you know what I mean. It helped out though; it was some good stuff.
Getting back to the field, you're coming off arguably the best statistical regular season of your career so far. What do you attribute the success to?
I mean, just the hard work that we all put in throughout the offseason. Me and my whole team—staff—um just the hard work, you know what I mean. And it's not finished yet, so...
A lot of people—myself included—believe you were a Pro Bowl snub this year. Your thoughts on not getting picked?
It is what it is, you know what I mean—I'm not really worried about that. We wanna be in the big show at the end of the season, not the Pro Bowl. So we're working towards that.
"It's a one-game elimination kind of thing so anyone can win it. So it's going to be a tough one. We'll see what happens."
What's it like playing with a legendary quarterback like Peyton Manning?
It's pretty cool man, he's a professional. The guy works so hard, so it's definitely an honor and privilege for sure.
Do you feel like he opens things up for you on the field?
Yeah. He helps everyone out, you know what I mean. Just his ability that he knows the game so well and how long he's been playing, you know. He helps out everyone and it opens up a lot of things.
The Broncos finished off a tremendous regular season; one of the best in team history. How do you feel about your team's chances of winning it all this year?
Who knows man, we'll have to see when we get there. It's a one-game elimination kind of thing so anyone can win it. So it's going to be a tough one. We'll see what happens.
Lastly, football's obviously a team game, but what would winning a championship mean to you on an individual level?
That'd be awesome, you know what I mean. It would be awesome to get a couple of the other guys on the team rings, you know, the vets; the older guys. So it would be awesome, but you never know.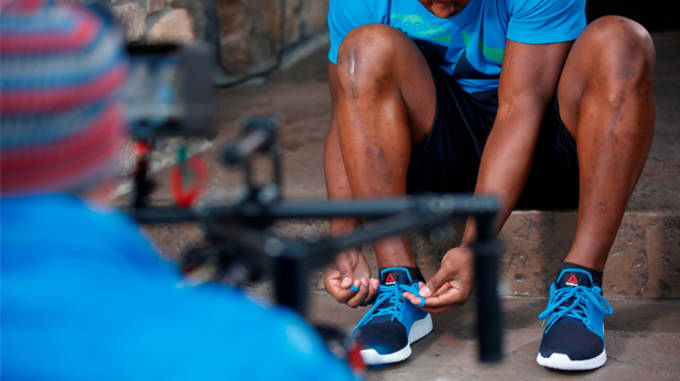 With a price tag of $90, the Reebok ZQUICK will hit retailers in early February. Look for the commercial to air following the Super Bowl. Find out more on the ZQUICK technology here.
RELATED: Reebok Announces ZQUICK Footwear Collection for 2014
RELATED: INTERVIEW: John Wall Introduces the adidas CrazyQuick