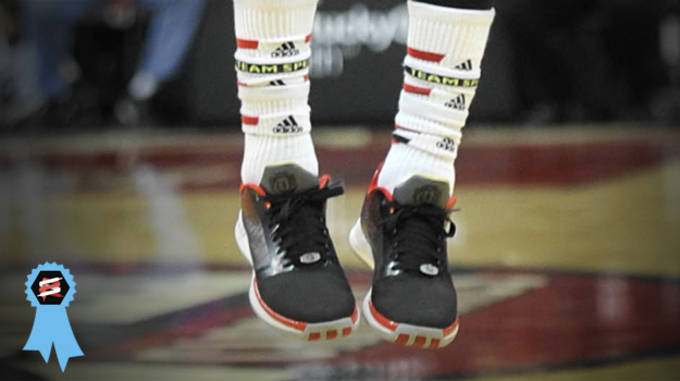 College Basketball was in full effect throughout the entire day of Tuesday. Number 2 Michigan State managed to defeat number 1 ranked Kentucky 78-74 behind a great performance from sophomore Gary Harris. There was also a colossal showdown between Duke and Kansas featuring freshman stars Jabari Parker and Andrew Wiggins. Wiggins got the best of Parker, as Kansas pulled out a victory over the Blue Devils with Wiggins dropping 22 points and 10 boards in the win.
It was a relatively quiet day in the NBA with just four games on the schedule. LeBron James dominated with 33 points in a Miami rout of the Milwaukee Bucks. Stephen Curry dropped a relatively easy 25 points and 8 assists as the Golden State Warriors took care of the Detroit Pistons and Jordan Hill had a solid night for the Lakers in his first start of the season. The Lakers went on to win 116-95 over the New Orleans Pelicans. Here are the Shoes That Won Last Night.
Rafael Canton is a freelance writer from Queens, NY and contributor to Sneaker Report. Anytime there is a conversation about the NBA, music, or nutella, he can be found in the thick of the discussion. He can be found on Twitter @RafelitoC7.
RELATED: The Shoes That Won Last Night: Houston Rockets Win in Double Overtime, Tampa Bay Buccaneers End Winless Drought
RELATED: The Shoes That Won Last Night: Peyton Manning and Drew Brees Lead Their Teams to Victories, Kevin Durant Leads Thunder to Overtime Win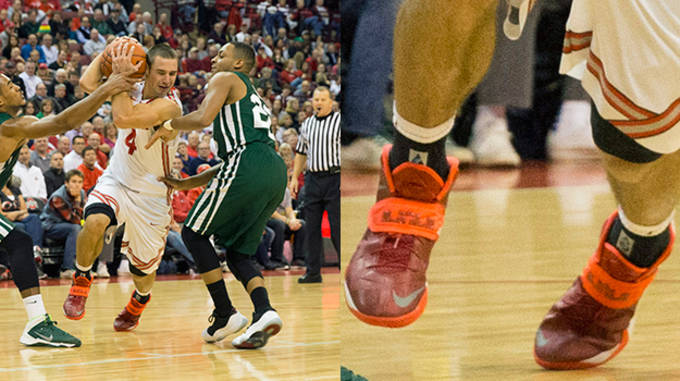 Shoe: Nike Zoom Soldier VII
Player: Aaron Craft
Game: Ohio State Buckeyes vs. Ohio Bobcats
Aaron Craft put up one of the more intriguing stat lines you'll see during the college season. The Ohio State senior had 18 points while having 14 of those points come from the charity stripe. Craft attempted a total of 18 free throws in a sloppy slugfest of a game. In the game, both teams combined for 55 fouls and 72 free throws so this was pretty much a free throw shooting competition across the board. Craft also contributed at other parts of the game with 4 rebounds, 4 assists, and 3 steals in Ohio State's 79-69 win.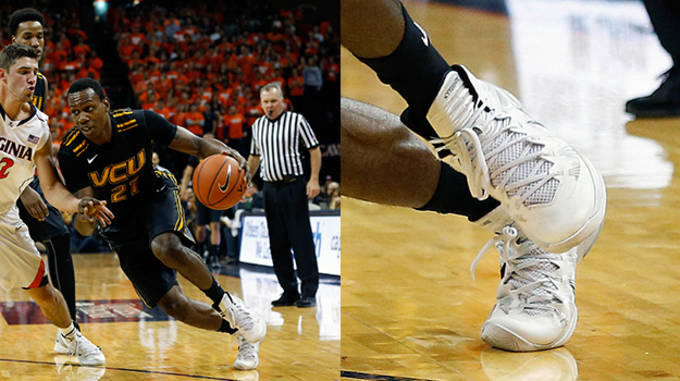 Shoe: Nike Hyperdunk 2013
Player: Treveon Graham
Game: Virginia Commonwealth Rams vs. Virginia Cavaliers
Where would the Rams be without Treveon Graham? The junior guard was the only Ram to score in double figures for Virginia Commonwealth and hit the game-winning three-pointer with 1.1 seconds as they barely escaped 59-56 with a tough road victory against Virginia. Graham finished the game with 22 points, 3 rebounds, and 2 steals in the three-point victory giving the Rams their second victory of the early season. A clutch star is born right in front of our eyes in this Virginia colleges battle.
$110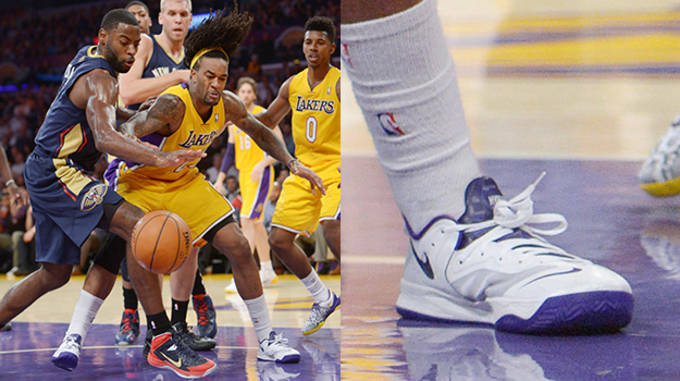 Shoe: Nike Zoom Hyperfuse 2012 Low
Player: Jordan Hill
Game: Los Angeles Lakers vs. New Orleans Pelicans
The Los Angeles Lakers are somehow finding a way to stay afloat despite missing Kobe Bryant and Steve Nash, and having Pau Gasol playing relatively ineffective basketball. Part of that success can be attributed to Jordan Hill. Hill got the start last night and contributed with 21 points, 11 rebounds, and 2 steals in the Lakers 116-95 rout of the New Orleans Pelicans. Hill had 2 offensive rebounds and has been a beast on the offensive glass as he is second in the NBA in offensive rebounding percentage (18 percent).
Shoe: adidas Rose 773 2
Player: Caris LeVert
Game: Michigan Wolverines vs. South Carolina State Bulldogs
After a disappointing loss in the championship game of the Final Four last year, Michigan is back and looking to make some noise again. Caris LeVert should be a big factor in deciding where the Wolverines end up when all is said and done. The sophomore guard barely played last year, but is receiving ample playing time with Tim Hardaway, Jr. and Trey Burke in the NBA now. LeVert finished with 24 points, 3 rebounds, 4 assists, and 2 blocks in Michigan's 93-59 victory over the Bulldogs. Expect a big year as LeVert develops as a starter and wears the Rose 773 2.
Shoe: adidas Rose 773 2
Player: Andrew Wiggins
Game: Kansas Jayhawks vs. Duke Blue Devils
Despite trailing for most of their contest against the Duke Blue Devils, Andrew Wiggins and the Kansas Jayhawks finally put it all together late. The Jayhawks weren't totally in sync, but later on Andrew Wiggins made some key buckets as the Jayhawks pulled away 94-83 to win their second game of the season. Wiggins had a double-double with 22 points and 10 rebounds in the victory and rebounded from early foul trouble with some crucial baskets including an And-1 that led to fellow freshman phenom Jabari Parker fouling out for Duke.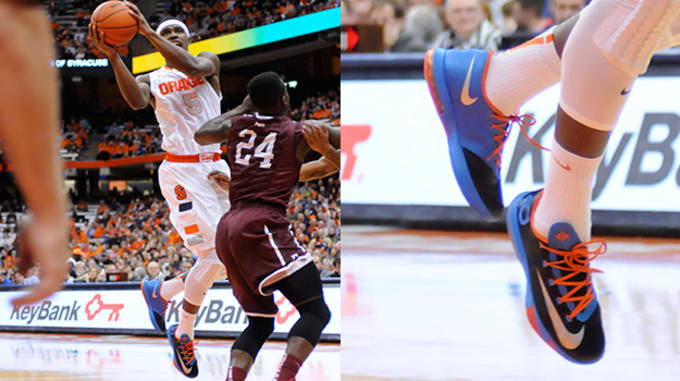 Shoe: Nike Zoom KD VI
Player: C.J. Fair
Game: Syracuse Orange vs. Fordham Rams
The Syracuse Orange have lost a few players to the NBA over the years, but it seems to never change anything as players just step up into new roles every year. C.J. Fair is now a senior and has gradually grown into a role as the best player on the Orange in his senior year. The Orange took care of Fordham building a 25-point lead at Halftime and holding on to a final of 89-74 over the Rams. Fair scored a team-high 25 points and also had 6 rebounds while wearing the Zoom KD VI's in the victory for number 9 ranked Syracuse.
$130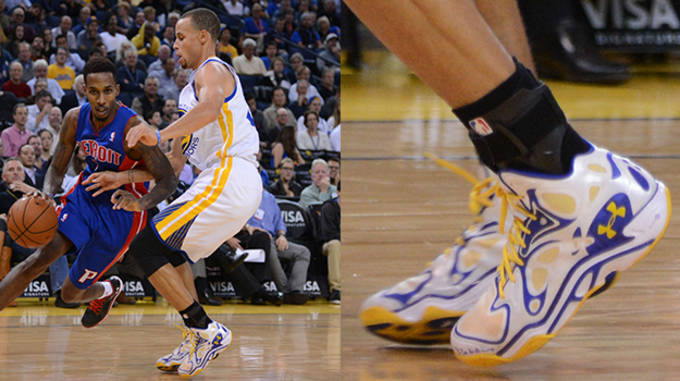 Shoe: Under Armour UA Micro G® Anatomix Spawn
Player: Stephen Curry
Game: Golden State Warriors vs. Detroit Pistons
Does Steph Curry do anything wrong in his Anatomix Spawn? He might've had a recent ankle injury, but ankle shmankle, Curry is arguably the best knockdown shooter today in the NBA and might be the best of all time. Curry had 25 points and 8 assists as the Golden State Warriors took care of the Detroit Pistons 113-95. Curry hit 2 threes and made all of his 9 free throw attempts showing the complete aspect of his game. He knocks down shots and is getting his teammates involved on the offensive end. Now if only he would defend a little better.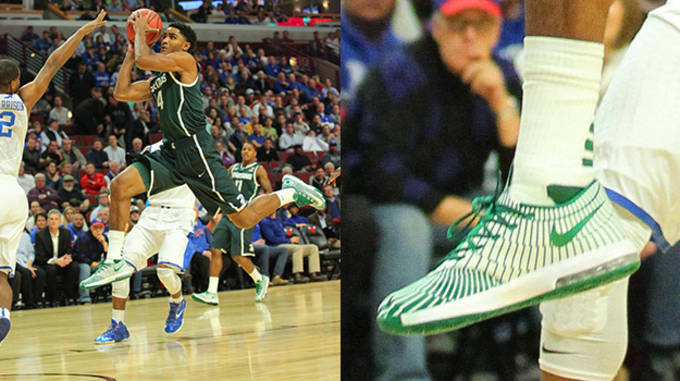 Shoe: Nike Zoom KD VI
Player: Gary Harris
Game: Michigan State Spartans vs. Kentucky Wildcats
Kentucky is a dominant team with their deep roster and also the featured freshmen star Julius Randle. It makes sense why they were ranked #1, but that had to have given some motivation tot he Michigan State Spartans. The Spartans managed to defeat the Wildcats 78-74 in a close contest and the Spartans got a great performance from freshman Gary Harris. Harris had 20 points and 3 steals as Michigan State managed to hold on after building a double digit lead in the first half of the game.
$130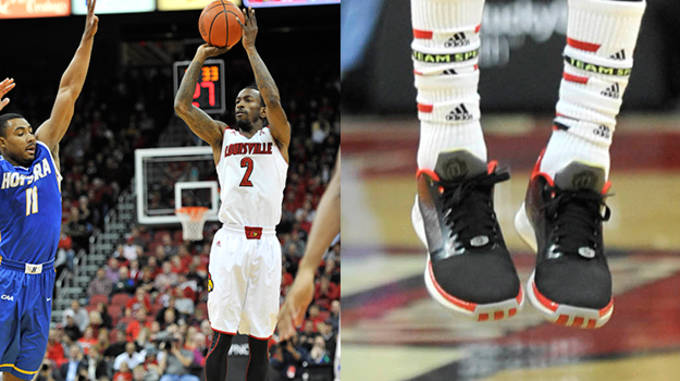 Shoe: adidas D Rose 3
Player: Russ Smith
Game: Louisville Cardinals vs. Hofstra Pride
Russ Smith played the role of Electric Thunder for the Louisville Cardinals last night. The Cardinals won 97-69 behind 30 points from Smith who was the hot hand throughout the game. Smith knocked down 5 triples in the contest and showed off a solid playmaking ability with 5 assists as well in the game. The #3 nationally ranked Cardinals will bring the pain for any and all comers if Smith continues his offensive exhibition.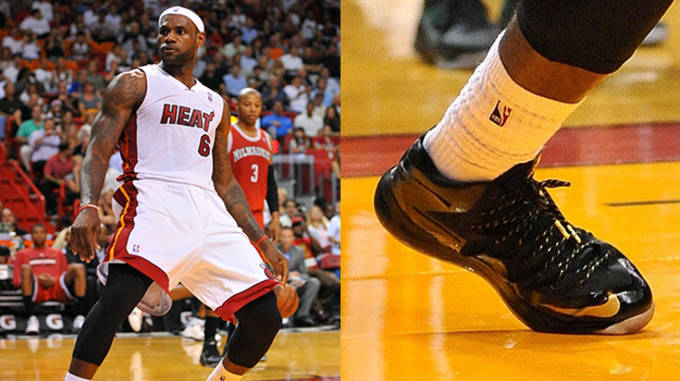 Shoe: Nike LeBron X
Player: LeBron James
Game: Miami Heat vs. Milwaukee Bucks
The King always has his castle to rule. LeBron James and the Miami Heat have struggled somewhat early this season, but with an easy game against the Milwaukee Bucks at home, Miami took care of business. King James had 33 points, 3 rebounds, and 2 assists leading the Heat to an easy 118-95 victory over the hapless Bucks. James had it going from long distance with 4 treys making the game a laugher by the third quarter as the Heat look to reaffirm their dominance in the NBA.
$120
Rafael Canton is a freelance writer from Queens, NY and contributor to Sneaker Report. Anytime there is a conversation about the NBA, music, or nutella, he can be found in the thick of the discussion. He can be found on Twitter @RafelitoC7.
RELATED: The Shoes That Won Last Night: Houston Rockets Win in Double Overtime, Tampa Bay Buccaneers End Winless Drought
RELATED: The Shoes That Won Last Night: Peyton Manning and Drew Brees Lead Their Teams to Victories, Kevin Durant Leads Thunder to Overtime Win