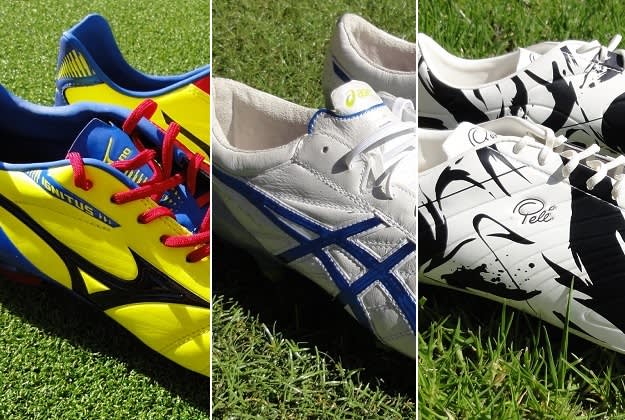 We all know that adidas, Nike and Puma are the 3 major players in the boot market. We are continually inundated with visually enhanced content and news about new players wearing the boots, and it all leads to the conclusion that we should only be choosing boots from these brands. It gives off the impression that their boots are the best performing on the market. But that isn't very accurate, and there are plenty of boot releases from other brands that offer much better value for money and top class performance.
Here, we bring you a breakdown of those boots and give you some options to consider if you are in need of a new pair. This is our list of the 10 Best Soccer Cleats From Niche Brands Available Now.
Bryan Byrne is the founder of SoccerCleats101. Got a question about boots? Hit up Bryan on Twitter.
RELATED: 5 adidas Cleats vs 5 Nike Cleats: Breaking Down the Competition
RELATED: This Weekend in Soccer: Puma Boots Take the Spotlight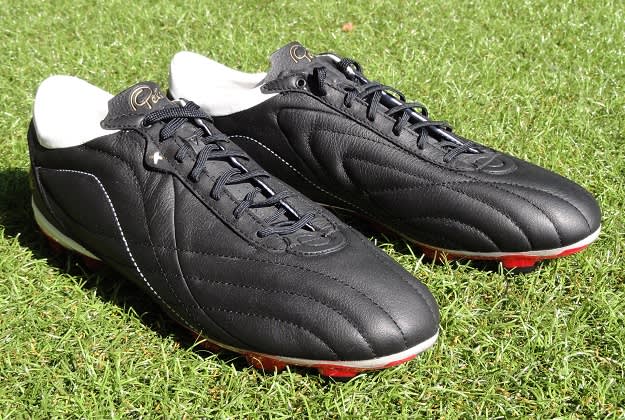 Image via SoccerCleats101
No. 10 – Pele 1962 Redeemer
The Redeemer is one of the bulkier boots on this list, but it offers positives in pretty much every other department and deserves a spot on this list. Visually, the offer a very classic look and feel, with a primary black upper bring treated to some luxuries with white dealing around the heel lining and an artistic design on the soleplate.
Performance wise, they work out very well, although the 11oz weight leaves them feeling slightly top heavy on your feet. The Calfskin upper is slightly thicker than other uppers currently on the market, so it does take a few wears for it to truly mold to your foot shape. Where they really excel is in the comfort they provide. There is plenty of padding and the additional stitching along the forefoot creates more flexibility for the upper to really, really mold to your foot shape.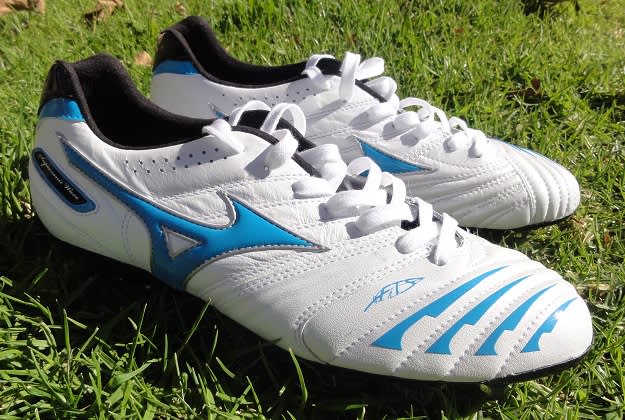 Image via SoccerCleats101
No. 9 – Mizuno Supersonic Wave
If Mizuno boots were more readily available in the US, these boots would sit so much higher. Either way, they deserve a spot and offer players a glimpse into the quality that Mizuno possess.
The inclusion of leather upper and a simple feather touch system (FTS) that sits on the side of the boot provides players with a very genuine, modern release. The FTS is designed to offer players closer control on the ball. The stitching through the forefoot is angled in a very unusual fashion, with the PU design printed through the panels. This gives the upper an extra level of cushioning that combines with the slightly grippy PU to produce closer ball control.
Out of the box, this is the type of boot that will make your jaw drop! Designed for touch, they perform very effectively and leave you content to have them on your feet.
Image via SoccerCleats101
No. 8 – Diadora DD-Evoluzione 2
Diadora didn't do a great deal different with the Evoluzione 2 compared to the original release, but the minor modifications they made turned this boot into an instant, overnight classic. Given that there is no real technology in the boot, these could be considered a heritage release. Our senses immediately tell us that couldn't be so thanks to the visuals, but the use of a K-Leather upper tells us otherwise.
The real change that improves performance is the use of some texture along the forefoot. Nothing has been added to the boot, instead Diadora has basically punched a design on and it creates a ridged feel to the touch. This offers a little extra grip on the ball without taking away from natural touch. The use of a bladed soleplate also makes them an ideal boot for use on firm ground surfaces through the winter months.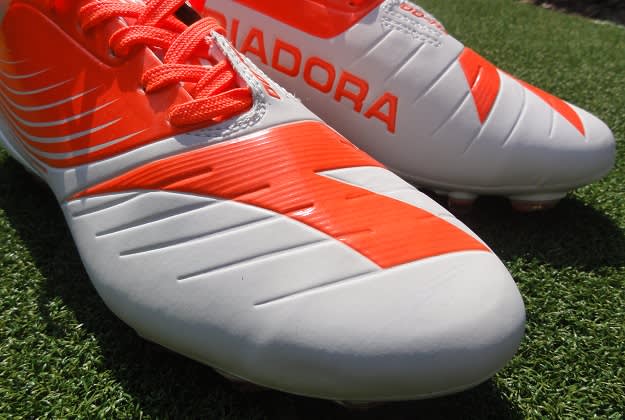 Image via SoccerCleats101
No. 7 – Diadora DD-NA
We haven't seen Diadora tackle the lightweight market in the past, with the DD-NA being their first attempt. What they have produced is highly impressive and it leaves you wondering why they haven't taken this approach with releases before. In truth, we haven't required for Diadora to reach this far outside of their box of tricks. What they do with boots, they do well – so this was a surprise release when announced.
In a nutshell, this is a 6.4oz lightweight release that features a thin, soft, microfiber upper, plenty of padding through the heel and Diadora's patented NET Breathing System in the soleplate. When it is all pieced together, it produces a very effective speed boot that is sure to suit the needs of any Vapor or adiZero fan out there. This is the type of release that leaves you feeling like you are getting what you pay for – quality and performance.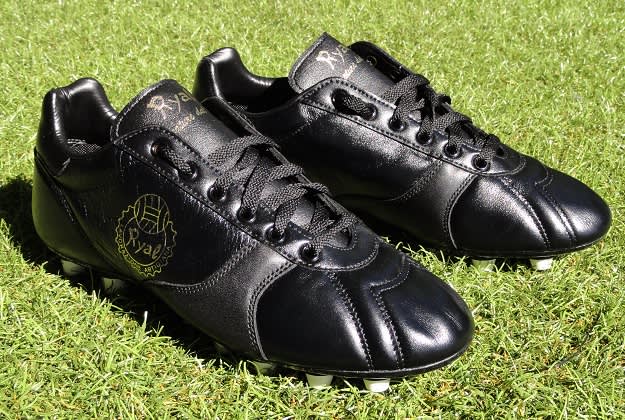 Image via SoccerCleats101
No. 6 – Ryal La Storia
Ryal are the smallest brand on this list, but their presence is definitely felt. The La Storia is about as classic as it gets, offering players modern performance with a very traditional design. One look and you find yourself dreaming of soccer back in the 60s or 70s, wondering which players would have excelled with a pair of these on their feet.
There is no technology included on this one that separated them from other releases on the market. They are simply a classic release that provides comfort and q clean, consistent in-game performance. The K-leather upper is super soft and sure to impress the most hard-core modernist fans. It is all about the mental transformation provided by these boots – they take you back to another era and allow you to dream of days gone by.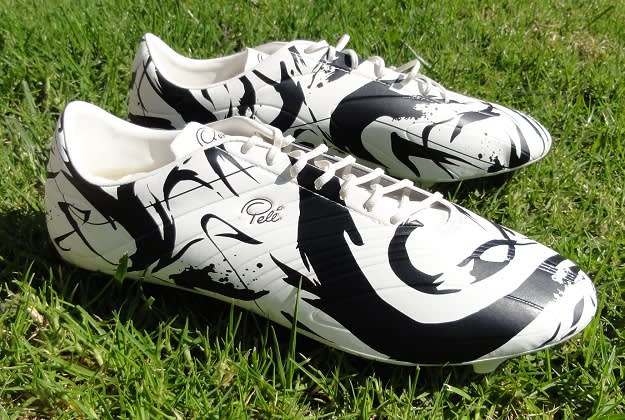 Image via SoccerCleats101
No. 5 – Pele Trinity 3E
When Pele Sports announced they were releasing a new boot that featured a tri-blade heel configuration, we all questioned just exactly what they were trying to prove. Well, that configuration turned out to be a tremendous hit and players continue to purchase Trinity 3E releases.
Pele Sports has developed a synthetic upper called Symbioskin specifically for this release. Basically, it is a low density, tri-laminate material. Because the material is so thin, you get great feel on the ball. Then there is the weight of the boots - a mere 5.6oz! That makes them one of the lightest boots currently on the market. And it is all finished off with that unique stud configuration, which completely goes against the norm and our expectations. Feedback from players has been positive, with the muscle memory training design offering players a new type of improved performance.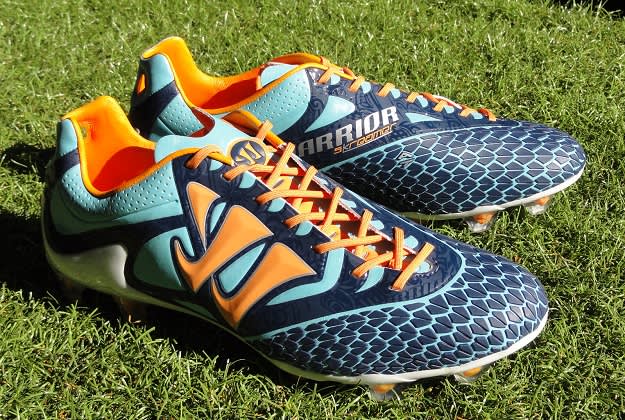 Image via SoccerCleats101
No. 4 – Warrior Skreamer
Warrior hit the boot market earlier this year with a bang and a lot of advertising campaigns. Where many companies fail is in promoting their boots and backing up the talk with performance. In the months since the Warrior Skreamers release, we have learned they have what it takes to tackle the market head on.
In game, these boots match their name and provide players with a "Skreamer" on their feet. They are essentially a hybrid release thanks to their 7.4oz weight, but many would regard them as being a power because of the ArrowHead Forefoot Vamp. It is intended to provide accuracy and power, constructed using an angled PU injection mold with rebound tech for added swerve. It feels great for striking a ball and adds a new option for players who miss the old school, currently obsolete, Adidas Predator Zone.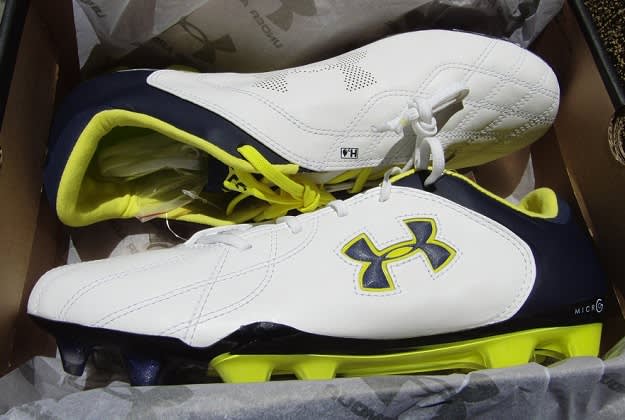 Image via SoccerCleats101
No. 3 – Under Armour Hydrastrike Pro II
A company that has been churning out some quality releases over the past few years is Under Armour. The American brand is a relative newcomer but they have taken their knowledge of boot production from other top sports and transferred it to the soccer market. The results are impressive and they continue to become a top player.
With all of their boots, comfort seems to be the area where they excel. The use of a UA 4D foam insert really sets them apart and provides fantastic cushion through play. Under Armour has worked to create an exclusive moisture-shedding H2Oi K-Leather upper that offers bone-dry touch, precision, and power on the ball. When water contacts the surface of the Hydrastrike II, it immediately seems to dissipate off the boot. A final highlight of this range is the price point, with UA pricing them around $120 – one of the best economical options there is on the market.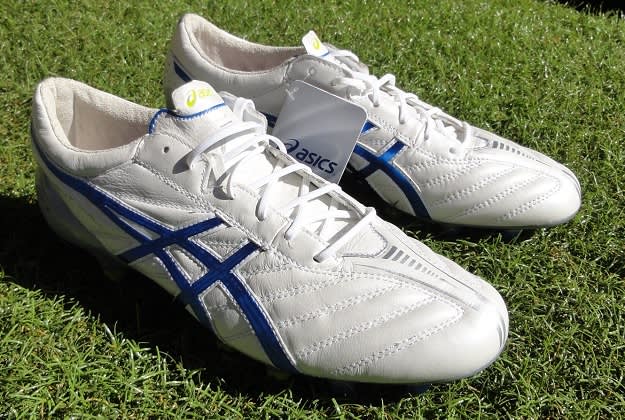 Image via SoccerCleats101
No. 2 – Asics DS Light X-Fly
What a surprise package from Asics. Before testing the DS Light X-Fly, I actually turned down several opportunities to get a pair. Finally, I accepted and now they stand in my top 10 boots of all time! This is a boot that oozes quality and won't disappoint any player that wears them.
Asics has elevated their status by keeping things simple and producing a comfortable, efficient boot in a very stable package. There is nothing complicated about these but that is the beauty. When you wear them, they just feel so natural on your feet, almost like an extension of your foot and that is exactly how any player wants their boots to feel. What makes them even more impressive is the fact they weigh in at an ultra-lightweight 7.2oz.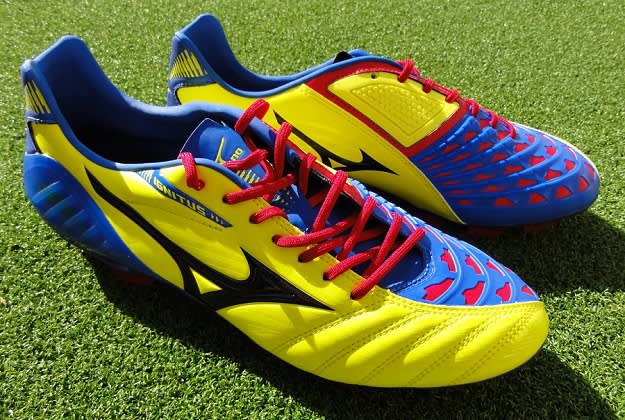 Image via SoccerCleats101
No. 1 – Mizuno Wave Ignitus 3
In terms of the overall market, I would actually rate the Wave Ignitus 3 close to the very top. There really aren't many boots that perform as well as they do and it is a true testament to the abilities Mizuno have at their disposal. Unfortunately, these boots are not sold directly in the US, so it takes some extra work to claim a pair. Trust me when I say it is time well spent!
The Wave Ignitus is one of the last remaining power boots on the market and they feature plenty of technology through the upper. Each individual segment integrates easily with the overall performance of the boot and feels natural when you play with the boots. Case in point is the fin shaped technical panel called Tatekaiten (Japanese for top spin). When the strategically placed fins make contact and rub against the ball during the kicking motion, they force the ball to rotate with 17% increased ball revolutions. This in turn effects pace and makes your shots just a little trickier for goalkeepers!