Sunday was a huge day for sports across the board. The NFL rolled into Week 4, while MLB action saw a rare no hitter. Elsewhere, the WNBA Finals were officially set and four teams met in Barclays Premier League match ups.
One of the biggest stories coming out of Sunday's NFL Week 4 games was Peyton Manning's dominant performance as the Denver Broncos became one of just four undefeated teams in the league. Manning threw for 300+ yards and connected on four touchdowns to lead Denver to a massive 52-20 win over the Eagles.
On the MLB diamond, Henderson Alvarez of the Miami Marlins completed a walk-off no hitter, striking out four batters in the process. Find out more about the Nike Huarache cleats worn by Alvarez in the slides above.
The WNBA Finals begin next Sunday, and now we know who will meet for the championship. The Minnesota Lynx and Atlanta Dream defeated the Phoenix Mercury and Indiana Fever, respectively. For the Lynx, it's their third straight WNBA Finals appearance, and Atlanta made it to the finals in 2010 and 2011.
In the Barclays Premier League, Liverpool downed Sunderland 3-1 on the back of two goals from Luis Saurez. Find out which cleats he chose in the gallery above.
Riley Jones is a freelance writer from Charlottesville, VA and contributor to Sneaker Report. With an unshakable affinity for basketball and all things '90s, he can be found on Twitter @rchrstphr.
RELATED: The Shoes That Won Last Night: Andy Pettitte Ends His Career in Under Armour PE's, Tajh Boyd Explodes for Clemson
RELATED: The Shoes That Won Last Night: Round 3 of Capital One Cup Wraps Up, Nike MVP Pro Metal Dominates the Diamond
<iframe width="200" height="30" frameborder="0" scrolling="no" src="//platform.twitter.com/widgets/follow_button.html?screen_name=SneakerReport&amp;showcount=false&amp;show_count=false"></iframe><!--nextpage-->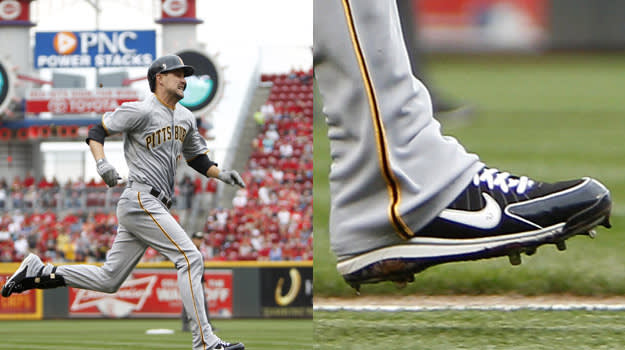 <strong></strong>
Shoe: Nike Huarache 2K4 Metal
Player: Jordy Mercer
Game: Pittsburgh Pirates vs. Cincinnati Reds
Key Stat: 3-4, 1 HR, 1 RBI
$60<!--nextpage-->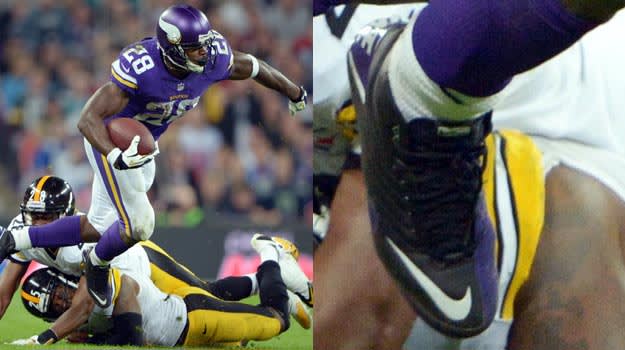 <strong></strong>
Shoe: Nike Super Speed D
Player: Adrian Peterson
Game: Minnesota Vikings vs. Pittsburgh Steelers
Key Stat: 23 carries, 140 yards, 2 TD
N/A<!--nextpage-->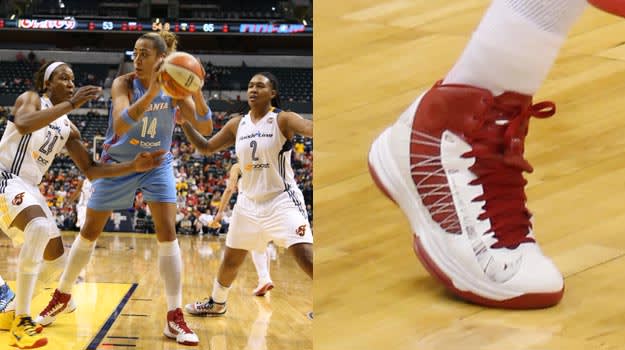 <strong></strong>
Shoe: Nike Hyperdunk 2012
Player: Erika de Souza
Game: Atlanta Dream vs. Indiana Fever
Key Stat: 12 points, 8 rebounds
$140<!--nextpage-->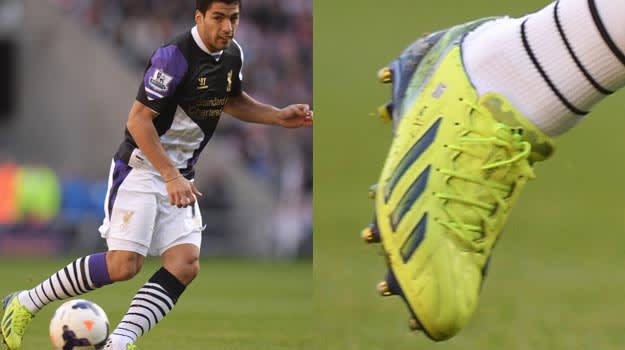 <strong></strong>
Shoe: adidas F50 adizero TRX
Player: Luis Saurez
Game: Liverpool vs. Sunderlund
Key Stat: Goals at 36' and 89'
$105<!--nextpage-->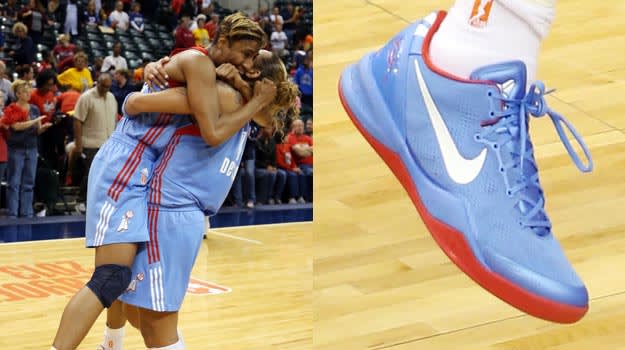 <strong></strong>
Shoe: Nike Kobe 8
Player: Angel McCoughtry
Game: Atlanta Dream vs. Indiana Fever
Key Stat: 27 points, 4 rebounds
$140<!--nextpage-->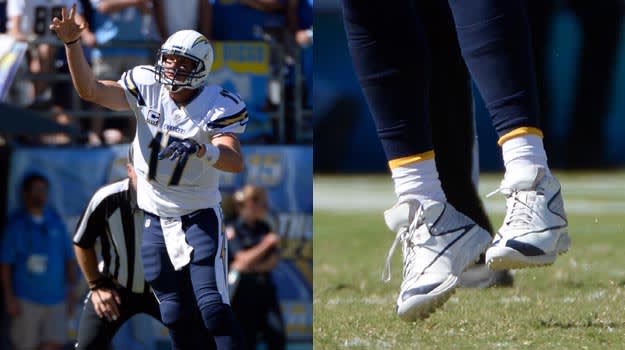 <strong></strong>
Shoe: Reebok Zig Blaze Mid SD4
Player: Philip Rivers
Game: San Diego Chargers vs. Dallas Cowboys
Key Stat: 35-42, 401 yards, 3 TD
N/A<!--nextpage-->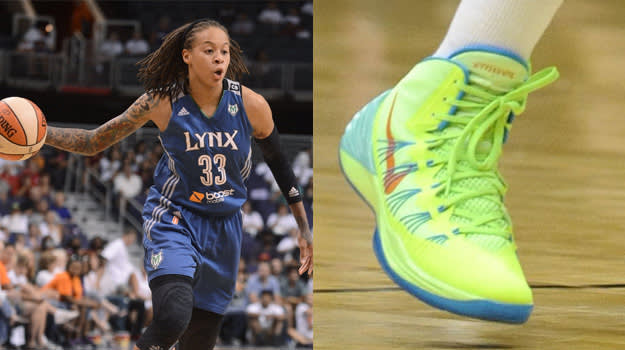 <strong></strong>
Shoe: Nike Hyperdunk 2013
Player: Seimone Augustus
Game: Minnesota Lynx vs. Phoenix Mercury
Key Stat: 22 points, 5 rebounds
$140<!--nextpage-->
Shoe: Nike Huarache Pro Metal Mid
Player: Henderson Alvarez
Game: Miami Marlins vs. Detroit Tigers
Key Stat: 9 IP, 0 H, 0 ER, 4 K
$95<!--nextpage-->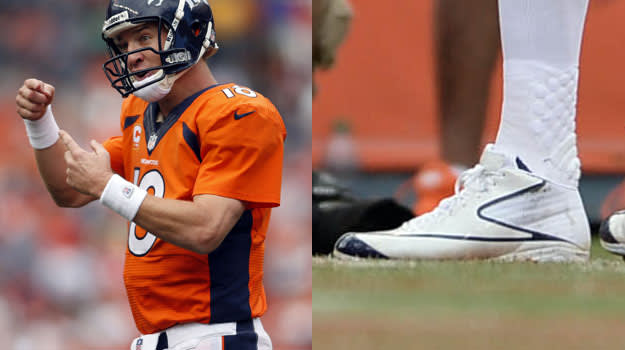 Shoe: Reebok Zig Blaze Mid SD4
Player: Peyton Manning
Game: Denver Broncos vs. Philadelphia Eagles
Key Stat: 28-34, 327 yards, 4 TD
N/A<!--nextpage-->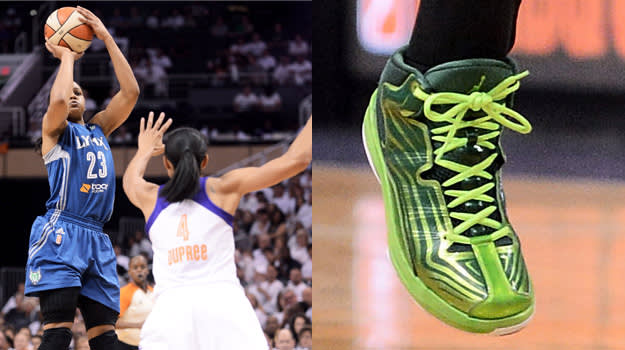 Shoe: Air Jordan Aero Mania
Player: Maya Moore
Game: Minnesota Lynx vs. Phoenix Mercury
Key Stat: 27 points, 3 rebounds
$80