The week of May 13-17 in Performance Sneaker History highlights several NBA Playoff performances and postseason honors. Allen Iverson was especially dominant during this week in history, racking up historical honors such as being the shortest and lightest player to be named NBA MVP. This week also features hardwood highlights from Reebok, Jordan Brand, Converse, and Fila.
RELATED: Today in Performance Sneaker History: Grant Hill and Jason Kidd Win Co-Rookie of the Year
RELATED: Today in Performance Sneaker History: Magic Johnson Wins Finals MVP in the Converse Pro Leather
<iframe width="200" height="30" frameborder="0" scrolling="no" src="//platform.twitter.com/widgets/follow_button.html?screen_name=SneakerReport&amp;showcount=false&amp;show_count=false"></iframe><!--nextpage-->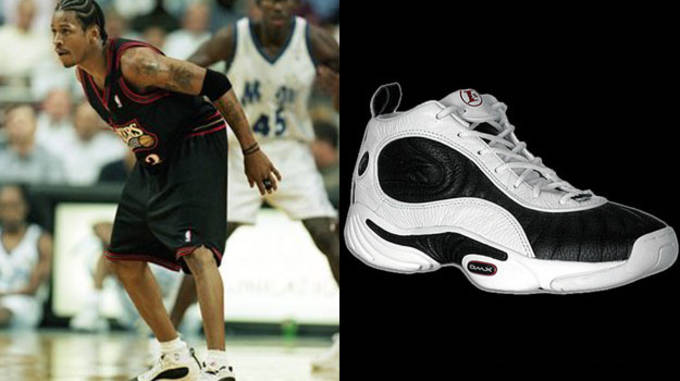 Allen Iverson Sets Playoff Steals Record

Date: May 13, 1999
Sneakers Worn: Reebok Answer III
11-time NBA All-Star Allen Iverson is mostly known for his offensive prowess, but A.I. was by no means a slouch on defense. On May 13, 1999, Iverson set the NBA Playoff record for most steals in a game with 10 against Orlando. He also dropped 33 points on the Magic as the Sixers won 97-85. They would end up dropping the Magic 3-1 in the series before being swept by the Indiana Pacers in the Eastern Conference Semifinals.
In '99, Iverson was wearing his fourth Reebok signature shoe, the Answer 3. This DMX-equipped model has yet to see the retro treatment from Reebok Classics, but it's certainly a possibility with the recent drop of the Answer IV and the upcoming Answer 1. Stay tuned!<!--nextpage-->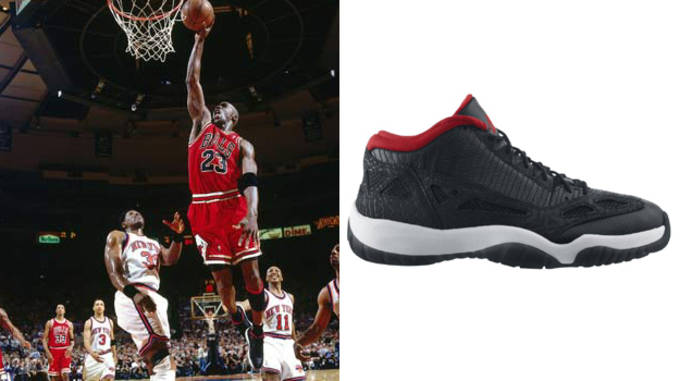 Michael Jordan Drops 35 Points on Knicks

Date: May 14, 1996
Sneakers Worn: Air Jordan XI I.E. Low
The 1996 NBA Playoffs saw a return to form for the Chicago Bulls after Michael Jordan's comeback. When it was all said and done, the Bulls took home their fourth NBA Title and began their second three-peat. After a 72-10 regular season record, Chicago was a clear favorite in the Playoffs, but they still had some hurdles to overcome. On May 14, 1996, the Bulls faced the New York Knicks in what would be the fifth and final game of the Eastern Conference Semifinals. With a 3-1 series lead, Chicago was led by 35 points from Jordan, who dished another five assists for the big win.
Many fans associate Jordan's '96 Playoff run with the Air Jordan XI "Black/Red", but he also switched it up a few times during the NY series with the Air Jordan XI IE Low. This low-profile model stripped away the patent leather overlays from the original AJXI and replaced it with elephant print nubuck. The translucent outsole and Nike Air cushioning setup remained the same. The Air Jordan XI IE Low has been re-released sporadically throughout the years, but isn't currently available.<!--nextpage-->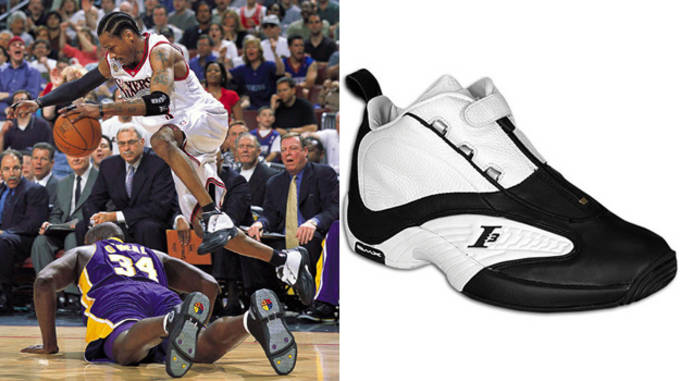 Allen Iverson Wins 2000-01 MVP

Date: May 15, 2001
Sneakers Worn: Reebok Answer IV
We're not talking about practice. Allen Iverson may be the greatest basketball player in recent memory to never win an NBA Championship. Drafted in 1996, Iverson was a honored as an 11-time NBA All-Star, 2-time All-Star Game MVP, Rookie of the Year, four-time NBA Scoring Champion, and a host of other accolades throughout his lengthy career. After the 2000-01 regular season, he won what could be the most satisfying accomplishment of them all. On May 15, 2001, A.I. received the Maurice Podoloff Trophy as the league's MVP. Allen was 6'0" and 165 pounds, which cemented him in history as both the shorted and lightest NBA MVP of all time.
During the 2000-01 NBA season, Iverson rocked his fifth signature sneaker, the Reebok Answer IV. Sneaker Report recently covered Iverson's best games in the Answer IV, which makes it easy to see why he was named MVP—he absolutely killed it that year. The Reebok Answer IV comes equipped with DMX foam cushioning and is available today for $125.<!--nextpage-->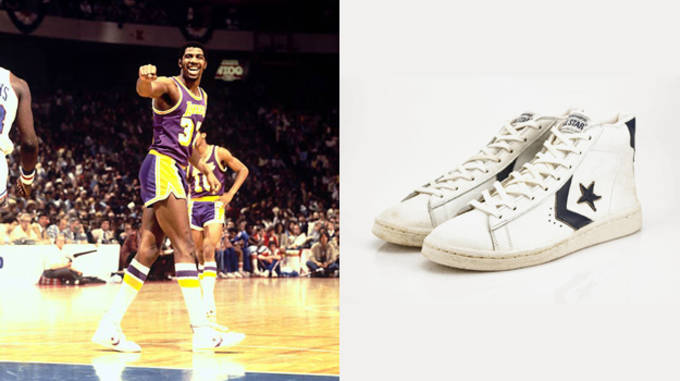 Magic Johnson Wins Finals MVP

Date: May 16, 1980
Sneakers Worn: Converse Pro Leather
Yesterday, Sneaker Report presented The Single Defining Shoe of the Past 10 NBA Playoffs. Many of the sneakers included in the list were worn by eventual Finals MVPs like Kobe Bryant and Dwyane Wade. However, Magic Johnson's 1980 Finals MVP run tops them all as arguably the greatest postseason performance of all time. On May 16, 1980, Johnson was still a rookie, matched against the Philadelphia 76ers in Game 6 of the Finals. Teammate Kareem Abdul-Jabbar had suffered an injury, which shifted Magic from his usual position of guard to center. Surprisingly, the 6'9" Magic seemed right at home in the big man position, and ended up dropping 42 points, grabbing 15 rebounds, and dishing seven assists as the Lakers won 123-107. This do-it-all performance would become custom for Magic, explaining exactly how he earned his nickname.
Later in '86, Johnson would endorse the Converse Weapon, but in the 1980 finals he opted for the subtle Converse Pro Leather. This classic leather-and-rubber style was also worn by legends like Julius Erving. Due to the age of the design, retro releases aren't intended for court use, but you can pick up the Converse Pro Leather today for $50.<!--nextpage-->
Grant Hill and Jason Kidd win Co-Rookie of the Year

Date: May 17, 1995
Sneakers Worn: Fila Ninety6/Nike Zoom Flight 95
Since the inception of the NBA Rookie of the Year award in the 1952-53 season, the Eddie Gotlieb Trophy has been the most prestigious honor amongst young players. On May 17, 1995, for the first time since 1971 and only time since, two players were selected as Co-Rookie of the Year. Grant Hill of the Detroit Pistons and the Maverick's Jason Kidd shared the award after they both had stellar '94-95 seasons.
Hill and Kidd weren't associated with signature models during their rookie seasons, but both players picked up endorsements during the following NBA season. Grant Hill would sign with Fila, wearing the Fila Hill 1 which has been rebranded as the Fila Ninety6 and is available now for $90. Meanwhile, Kidd's quick style of play required something with responsive cushioning, and he ended up being laced in the Nike Zoom Flight 95.