While current, more modern, basketball sneakers like the Nike LeBron X and the adidas Crazy Quick got their fair share of the glory in the 2013 NCAA Tournament, it was somewhat surprising to see a variety of older models make their way onto the court in this year's big dance.
Older models, particularly retros have always had a special place in college basketball, but this year, it seems like players went deep into their sneaker closets to lace up in shoes that perhaps some of us weren't expecting to see out there.
With so much emphasis put on performance by footwear brands, some players look to their shoes to gain an edge on the competition. But there are plenty of college ballers out there who can fill it up in any pair of sneakers--whether it's the slightly outdated adidas Rose 773, or a pair of workboot-style retros in the Nike Air Zoom Generation. Here are The 15 Most Unusual Sneakers Worn During the 2013 NCAA Tournament.
RELATED: The 16 Best Performance Basketball Shoes Worn in the 2013 NCAA Tournament
RELATED: The Sneakers Worn for the 50 Best Performances in NCAA History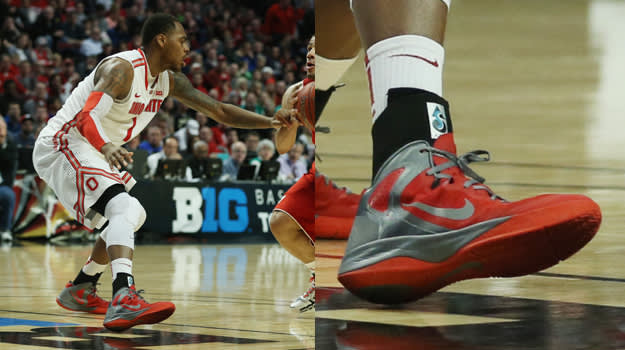 No. 15 - Nike Zoom Hyperenforcer
Player: Deshaun Thomas
Team: Ohio State Buckeyes
The Zoom Hyperenforcer isn't as readily available as the some of the other Nike basketball sneakers out there, but a pair did find its way on to the court during the 2013 NCAA Tournament—on the feet of Ohio State forward Deshaun Thomas. The junior forward played much of the regular season in the Nike Zoom Solider VI, but made the switch to the Hyperenforcer in March, as the Buckeyes made it all the way to the Elite Eight before getting bounced by Wichita State.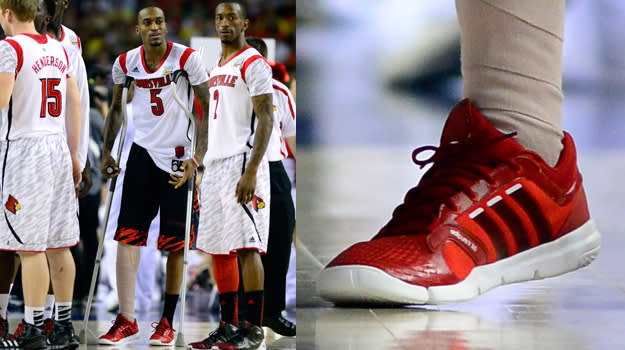 No. 14 - adidas adiPure Trainer 360
Player: Kevin Ware
Team: Louisville Cardinals
If it were up to Kevin Ware, you better believe he'd be lacing up his adidas D Rose 3.5 for Louisville's NCAA Championship Game against Michigan later tonight. However, despite the unfortunate circumstances of his injury, Ware has kept his spirits up on the sideline in a pair of Cardinal Red adiPure Trainer 360 shoes.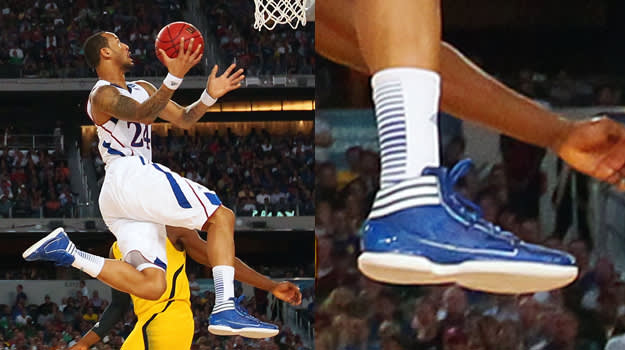 No. 13 - adidas adiZero Crazy Light
Player: Travis Releford
Team: Kansas Jayhawks
Kansas guard Travis Releford showed plenty of speed and quickness during the 2013 NCAA Tournament. But what's even more interesting is that he's done it in a pair of adiZero Crazy Light sneakers. Now, there's nothing particularly unusual about the shoe, but there is an updated version of it—the Crazy Light 2—already on the market that's supposed to be even lighter and more streamlined.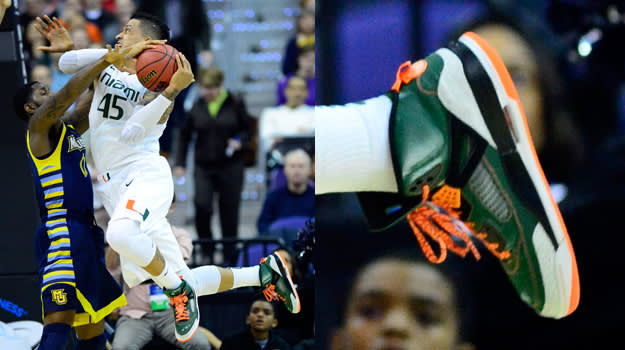 No. 12 - SoleFly x Jordan Spizike "Hurricanes"
Player: Julian Gamble
Team: Miami Hurricanes
People expected the Miami Heat to make some noise this basketball season, but not many thought the University of Miami Hurricanes basketball team to make such an impressive run in the NCAA Tournament as a No. 2 seed. Miami was unable to make it past Marquette in the Sweet Sixteen, but the Hurricanes sure brought their A-game when it comes to sneakers—particularly senior big man Julian Gamble, who rocked these SoleFly x Jordan Spizike "Hurricanes" collaboration released last summer by the Miami-based shop. Shane Larkin also balled in Spiz'ikes, but Gamble's limited editions beat the BHM version for a place here.
No. 11 - adidas Rose 773
Player: Gorgui Dieng
Team: Louisville Cardinals
A surprising amount of players in this year's tourney have been seen wearing last year's Rose 773 sneakers, including Louisville's Gorgui Dieng. However, the 773 are slightly wider in the toe box than other Rose models, and are fairly durable—so it makes sense why bigger guys are rocking them instead of more recent adidas basketball models.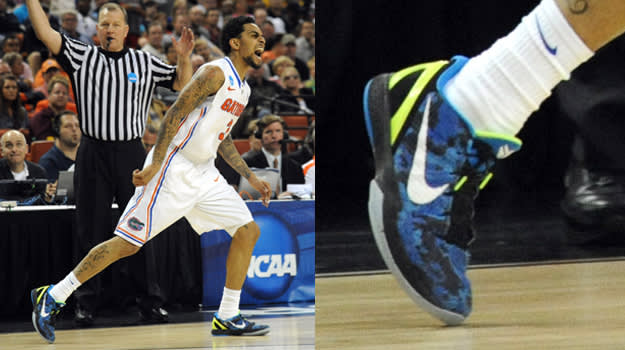 No. 10 - Nike Kobe VI "Camo"
Player: Mike Rosario
Team: Florida Gators
Kobe Bryant's latest Nike signature, the Kobe 8 System has been well-represented in the NCAA Tournament, but there have been sightings of older Kobe models as well, such as the Kobe VI "Camo" worn by Mike Rosario of the Florida Gators.  The Kobe VI have a reputation of being very comfortable and responsive on the hardwood, and the Blue "Camo" colorway worn by Rosario is one of the best looks for the shoe.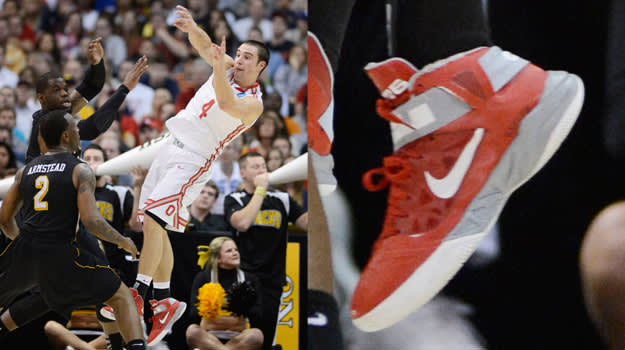 No. 9 - Nike Zoom Soldier VI
Player: Aaron Craft
Team: Ohio State Buckeyes
LeBron James isn't the most popular person in the State of Ohio, but the Ohio State Buckeyes sure love his sneakers. While LeBron's latest shoe, the LeBron X, was well-represented by what seems like every Nike-branded team in this year's tournament, Ohio State players were keen on the Zoom Solider VI instead. Along with teammate Deshaun Thomas, who wore the shoes in the early rounds, Buckeyes guard Aaron Craft rocked a pair of the Zoom Solider VI, as he led the team to an impressive Elite Eight appearance.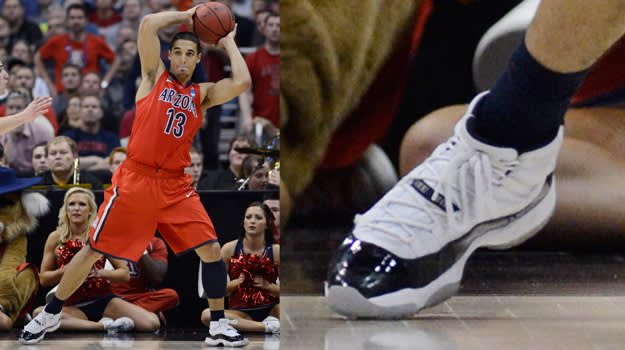 No. 8 - Air Jordan XI "Concord"
Player: Nick Johnson
Team: Arizona Wildcats
The Air Jordan XI "Concord" is definitely a crowd-pleaser off the court, but Arizona's Nick Johnson showed that the shoe can still get it in on the court as well. Out of the slew of retro Air Jordan models seen in college basketball this season, these are definitely a house favorite.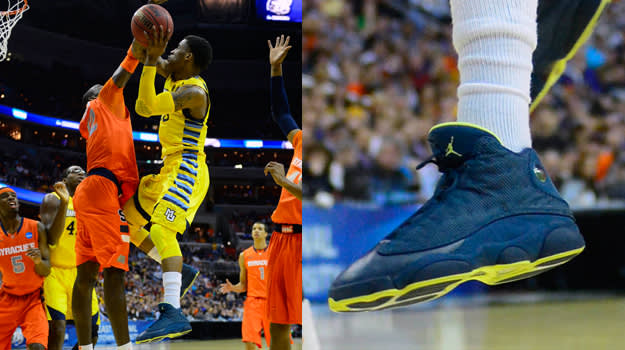 No. 7 - Air Jordan XIII "Squadron Blue"
Player: Vander Blue
Team: Marquette Golden Eagles
If you didn't know about Marquette guard Vander Blue before the NCAA Tournament, he should definitely be on your radar after putting up some huge performances for the Golden Eagles. Blue's sneaker game was on point too. Just check out the Air Jordan XIII "Squadron Blue" shoes he wore throughout March.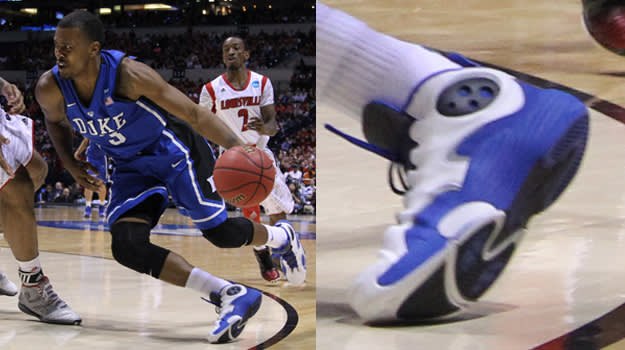 No. 6 - Nike Air Flight One
Player: Tyler Thornton
Team: Duke Blue Devils
In Game 3 of the 1995 NBA Eastern Conference Semifinals, Michael Jordan borrowed an all-black pair of Penny Hardaway's signature Nike Air Flight One in adherence to a league uniform policy. If the Phylon-infused sneakers were good enough for His Airness (and Penny for that matter) back then, then they're certainly worthy of some court-time now. Along with a few other players, Duke's Tyler Thornton did the honors with this Blue Devil-appropriate White/Blue/Anthracite colorway.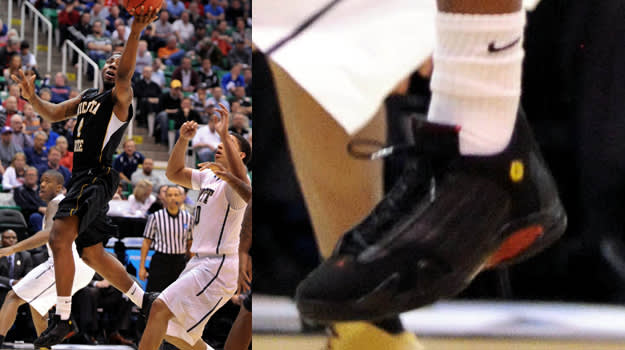 No. 5 - Air Jordan XIV "Last Shot"
Player: Malcolm Armstead
Team: Wichita State Shockers
Wichita State's Malcolm Armstead joined Arizona's Mark Lyons in rocking a pair of the Air Jordan XIV "Last Shot" in the 2013 NCAA Tournament. Armstead won't get a chance to rock the classic basketball sneakers again this year after the Shockers fell one game short of the title game, but he did do justice to the shoes worn by the great Michael Jordan in his final game as a member of the Chicago bulls in 1998.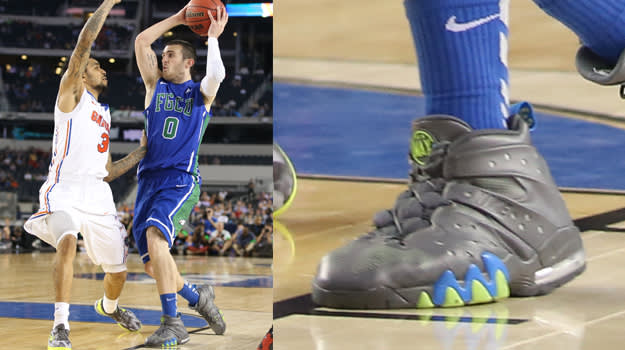 No. 4 - Nike Air Max Barkley
Player: Brett Comer
Team: Florida Golf Coast University Eagles
You'd be a fool if you even tried to compare FGCU's Brett Comer to the legendary Charles Barkley. But the sophomore guard for the Eagles did pay an unofficial tribute to Chuck by rocking the Nike Air Max Barkley—either that or he just likes the way the shoe fits. Nonetheless, Comer's sneakers were just as impressive as his game.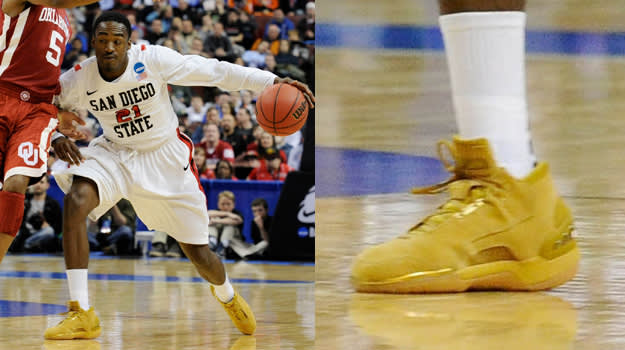 No. 3 - Nike Air Zoom Generation "Wheat"
Player: Jamaal Franklin
Team: San Diego State Aztecs
As the story goes, the LeBron James always dreamed of (for some odd reason) wearing wheat-colored sneakers. So Nike gave him this semi-exclusive "Wheat" colorway of the Zoom Generation, which he debuted in the 2004 NBA Rookie Game. Over a decade later, the boot-style basketball shoes found their way back on the basketball, this time on the feet of Jamaal Franklin of the San Diego State. The Aztecs didn't make it very far into the NCAA Tournament, but Franklin's shoes are certainly one of the most unique vintage models worn in college basketball this season.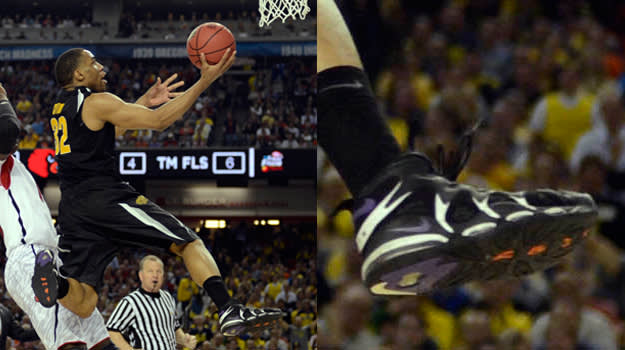 No. 2 - Nike Air Max CB34
Player: Tekele Cotton
Team: Wichita State Shockers
Sir Charles' signature sneaker line garners legendary status, and the Nike Air Max CB34 ranks among the top of the impressive lineup. Tekele Cotton went deep in his sneaker closet for Wichita State's Final Four showdown against eventual-winner Louisville, pulling out a pair of the ultra-comfortable basketball classics that seemingly never get old (unlike Chuck).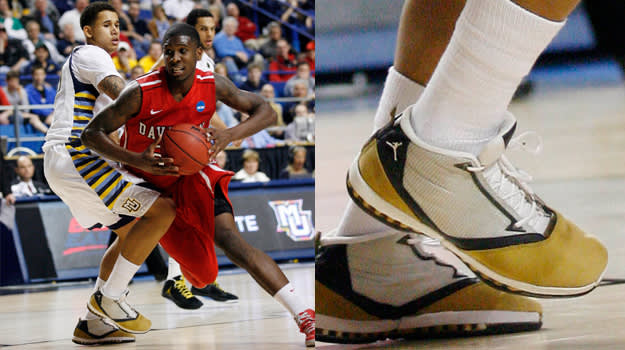 No. 1 - Air Jordan XVI "Ginger"
Player: Juan Anderson
Team: Marquette Golden Eagles
Retro Air Jordan sneakers have run rampant in the 2013 NCAA Tournament, but perhaps the most unexpected pair belonged to Marquette's Juan Anderson. Despite switching up his shoes later on in the tournament, Anderson laced up in a pair of the underrated Air Jordan XVI "Ginger." Though it looks like he left the shoe's distinctive gaiter back in Milwaukee.
Gurvinder Singh Gandu is a New York City-based contributing writer for Yahoo! Sports and Sneaker Report. A California-raised, performance gear and footwear expert, Follow him here to keep up with all things performance.
RELATED: The 16 Best Performance Basketball Shoes Worn in the 2013 NCAA Tournament
RELATED: The Sneakers Worn for the 50 Best Performances in NCAA History