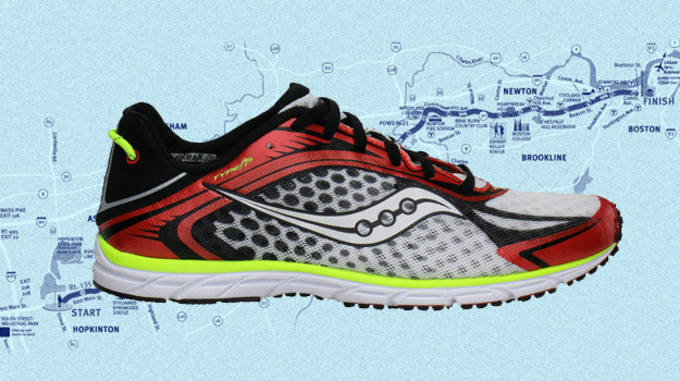 Do you want to run fast this spring? Would you do anything for a new PR? Well, couple intelligently hard training with the right footwear, and you have the recipe for success! This guide will present ten top-flight racers for this spring and summer. These are no-frills, go-fast shoes designed to carry you quickly to the finish line of your next 5K-Marathon race. We start with the lightest of the light for your speed sessions and shorter races, and then we will progress to flats more befitting the marathon and the fast long runs needed to excel at that distance. Choose the one that is right for you, lace-up, and scorch the competition as the mercury rises this spring, here are The 10 Best Racing Flats Available Now.
RELATED: 10 Things to Know Before Purchasing Your Next Pair of Running Shoes
RELATED: Trend Talk: The Perfect Fitting Sneaker is on the Way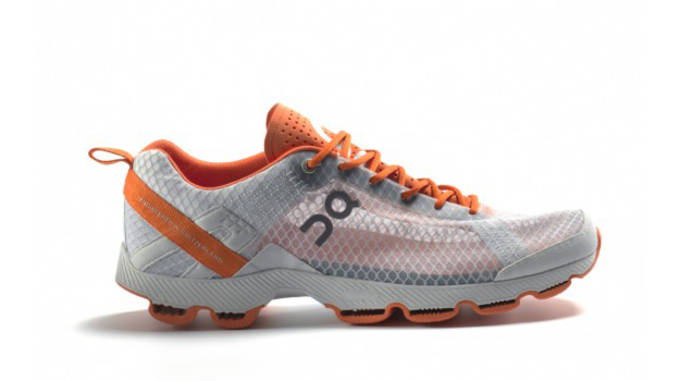 No. 10 - On Cloud Racer
Weight: 8.9oz
Heel-to-Toe Offset: 6mm
Wear It For: Tempos, fartlek, hills, long runs, general racing
Don't let the unconventional design fool you, the On Cloud Racer is a fast, functional flat that can be used by a variety of runners. Hailing from Switzerland, On Running, Inc. features a novel "Cloud-Tec" outsole with their shoes. The small pods collapse softly to help absorb impact forces (cushioning) and then recoil to propel you firmly off the ground with each foot-strike (rigidity for responsiveness).  This seems far-fetched, but the feel of running in this shoe is to true to the hype. It has a snappy ride at take-off and lots of protection, which makes it a good choice for larger runners racing any distance. Lighter runners will enjoy using this shoe as a marathon flat and fast-training companion. It excels on down-hill courses where a light heel-strike and quick push-off is needed for rapid turn-over.
No. 9 - Scott T2 Evolution
Weight: 8.5oz
Heel-to-Toe Offset: 9mm
Wear It For: Daily training, long runs, tempos, marathon to ultra-marathon racing
Better known for work in other sporting industries, Scott has taken to the running side of things in recent years with great success. The Scott T2 Evolution employs the brand's 'e-Ride' technology to aid the foot in a smooth transition from heel to toe (or mid-foot to toe-off) with each stride. The 'Aero-Foam' used in the outsole provides a perfect blend of cushioning and firmness, and the tread offers enough traction to make this shoe trail-worthy on less technical outings, as well. The upper is snug but comfortable, keeping the foot safely in place for an efficient run. Most runners will love this shoe for faster daily training or for racing as far as your heart desires.
$115
No. 8 - Pearl Izumi E:Motion Road N1
Weight: 8.1oz
Heel-to-Toe Offset: 7mm
Wear It For: Daily training, long runs, tempos, long-distance racing
The lightest road installment in Pearl Izumi's new E:Motion series, which also includes trail models and racers for both short and long course triathlons, the Road N1 features a flat outsole, plenty of cushioning, and a seamless upper. Runners will find the ride responsive, bouncy, and accommodating for any pronation issues you may have. With its overall weight and amount of protection from the road, this shoe screams to run a fast marathon this spring. Lighter runners may find it a bit too much shoe for 5K-10K racing, but others will revel in the plush comfort it provides.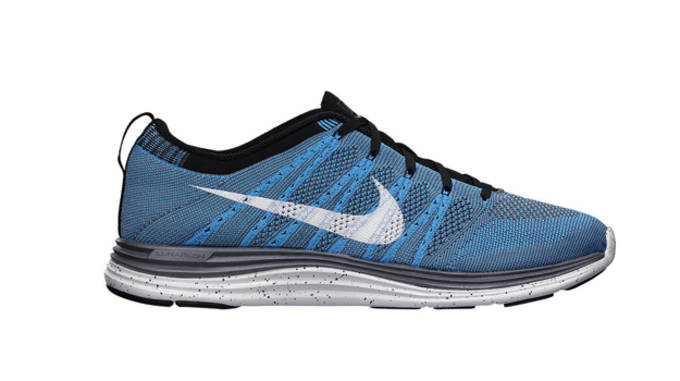 No. 7 - Nike Fly-Knit Lunar 1+
Weight: 8oz
Heel-to-Toe Offset: 10mm
Wear It For: Daily training, tempos, fartlek, longer road races
Combining two of Nike's most popular racing technologies, the Nike Fly-Knit Lunar 1 has been well-received by both world-class elites and citizen runners alike this spring. The upper is constructed of the brand's amazing Fly-Knit material that breathes easily and wraps the foot like a glove. The outsole is made of Lunarlon cushioning, which has been touted as one of the most profound innovations in many years by the running shoe industry. Look for a plush yet responsive ride with this shoe, and cushioning capable of withstanding the marathon distance with ease. Even runners with larger body frames will embrace the soft support under-foot with this flat, and will be able to glide along in comfort on race day. The only drawback is the price tag with this model.
$160
No. 6 - Altra 'The One'
Weight: 7.9oz
Heel-to-Toe Offset: 0mm
Wear It For: Daily training, fartlek, tempos, long runs, racing 10K-Marathon
Altra, manufacturer of quality zero-drop running footwear, has updated their line this spring with a racer worthy of your lofty goals. With flashier colors and a sportier finish than most of their models, the Altra One hits a homerun for ergonomic design and versatility as a trainer/racer. The outsole is semi-firm with a responsive ride, yet flexible enough to help strengthen feet. The forefoot is quite wide, as with all Altras, so if you have narrow feet take this fact into account. While very low-profile, the One still provides plenty of cushioning to carry most runners through the finish line at their next marathon.
No. 5 - SKORA Phase
Weight: 7oz
Heel-to Toe Offset: 0mm
Wear It For: Form training, daily running, fartlek, general racing
SKORA Running, Inc. is a grassroots company that just hit the market last year. Touting the adage of "Run Real", the company has made a name for itself by designing highly functional natural running shoes that avoid the hype surrounding "The Minimalist Movement". The SKORA Phase is the company's lightest model yet, making it suitable for runners who embrace the benefits of minimalism even in their racing footwear. While not the most responsive shoe in the list, it is by far the most flexible, allowing the foot to move through its full range of motion with each stride. It is a handsome, very unique "flat" that would serve many runners well for up to the marathon distance. With its no-seam construction, feel free to kick-off your socks and still run in maximum comfort this spring!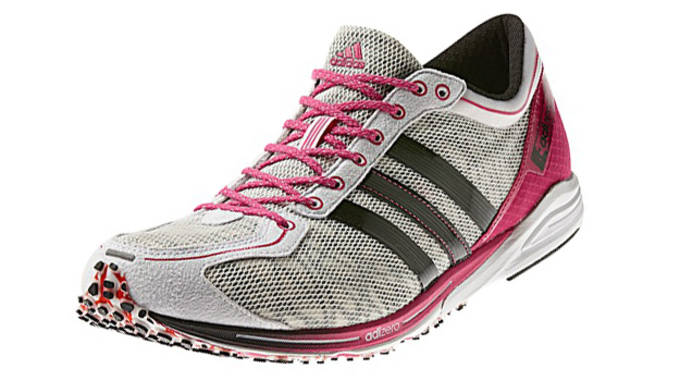 No. 4 - adidas Takumi Sen
Weight: 6.1oz
Heel-to-Toe Offset: 6mm
Wear It For: Speed training, tempos, races of 5K-Marathon
Just now being released in the US, the Adidas Takumi Sen has become an international hit in recent years. The shoe's name translates to "An Artisan of the Highest Order", and that was what its manufacturers were hoping to achieve with this shoe. Capable of withstanding the shock of a full marathon for biomechanically gifted runners, most will find this shoe's sweet-spot to be in the 5K-10K range. This shoe sports Continental Rubber on the outsole and a very "grippy" tread, making the Takumi Sen perfect for slick road surfaces (at water stops, sprayers, etc.) and/or for training in the rain.
$130<!--nextpage-->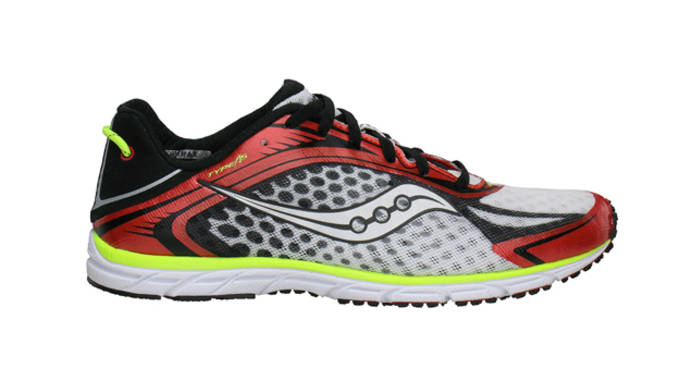 No. 3 - Saucony Type A5
Weight: 5.8oz
Heel-to-Toe Offset: 4mm
Wear It For: Speed sessions, hill repeats, tempo runs, races of 5K-Half Marathon
This update to Saucony's Type A series is lighter and thinner than any of its predecessors. The Type A5 flat is perfect for runners who crave ground-feel, but still need a touch of support to help with pronation late in the game. It will perform best in 5K-Half Marathon races for virtually any runner looking to go as fast as they can this spring and summer. This is an "everyman's" racer that will accommodate a variety of foot shapes and racing speeds in supple comfort. As the shoe's outsole states, go "Get Some!" in the Saucony Type A5!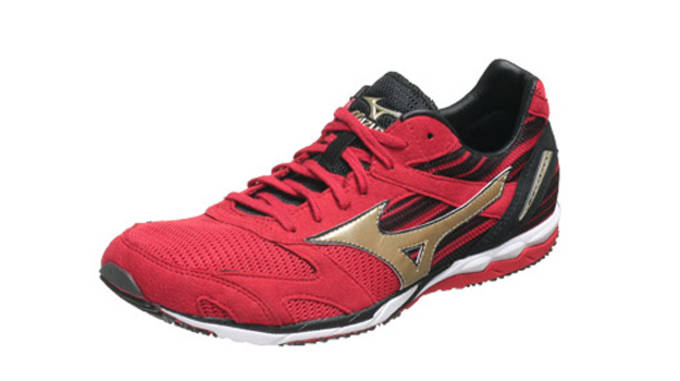 No. 2 - Mizuno Wave Ekiden
Weight: 4.7oz
Heel-to-Toe Offset: 6mm
Wear It for: Speed training, short tempos, races of 5K-Half Marathon
Named after the famous Japanese relays which date back to the country's Feudal Period, this flat lives-up to its namesake by promoting light-weight speed and efficient movement. Employing the Mizuno Wave technology into a very low-profile package, the Wave Ekiden is suitable for road races up to the half-marathon for economical runners, but may be most useful for your 5K-10K outings this year. It has a very responsive feel underfoot, so going easy in the Wave Ekiden will be all but impossible.
$100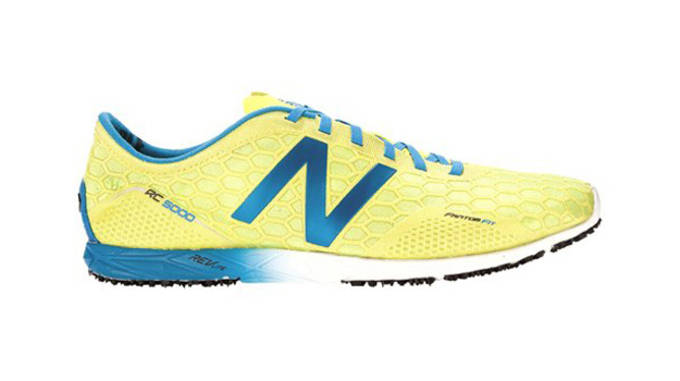 No. 1 - New Balance RC5000
Weight: 3.1oz
Heel-to-Toe Offset: 5mm
Wear It For: Fast track sessions, races of 1500-5000m
With a barely-there feel and streamlined design, the NB RC5000 is a top choice for your fastest workouts and shorter racing endeavors. This model would be a great choice for high school or college track stars racing the 1500-5000m, or for biomechanically efficient road runners chasing a 5K personal best. The outsole is thin and the upper is water resilient, so racing in the heat would be a breeze in this flat, as well.
RELATED: 10 Things to Know Before Purchasing Your Next Pair of Running Shoes
RELATED: Trend Talk: The Perfect Fitting Sneaker is on the Way