RELATED: The 10 Best Performances in the Air Jordan XI
RELATED: The 10 Best Performances in the Air Jordan I
RELATED: Sole Collector - Sneaker Release Dates

No. 10 - Ray Allen, Boston Celtics
Stats: 20 points, 3 rebounds, 3 assists, 2 blocks
Game: 1/28/2010 vs. Orlando Magic
The Celtics traveled to Orlando to do battle with their budding rival Orlando, and Ray Allen did his best to make sure the green came out on top in his Air Jordan XII. Allen was his typical assassin-self from beyond the three-point line, burying four triples. The XIIs have always been a staple of Allen's game, and he has put them to use over many different seasons en route to becoming the NBA's all-time leader in three pointers made.

No. 9 - Kevin Martin, Sacramento Kings
Stats: 24 points, 7 rebounds, 2 assists, 2 steals
Game: 2/7/2010 vs. Toronto Raptors
The shifty combo guard for Kings was up to his usual tricks on this night, cutting up the Raptors' defense on their home court. Martin's slashing game was so effective and he regularly exploded to the rim after blowing by defenders Jarrett Jack and DeMar DeRozan. Apparently, the Raptors' only solution for stopping Martin was hacking him, as the Kings' guard also attempted 12 free throws on the night.

No. 8 - Ray Allen, Seattle Supersonics
Stats: 22 points, 7 rebounds, 9 assists, 1 steal
Game: 1/7/2004 vs. Sacramento Kings
Many fans currently see Ray Allen as only a three-point specialist, but there was a time in his younger days when he was one of the most versatile, complete players in the NBA. Wearing the Air Jordan XII, he showed it on this night as he filled up the stat sheet in an incredible performance against the Kings. Allen did a little bit of everything—burying a trio of three-pointers while also serving up assists to his teammates as the Supersonics were able to defeat a very good, title-contending Kings team.

No. 7 - Kobe Bryant, Los Angeles Lakers
Stats: 23 points, 5 rebounds, 2 assists, 1 steal, 1 block
Game: 12/23/2003 vs. Golden State Warriors
Kobe's "sneaker free agent" season saw him sport everything from Converse Weapons to Nike Air Force 1s, but for this game he donned the classic Air Jordan XII. He responded with a solid effort, leading his Lakers against a highly motivated Warriors team that was hungry to beat the defending champions. Kobe was on fire from the perimeter, using the Air Max unit to elevate and bury three three-pointers as he led his team in scoring on the night. While the Lakers would fall due to a horrible second quarter in which they were outscored 38-15, it had nothing to do with their star shooting guard's performance.

No. 6 - Jimmy Rollins, United States
Stats: 2-for-5, 2 runs scored
Game: 3/12/2013 vs. Puerto Rico
While the Air Jordan XII is not known primarily as a baseball cleat, Jimmy Rollins certainly made good use of the shoe's versatility at this year's World Baseball Classic. Batting leadoff and playing shortstop for the United States, Rollins showed why he is one of the world's best as he helped the US to a 7-1 win over a talented Puerto Rico squad. Utilizing the durable leather upper of his cleats as he bolted all over the basepaths and made several tough plays in the field, the Phillies' star sparked the Americans' offense as they moved one step closer to a berth in the finals.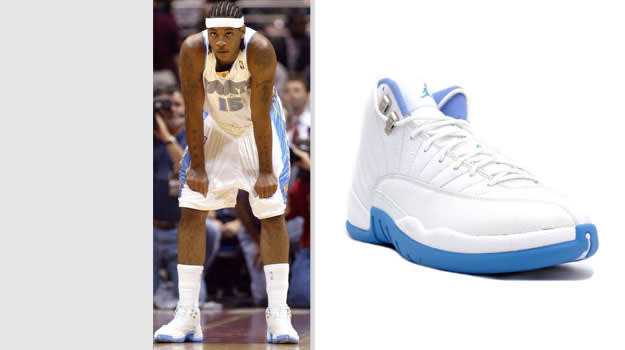 No. 5 - Carmelo Anthony, Denver Nuggets
Stats: 31 points, 6 rebounds, 9 assists, 1 steal, 1 block
Game: 3/12/2004 vs. Milwaukee Bucks
Carmelo Anthony entered his rookie season with huge expectations after leading Syracuse to a national championship. Anthony was able to pull up on a dime for his signature jumpers at any moment as he absolutely eviscerated Milwaukee in this key late season road game. Not normally known for his defense, Melo hassled Bucks star Michael Redd into a 4-for-15 shooting night, securing a key win for the Nuggets.

No. 4 - Richard Hamilton, Detroit Pistons
Stats: 36 points, 5 rebounds, 3 assists
Game: 2/17/2010 vs. Orlando Magic
Even though the Pistons' run of success had ended by the 2009-10, Richard Hamilton was still able to put up big numbers thanks to his Air Jordan XII. Rip single-handedly carried the Pistons in this tough game on the road in Orlando, shooting a ridiculously efficient 12-for-18 from the floor. The Pistons hung tough for three quarters on the strength of Hamilton's performance, but a superior Magic squad put the pedal down in the fourth and ran away with a big victory.

No. 3 - Dwyane Wade, Miami Heat
Stats: 32 points, 3 assists, 2 steals, 3 blocks
Game: 1/19/2010 vs. Indiana Pacers
Back in 2009-10, before they were a juggernaut, the Miami Heat relied on Dwyane Wade to win them games every single night. Against the Indiana Pacers and wearing the Air Jordan XII, Wade delivered in a big way as he helped his team to a blowout win. His herky-jerky style game was enhanced by the herringbone outsole's traction, as the guard was able to hit four three pointers and tally 32 points in just 31 minutes of playing time. His defense was outstanding as well, as he harassed Pacers' star Danny Granger into a horrific 2-for-16 shooting night.

No. 2 - Joe Johnson, Atlanta Hawks
Stats: 37 points, 4 rebounds, 3 assists, 1 steal
Game: 2/2/2010 vs. Oklahoma City Thunder
Johnson has always been an incredible shooter from deep, and he showed it again in this closely contested game in Oklahoma City against the Thunder. The Hawks' swingman buried a trio of three-pointers, all eight free throws and 13 shots overall as he kept his team in the game against Kevin Durant and the talented Thunder. His hot shooting helped the Hawks go on a 15-4 run to tie the game late in the fourth quarter, but Durant's heroics were too much as Atlanta ultimately fell.

No. 1 - Carmelo Anthony, Denver Nuggets
Stats: 36 points, 11 rebounds, 1 assist, 1 steal
Game: 4/7/2004 vs. Phoenix Suns
Carmelo's excellent rookie year saw the versatile forward continually improve as the season went along, and this performance on the road in Phoenix cemented his status as a future star. He recorded 20-plus points for the 14th time in his previous 15 games, a rookie record. Melo was also clutch both on the boards and on defense, leading his team in total rebounds and helping them force the Suns into a whopping 15 first half turnovers as they built an insurmountable lead.
RELATED: The 10 Best Performances in the Air Jordan XI
RELATED: The 10 Best Performances in the Air Jordan I