Looking back at the week of April 8-12 in Performance Sneaker History, several NBA records were established, while Hank Aaron made history on the baseball diamond. Brands featured in this week's throwbacks include adidas, Nike, Avia, and Brand Jordan. Keep reading to find out which classic shoes made the cut in The 5 Greatest Moments in Performance Sneaker History from This Week.
RELATED: Today in Performance Sneaker History: Reggie Miller Sets 3-Point Record in Nike Air Thrill Flight
RELATED: Today in Performance Sneaker History: Jordan Hits 5000 Assists in the Air Jordan XIII
<iframe width="200" height="30" frameborder="0" scrolling="no" src="//platform.twitter.com/widgets/follow_button.html?screen_name=SneakerReport&amp;showcount=false&amp;show_count=false"></iframe><!--nextpage-->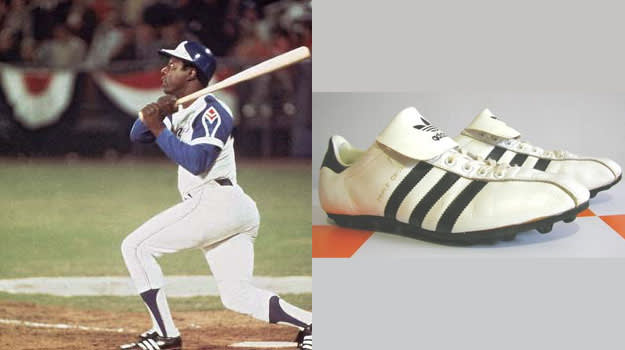 Hank Aaron x adidas Triple Crown
Date: April 8, 1974
Records are meant to be broken, and that's exactly what baseball legend Hank Aaron did on April 8, 1974. The Hammer smashed his 715th home run on this day, as the Braves took on the Los Angeles Dodgers. Amidst high levels of racial tension, Aaron broke ground for African Americans in the sport, receiving a massive ovation after breaking the record. Just months earlier, Aaaron was swamped with death threats and insults surrounding the fact that he could possibly break American hero Babe Ruth's record.
Flashing back to '74, Aaron was wearing the adidas Three Stripes in the form of the Triple Crown spike model. This vintage sneaker's technology is considerably basic, but was more than adequate for one of the best hitters of all time to make baseball history.<!--nextpage-->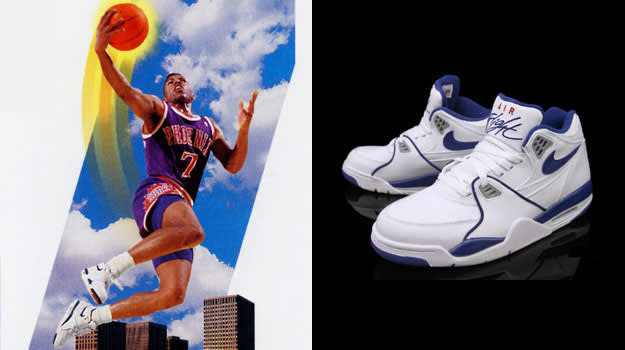 <strong></strong>
Kevin Johnson x Nike Air Flight 89
Date: April 9, 1990
In 2013, former NBA great Kevin Johnson is known as the mayor of Sacramento. But during the '90s, Johnson was one of the best point guards in the league, will three All-Star appearances and four nominations to the All-NBA Second Team. Johnson is also partially responsible for one of the NBA's most impressive team records. On April 9, 1990, the Phoenix Suns beat the Utah Jazz 119-115 in overtime. The Suns made 61 out of their 80 free throw attempts, which is a record that stands to this day. Johnson played a big role, sinking 23 of his 24 free throw shots and putting up 37 points total.
Johnson was wearing the Nike Air Flight 89 during this time period. This classic model features a leather upper with Air cushioning in the heel. If you're looking to hit the courts in a retro sneaker, consider the Nike Air Flight 89 for $80.<!--nextpage-->
<strong></strong>
Derek Harper x Avia 889
Date: April 10, 1991
Derek Harper may not be a household name, but the NBA veteran spent sixteen seasons in the league, He played for the Mavs, Knicks, Magic, and Lakers from 1983 to 1999 and on April 10, 1991, as a member of the Mavs, he cemented himself as a scoring force. After dropping 34 in a loss against the Jazz, Harper became the first player to improve his points per game average in each of his first eight seasons. In other words, he just kept getting better.
During this time, Harper was wearing a high-top model from Avia. During the '80s and '90s, Avia was a thriving brand, with several NBA players wearing their sneakers. Derek Harper chose the Avia 889, which featured the brand's patented cushioning and supportive overlays. Avia currently specializes in running, walking, and training shoes, which you can shop here.<!--nextpage-->
Michael Jordan x Air Jordan XIII
Date: April 11, 1998
Previously featured by Sneaker Report as one of Michael Jordan's best moments in the Air Jordan XIII "He Got Game", his showing on April 11, 1998 was impressive on a number of levels. Not only did Jordan annihilate the Orlando Magic's defense with 37 points, but he also grabbed four steals and four rebounds. But wait, there's more: Mike also dished two assists, which put him at 5,000 total throughout his career. Jordan finished off with 5,633, which isn't quite enough to crack the top thirty, but is an impressive number nonetheless.
As mentioned, Jordan was wearing the Air Jordan XIII White/Black/True Red colorway, also known as the "He Got Game". This landmark model re-released last month and sold out immediately, but can be found on eBay if you're looking for a pair. With a supportive Carbon Fiber shank plate, Zoom Air cushioning, and a durable leather upper, the Air Jordan XIII remains popular with players today.<!--nextpage-->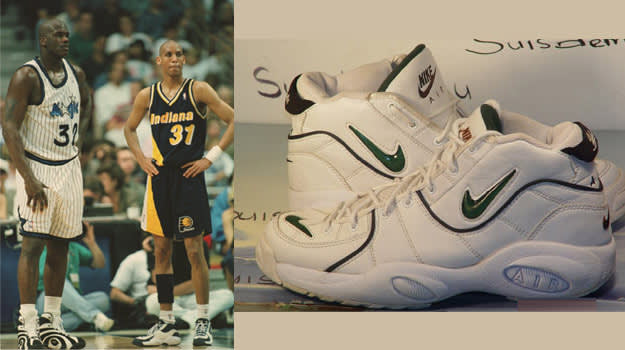 Reggie Miller x Nike Air Thrill Flight
Date: April 12, 1996
The Nike Air Thrill Flight must have been a lucky model for NBA players in the '90s, because both Gary Payton and Reggie Miller hit career milestones in the sneaker. For Reggie, it was during the Indiana Pacers April 12, 1996 road game to Orlando. The Pacers muscled through with a 111-101 win, but Miller set an individual feat as well. Shooting 6-11 from the three-point arc that night, Miller became just the second player to make 1,200 career three pointers. His final total of 2,560 has since been surpassed by Ray Allen, but Reggie will always be remembered as one of the NBA's elite shooters.
As mentioned, Miller was wearing the Nike Air Thrill Flight for this record-setting game. Marketed as a take-down variation of the Nike Zoom Flight 95, the Thrill Flight dropped Zoom cushioning, but maintained a similar aesthetic to the Zoom Flight.