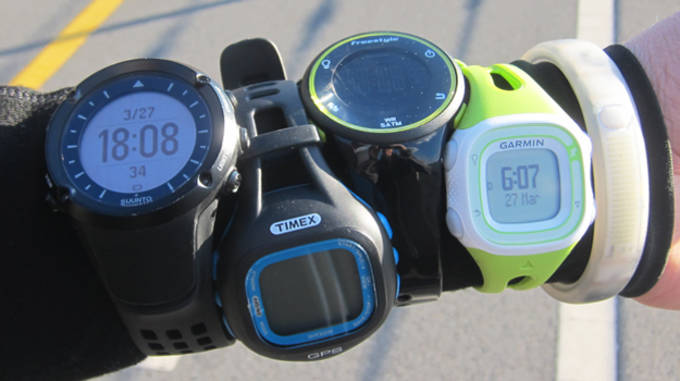 There are two types of runner: The minimalist who, along with a stripped-down shoe, prefers to run with the bare essentials—shoes, shorts, and shirt (optional)—and runners like myself—runners who prefer cushioning over barefoot, being fully-clothed, and who can't resist the temptation of gadgets (in this case watches) for a bit of added motivation to hit the track or trail.
We've tested the best running watches on the market to parse out the cream of the crop. Each offers distinct features that connect with individual runner's needs. To that end, these are the 5 Watches Every Runner Should Consider. 
RELATED: Gear Guide: 10 Watches That Step Your Game Up
RELATED: Personal Best: Which TIMEX Performance Watch Is Right For You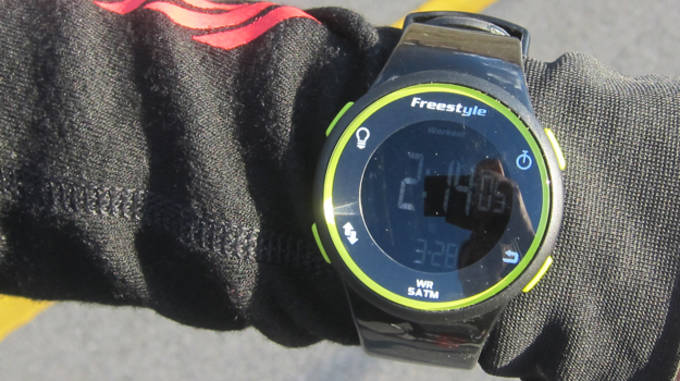 No. 1 - Freestyle Sprint
The Good: Lightweight, easy to use
The Bad: Not great for night running
Star Feature: 1/100s Stopwatch up to 1 hour
Weight: 1.8 oz
Freestyle makes a hell of a surf watch, so the Sprint has naturally been at the top of my list of watches to take for a test run. Let's cut to the chase: If you're a no-nonsense runner who prefers simplicity and an affordable price tag, the Freestyle Sprint is well-worth the $45. It doesn't have the bells and whistles you see in a lot of running watches today. You don't get GPS or a calorie counter.
What you do get with the Sprint is a lightweight, water resistant (up to 30 meters) watch that is easy to use, and has basic functions like a 1/100s stopwatch, 30-lap memory, and a preset countdown timer geared towards the casual runner. Comfort is another plus thanks to a polyurethane band that holds up well against sweat (for me, that's a big deal). The only beef I have with this watch is it's ease-of-use at night. It has a decent night vision mode, however the backlight only stays illuminated for just three seconds. All in all, the Sprint gets the basics accomplished.
Oh, and it tells time too.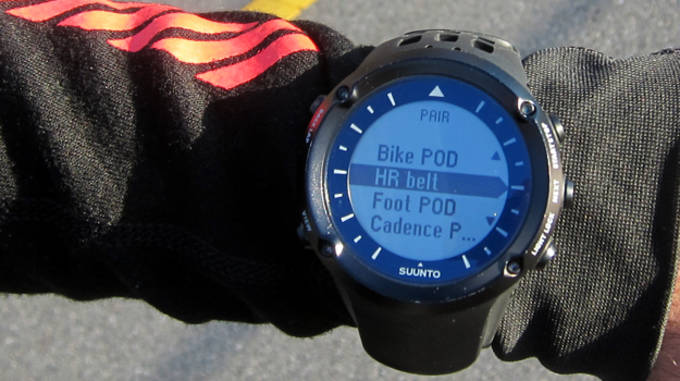 No. 2 - Suunto Ambit
The Good: GPS-Enabled, durable, comfortable, excellent battery life
The Bad: Price
Star Feature: FusedSpeed technology
Weight: 2.7 oz
Where the Freestyle Sprint is cheap, the Suunto Ambit is not. But you certainly get what you pay for with this bad boy. Ok, so the Ambit isn't marketed as a running watch, nor should it be. However this high-end performance watch can be used for virtually any sport or outdoor activity, and that includes running. Not to mention It has that military-style design that guys naturally tend to gravitate towards.
To make sure I don't leave behind any doubt, the Ambit is my favorite watch, period. And as it just so happens, my favorite watch before I got the liberty to test the Ambit, was also a Suunto—the Core to be exact. Let's face it, the Finland-based brand knows what it's doing out there in Scandinavia.
Getting back to the review, the Ambit is my go-to watch for all things performance. I've skied in it, hiked in it, swam in it (water resistant up to 100 meters), and above all, run in it, a lot. Despite the plethora of functions the watch has, it's relatively easy to use once you've taken the time to get to know it. It is GPS-enabled for runners who want to track their routes, has an extremely accurate compass for trail running enthusiasts, and an optional heart rate strap that pairs with the wrist device to help you keep tabs on the old ticker.
The Ambit also has a useful Recovery Time feature that tells you exactly how long your body needs to recover. All the progress tracked by the watch is then accessible via an accompanying smartphone app that consolidates all of the data.
The bottom line: If you're in the market for a watch you can run in, and use it for everything else you do, there's few options out there that stack up to the Ambit. Just remember, if you're going to spend the money on it, make sure you shell out the extra $50 for the heart rate strap. It's well worth it.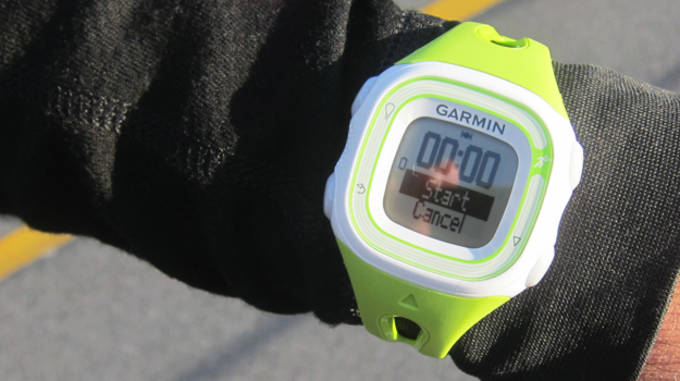 No. 3 - Garmin Forerunner 10
The Good: GPS-enabled, tracks data, durable
The Bad: Small strap
Star Feature: Virtual Pacer
Weight: 1.3 oz
I won't lie to you. The first time I put on the neon green Forerunner 10, it felt like I was wearing a women's watch. But I've been reassured that it's a unisex model, so it's all good. I mean, Call me old-fashioned, but I would have much preferred the black version. But really, it's not just the color—the watch is a bit on the smaller side. I suppose you could say it's designed for that minimalist runner we talked about in the intro.
I'll start off by taking this moment to thank Garmin for mailing the watch pre-charged. It's always the small things that go a long way. It even inspired me to return them the favor by taking it for a run immediately. And I must admit, I've warmed up to the Forerunner 10. In fact, on more recently, I've been running with it more often than not.
The Forerunner 10 is lightweight, comfortable, and easy to use. With just one click of a button, you can start tracking how far and how fast you've run. It also works as a Virtual Pacer to improve your pace, and even let you access personal records to help you gauge your overall performance. The GPS-enabled watch also keeps track of your route, as well as calories burned from each run.
The Garmin Connect feature allows runners to upload their runs to a free online community that compares your data with runners from around the world. It's definitely a nifty feature in today's social media-centric culture. It's a great watch for marathoners, and a great motivational tool for budding runners.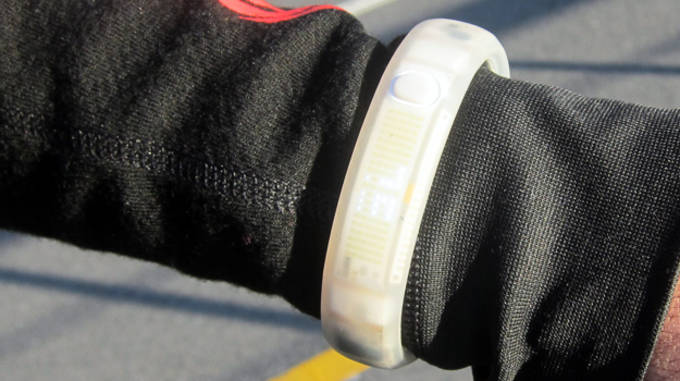 No. 4 - Nike+ Fuelband
The Good: Lightweight, Easy to use
The Bad: Not durable, low visibility during the day, not waterproof
Star Feature: Nike+ technology
Weight: 1 oz
Let's face it, the Nike+ Fuelband is simply a cool gadget to have. It looks neat, it's easy to use, and, well, it's just a fun tool for running, working out, or any other physical activity that's part of your daily routine. It allows you to track steps taken, calories burned, (amongst other things), and converts the data into Nike's own metric system called "Fuel Points."
With just a one-button functionality, the Fuelband is relatively easy to use, especially during a run. A smooth LED display helps you keep tabs of your performance, though I wish it was easier to see during the day time. On days that are bright and sunny, it's often hard to make out the display screen without having to cast a shadow over it with your other hand. For that reason, I prefer to use the Fuelband for my night runs.
One major downside to the Fuelband is that, unlike most other wrist devices, it comes in different sizes (S,M-L,XL) depending of course on the size of your wrist. It's not adjustable like the other watches on this list. Rather, you better hope you order the right size if you don't want to go through the hassle of getting stuck with a Fuelband that doesn't fit. However, Nike does offer an useful sizing guide on its website for athletes who are unsure of which to go with.
Though the Fuelband isn't waterproof, it is water resistant, meaning it's safe to use on a rainy day. Just don't go diving in any pools with it on.
To get the complete Fuelband experience, Get the free Nike+ mobile app to sync wirelessly, watch your progress and get extra motivation on the go. The app also lets you compete with yourself or share results with your friends.
$149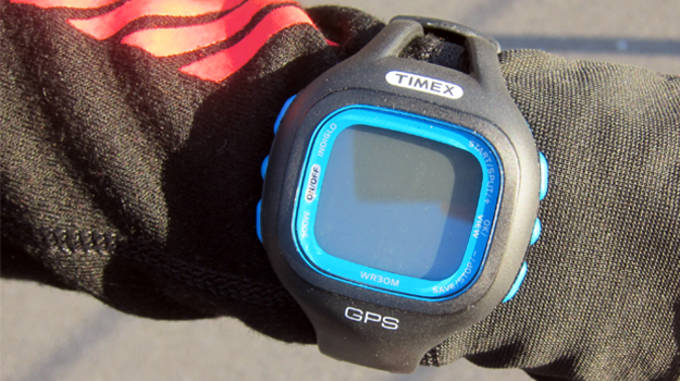 No. 5 - Timex Marathon GPS
The Good: GPS-enabled, durable, accurate
The Bad: Hard to navigate
Star Feature: Hands-free auto split
Weight: 1.9 oz
The Timex Marathon is pretty much a bulkier version of the Garmin Forerunner 10. It is a solid entry-level GPS running watch that accurately tracks things like speed, distance, pace, calorie consumption data and up to 30 saved workouts, all on a large, easy to read display screen.
These are all things I personally like to keep track of, so naturally I'm attracted to the Marathon GPS as a runner. It's water resistant up to 30 meters, the GPS finds satellites fairly quickly, and has a simple, easy-to-use layout. However, I did run into a couple of unexpected setbacks while testing the watch. While it is everything you'd want in a running watch, the battery died on me just two miles into my initial run. Perhaps I should have charged it completely before use, but for some reason it shut off.
On the bright side, I eventually charged the watch to full capacity and haven't had the same issue so we can ride it off as a freak occurrence. My other, more important issue with the Marathon is the strap. While it's comfortable around the wrist, and fairly durable, I'm not a fan of running watches that have a non-replaceable strap. I've had past experience with broken straps, and when a strap on this type of watch breaks, the only fix is buying a new watch altogether. Let's just hope this one doesn't break on me, and all will be well.
A major strong point for the Marathon GPS is its accuracy. I've heard of other runners experiencing a slightly delayed response when timing runs. However, after countless runs, it has been on point for me for the most part. The hands-free auto split function is a handy function as well.
All in all, the Marathon GPS is a solid tool for beginner-to-intermediate level runners in search for a little help with training for a race.
$125
Gurvinder Singh Gandu is a New York City-based contributing writer and wear-tester for Sneaker Report, and a contributing writer for Yahoo! Sports. A California-raised, sports-obsessed, gear junkie, follow him here to keep up with all things performance.