Fitness Vacations have become extremely popular in recent years and the industry has steadily grown since. Whether you want to swim your way across tropical beaches or train for your next race by trucking it through a breathtaking mountain pass, there is probably a perfect fitness vacation for you. Before you pack your regular bags and your gym bags for a week long workout session, we want to provide a word of warning. There are vacations out there for the most extreme ... even crazy, among us. Before you enter your credit card information make sure you know what you are signing up for. There are some fitness vacations out there that are so intense, you may not come back from them. Do the right thing and notify your next of kind as you prepare for the 10 Fitness Vacations You'll Want to Avoid.
CLICK TO CONTINUE STORY
RELATED: The 10 Most Dangerous Running Trails in the US
RELATED: The 10 Most Scenic Running Trails in the US
<iframe width="200" height="30" frameborder="0" scrolling="no" src="//platform.twitter.com/widgets/follow_button.html?screen_name=SneakerReport&amp;showcount=false&amp;show_count=false"></iframe><!--nextpage-->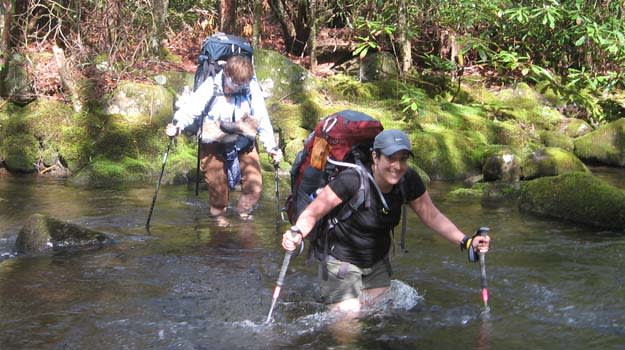 No. 10 - Fitpack it In
Best For: People with literal baggage.
Price: $1,000 - $2,500
Major Fail: Hiking isn't supposed to be this strenuous, is it?
Saving Grace: Better scenery than on a treadmill
Bottom Line: If you go for two weeks, you are going to make Bilbo's journey look like a light jog.
Have you ever been on a quaint backpacking trip through beautiful lush trails where you can calmly take stock of the loveliest parts of nature's bounty? Yeah, this is not that. The idea is a week or two of backpacking where you break through mental and physical barriers by participating in a series of grueling endurance hikes. Before you begin, they will take body measurements including, but not limited to, percentage of water, fat, muscle mass, and metabolic age, so you can quantify just how much you have changed on your journey. If you choose one of the four or five star trails, we know you'll probably change a good amount. Be careful when you choose your trail, as the folks at Fitpacking warn, "The easiest day of a 4 star trip may be less strenuous than the hardest day of a 1 star trip. We have little control over how mountains form, where trails and campsites are located, weather variation and terrain, so difficulty varies from day to day." Doesn't that put you at ease?
[Fit Packing]<!--nextpage-->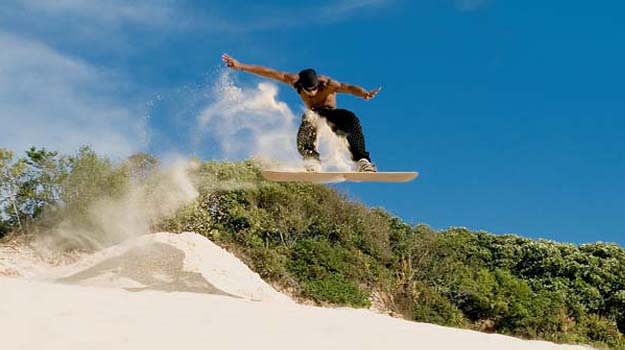 No. 9 - Shred the Dunes
Best For: Stars of a Mountain Dew Commercial
Price: From $250 per day
Major Fail: Where do you buy a sandboard?
Bottom Line: There might be such a thing as too extreme.
There's nothing wrong with taking an extreme sports vacation, we're just guessing that if you've never sandboarded before, you probably won't want your first experience to be on the world's largest dune. Peruvian Adventure Tours is your one stop shop if you are trying end up on Cerro Blanco, a 2070 meter high sand dune. The agency assures us that "the basics are easy to pick up", but we'll probably try to master one of the many types of boarding available stateside before we do the dunes.
[Peru Adventures]<!--nextpage-->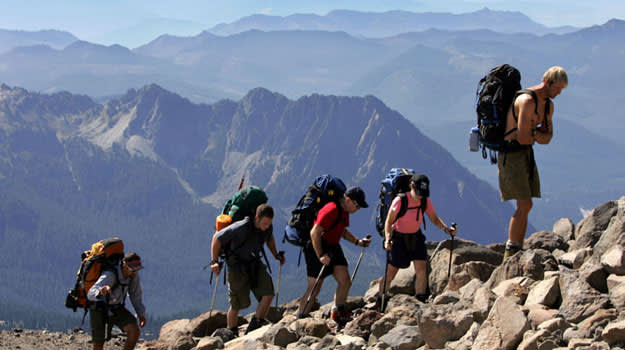 No. 8 - Climb Every Mountain ... or Not
Best for: An "alpinist" (yeah we just found out that was a word too
Price: $500 and up
Major Fail: Way tougher than the rock wall at the gym
Saving Grace: This vacation might produce a slideshow your friends actually want to watch
Bottom Line: We'd prefer just to yodel at these crags instead of actually climbing them
Any vacation that requires an "alpinist" is a vacation we are going to think twice before taking. RPM Guiding makes it even more enticing for you, as the company promises that not only will you be "scrambling on exposed ridges" but you will also be "traveling across glaciers." While we have a spirit of adventure, we are content to let the glaciers melt in peace, undisturbed by our footsteps. Just for the record, If you are interested in taking on these 4,000 meter crags, we do recommend that you take an alpinist.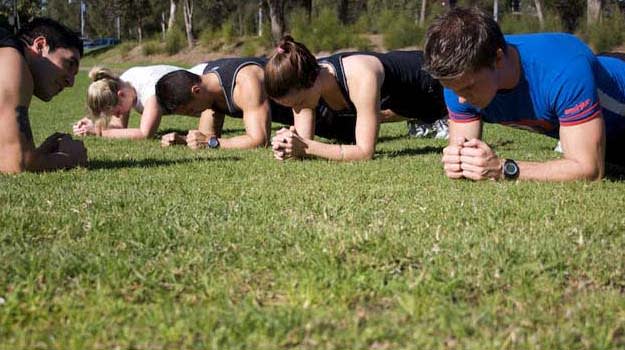 No. 7 - The Neverending Fitness Bootcamp 
Best For: Someone with a lot of time on their hands.
Price: $900 and up
Major Fail: There are probably better ways to spend six months in Thailand, just ask your perverted uncle.
Saving Grace: You have no excuse not to get in shape.
Bottom Line: We're not sure if this is a vacation or a cry for help.
Bootcamps modeled after military training have become the new hot way to get in shape fast. Some places might take the the concept a little bit too far though. The Xtreme Gap Year Program in Thailand offers up to six months of bootcamp training. Sure, you can stay for as little as two weeks, but why stop there when you can spend an entire half-year training for ... whatever it is you are training for? If you aren't the kind of person who likes making choices for yourself on vacation, don't worry. If you opt for their meal plan, you can be told what to eat as well as how to train!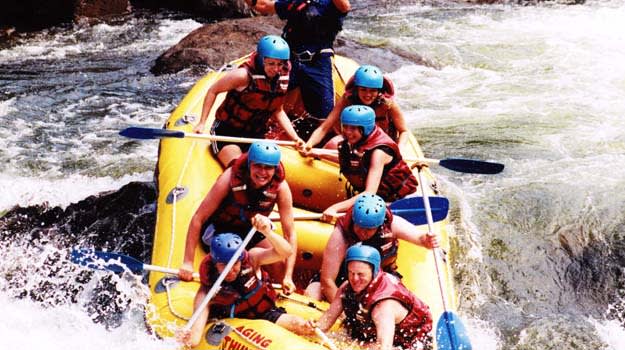 No. 6 - White Water in the Morning, Newbies Take Warning
Best For: The experienced raftsman
Price: $100 per day
Major Fail: If you don't know your limit, you could be pushed past that limit pretty quickly
Saving Grace: You'll Stay Hydrated
Bottom Line: There's a reason they have class 1-3 rapids.
White water rafting can be a blast for people of all ages and fitness levels. You just need to make sure that you pick the right level of rapids. If you are going to be braving class IV or V white water, bear in mind that they are rated "strenuous" for a reason. If you have never been rafting before or if you have been a bit lax with your fitness recently, don't lie to yourself. Trust the guides who work the river, take their advice and if you feel that this trip is too tame, it's better to up the ante next time than to make your first trip down the river your last.
[Class Vi]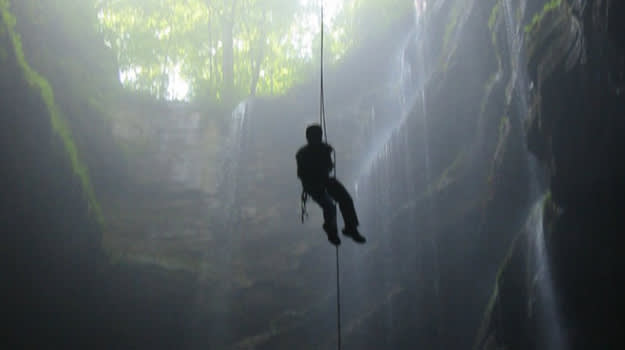 No. 5 - Cave In
Best For: People who  aren't claustrophobic or afraid of the dark
Major Fail: Ask anyone who forgot to bring a backup flashlight
Saving Grace: Virtually no chance of coming home with sunburn.
Bottom Line: You truly get away from it all .. and into a dank cavern
We hope that you got your climbing skills on point during your alpine vacation, because now you get to put all of those skills to the test in the dark. If you have always dreamed of having the opportunity to "squeeze through damp crevices covered with luminescent glow worms, then you are ready to head to New Zealand for a Waitomo spelunking experience. If that isn't creepy enough to satisfy your Gollum quotient, you can go "backwater" rafting in the underground rapids of Ruakuri cave and imagine that you are taking your last ferry ride across the River Styx.
[Waitomo]
No. 4 - Ironman in Paradise
Best For: People who are into endurance races when they aren't on vacation, and just can't get enough
Prices: Customized on a Personal Basis
Major Fail: You, around these athletic gods
Saving Grace: If you are ready for this vacation you are ready for anything
Bottom Line: You're going to need to train hard for this vacation.
If you're anything like us, you've always dreamed of a luxuriant tropical vacation ... where you get to compete in a 36 kilometer paddle boat race. Wait, no, that's not our dream at all. It seems that there are ultra athletes out there who never take a break, even while sunning themselves on tropical beaches. Ironmana Liquid Festival Bora Bora caters to crazy athletic specimens. There are four days of water-based endurance races to occupy these ultra-athletes who we assume just can't sit still. Apparently, you'll also learn a thing or two about Tahitian culture on this trip ... that is if you aren't too exhausted from the races.
[Kainalu Fitness Vacations]<!--nextpage-->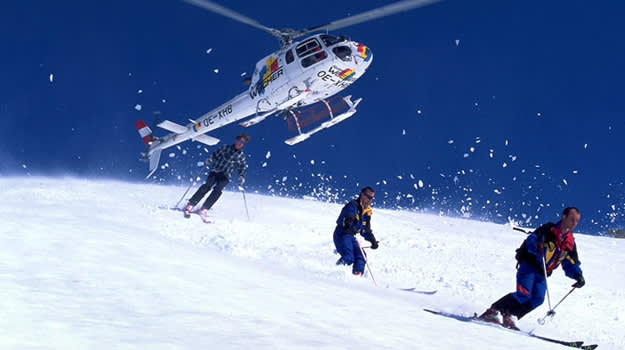 No. 3 - Hella Heli-Skiing
Best For: People with really good balance
Price: From $7,000 per week
Major Fail: There are far cheaper ways to die.
Bottom Line: It's Adam and Eve not helicopters and skis
If you have $7,000 lying around, one way you could spend it is jumping out of helicopters on skis. So, those of you out there who have paid off all of your student loans, just landed that cushy venture capitalist gig and have a death wish ... this could be for you. That being said, if you are the sort of person who has enough skiing experience to deftly handle jumping out of a helicopter and landing on a mountain, and you aren't a professional skier, you probably have a good amount of cheddar lying around anyway. Just make sure to revise that will before you head up the Sarah Palin's homeland for your trip.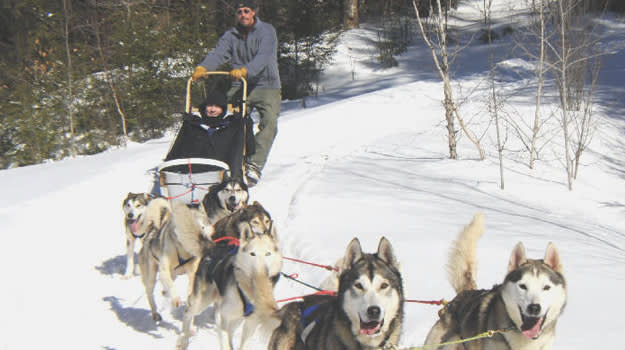 No. 2 - Answering the Call of the Wild ... Literally
Best For: Jack London wannabes
Price: Rates Vary
Major Fail: It's Really Cold Up There
Saving Grace: Guarantee of a White Christmas
Bottom Line: Freezing your a** off isn't our idea of a vacation
Sure, mushing sled dogs in the Yukon sounds pretty badass, but is this the ideal way for you to relax and let all of the stresses of the work-a-day world melt away? Our rule is, if someone has died doing it, it isn't a vacation. Also, you get to camp out on the trail, "just like mushers do." If you are the kind of person that complains about a long winter wait for the bus, you might want to think that through before going all White Fang on your getaway. The spot is owned by Frank Turner, who has raced in the Yukon Quest, commonly known as the toughest race on Earth, every year since 1984, so don't expect any sympathy from him or his team of experts when you want to return to the lodge after your lips get chapped.
[Muktuk]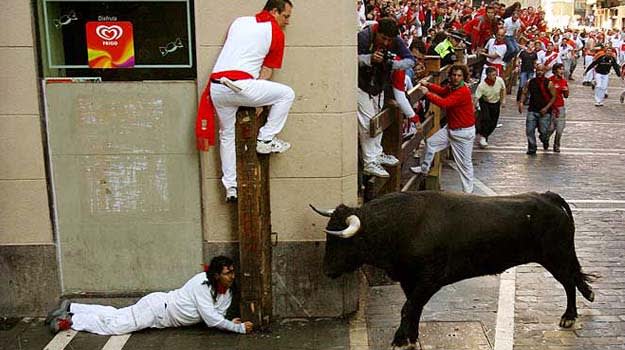 No. 1 - No Bull
Best For: People not wearing any red
Price: From $1500
Major Fail: Don't tell PETA
Saving Grace: The Actually Running of the Bulls is Free
The Running of the Bulls in Pamplona might be the oldest and most storied fitness vacation in the world. Matadors have been the stuff of legend for many generations in Spain. Though it would take you a very long vacation to become an actual matador, you can pop over to Spain this July and run as fast as you can away from bulls. There isn't any exact training regimen recommended on the website, but we think you should focus on running ... really fast.