The Most Anticipated Movies of 2021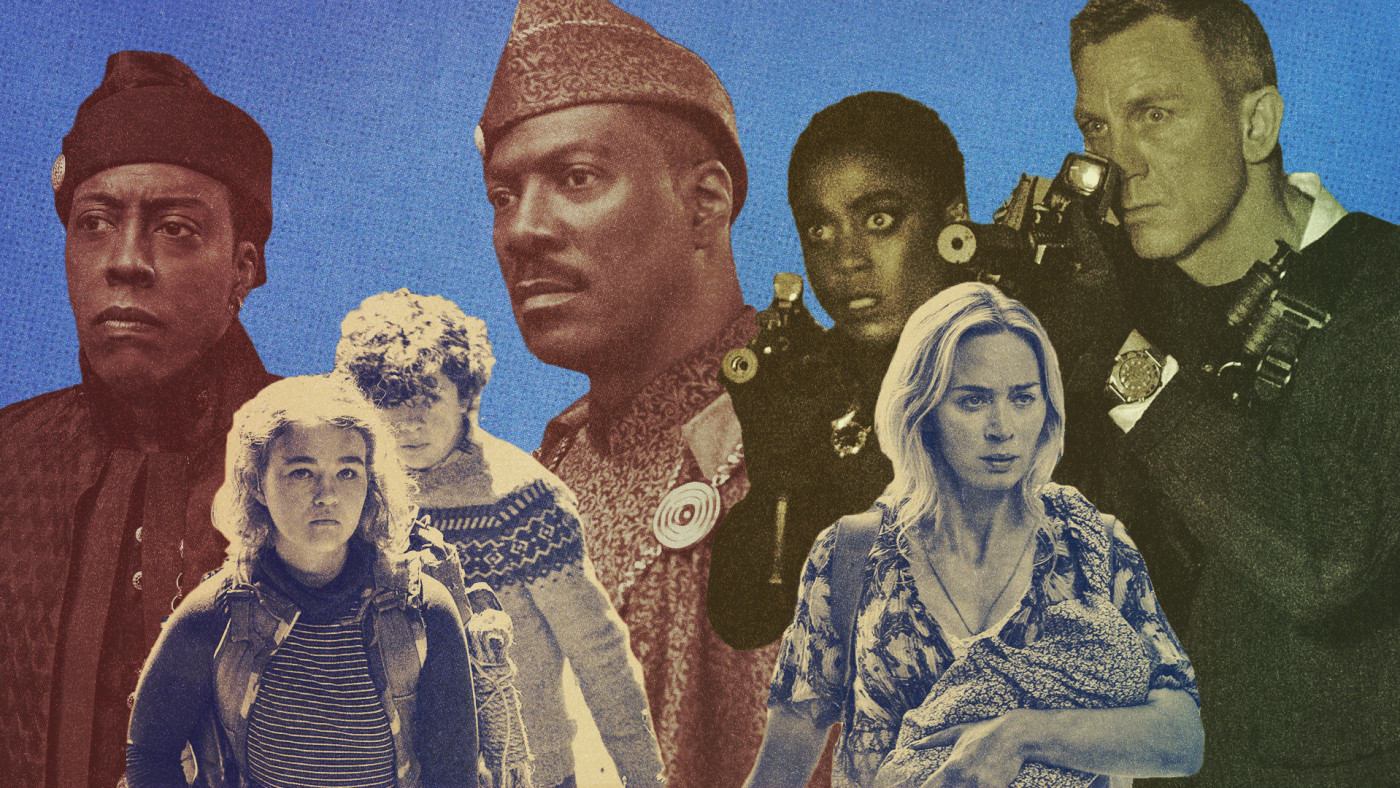 Let's keep it a buck: The future of the film industry is one of the most confusing discussions to have. With the COVID-19 pandemic keeping a large swath of theaters shut down, it's hard to imagine a time where we'll be able to enter a cinema to take in a blockbuster any time soon. WarnerMedia is leveraging HBO Max to at least keep their movies to schedule, although if you're not subscribed to the service, or miss the 30-day window, there's no real word on when you can catch some of 2021's biggest movies. And that's just looking at the films Warner Bros. is set to release this year!
All of that said, we have to stay the course. We may still be staying inside, hoping for a day where we can comfortably go outside and reclaim the joys of life that we've missed for the majority of 2020, but we will be able to take in some solid entertainment while doing it. And if you think about it for a second, 2021 does have some solid releases set to drop. Cult classic comedies and horror franchises are making their returns this year, with some of your favorites—Zendaya, Ben Affleck, Tom Holland, Margot Robbie, and more—set to bring movie lovers some of the finest entertainment Hollywood has to offer. James Bond, the Fast franchise, and James Gunn making DC movies could help make 2021 brighter… or they can at least help us escape what's started out as a truly trying year. Let's lead with optimism! Here's a look at the most anticipated movies of 2021.
'Malcolm & Marie'
Director: Sam Levinson
Starring: Zendaya, John David Washington
Distributor: Netflix
Release date: Feb. 5
The Zendaya-John David Washington movie from Euphoria creator Sam Levinson has built up so much anticipation since the summer, and fans have been eagerly awaiting the movie's trailer. The project was filmed secretly amid the COVID-19 pandemic, and the production team and cast had to follow strict safety protocols and quarantined for two weeks before and after filming. Malcolm & Marie became one of the first movies to be produced and completed since the coronavirus halted many Hollywood productions earlier this year. The premise of the film—written and directed by Levinson—is said to be a two-hander story of a director, played by the Tenet star, and his girlfriend, played by the Emmy winner. The couple's relationship is put to the test after they return home from the premiere of his latest project, and they await the critical response and success that's to come from it. Netflix acquired distribution rights to the black-and-white film for $30 million in September 2020 after a bidding war with other distributing companies. The film will be released globally Feb. 5, 2021, and the streaming giant already plans to wage a full-fledged Oscar campaign on the movie's behalf. We'll have to wait and see if Zendaya takes home another trophy. —Karla Rodriguez
'Judas and the Black Messiah'
Director: Shaka King
Starring: Daniel Kaluuya, Lakeith Stanfield
Distributor: Warner Bros. Pictures
Release date: Feb. 12
When WarnerMedia announced that their 2021 film slate would be released simultaneously in theaters (whatever that means?) and on HBO Max, many doom scrollers focused on what they felt was the death of the theater business. That's a very real concern, but in whatever you want to call this part of the COVID-19 pandemic, the last thing you should be thinking about is hitting a cinema. One of the benefits is that you'll be able to take in films like Judas and the Black Messiah, which takes us into the very real infiltration of the Black Panther Party that led to the tragic murder of Panther leader Fred Hampton. Portrayed by the dynamic Daniel Kaluuya (Get Out, Widows, Black Panther), we see Hampton organizing the Black Panthers into an organization that's not only helping out the community but aligning themselves with like-minded groups in an effort to stamp out the oppression in the country. William O'Neal, played by LaKeith Stanfield (Atlanta, The Photograph), is sent to infiltrate the Panthers after striking a deal with the FBI, and the film deals with his inner turmoil. The film features a number of today's brightest stars—Dominique Fishback, Ashton Sanders, and Euphoria's Algee Smith all make appearances—and helps shed light on a tragedy that feels aligned with the horrific American nightmare we're currently living in. —khal
'The United States vs. Billie Holiday'
Director: Lee Daniels
Starring: Andra Day, Trevante Rhodes, Natasha Lyonne, Da'Vine Joy Randolph, Garrett Hedlund
Distributor: Paramount Pictures
Release date: Feb. 26
Billie Holiday was more than an iconic singer, and The United States vs. Billie Holiday aims to shed light on the darker side of the jazz legend's life. The film, directed by Lee Daniels, is based on the book Chasing the Scream: The First and Last Days of the War on Drugs by journalist Johann Hari. The book examines the history and impact of drug criminalization, collectively known as "the War on Drugs," and profiled prominent figures in the drug war, including Billie Holiday. The "Strange Fruit" singer struggled with a heroin addiction, and it landed her in prison. The film will intimately focus on the legendary singer's struggles with addiction, fame, and heartbreak. It will follow Holiday during her career when the Federal Department of Narcotics targeted her with an undercover sting operation led by a Black federal agent Jimmy Fletcher (played by Moonlight star Trevante Rhodes), with whom she had an affair. Singer Andra Day will play the incomparable Holiday, while Natasha Lyonne is signed on to portray Tallulah Bankhead. Evan Ross and Dana Gourrier also joined the cast. —Karla Rodriguez
'Coming 2 America'
Director: Craig Brewer
Starring: Eddie Murphy, Arsenio Hall, Jermaine Fowler, KiKi Layne, Leslie Jones, Shari Headley, John Amos, Tracy Morgan, Wesley Snipes, James Earl Jones
Distributor: Amazon Studios / Paramount Pictures
Release date: Mar. 5
The cult classic Coming to America has been a staple for many African-Americans since its release in 1988. Telling the story of Prince Akeem (Eddie Murphy) leaving the kingdom of Zamunda with his friend Semmi (Arsenio Hall) in search of his future wife, it featured everything we now know and love about Murphy films, including Murphy playing a number of characters (in clever makeup), a romantic arc, and wall-to-wall hilarity. For the sequel, we find Akeem now set to become King of Zamunda, but needing to tie up the one loose end of finding his long-lost son (Jermaine Fowler), who happens to be back in America. The film, which features black-ish mastermind Kenya Barris as a part of the writing team, brings together an all-star cast, including Tracy Morgan, Leslie Jones, Wesley Snipes, Teyana Taylor, and many, many more. Murphy and Hall even reprise all of their old characters, from the peanut gallery in the barbershop to Randy Watson, Sexual Chocolate's lead singer. This could end up being one of the funniest films of 2021. —khal
'Godzilla vs. Kong'
Director: Adam Wingard
Starring: Alexander Skarsgard, Millie Bobby Brown, Kyle Chandler, Rebecca Hall, Brian Tyree Henry, Shun Oguri, Eiza González, Jessica Henwick, Julian Dennison, Demián Bichir, Zhang Ziyi
Distributor: HBO Max / Warner Bros. Pictures / Legendary Entertainment
Release date: Mar. 26
After taking in Kong: Skull Island and Godzilla: King of the Monsters, fans of the storied MonsterVerse have been waiting for this modernized take on two of the most ferocious and deadly beasts going to battle. We got a tease of King Kong in the last Godzilla film, and fans of the series might be able to dream up a fairly reasonable scenario… although all they really want to see is these two gargantuan beasts clobber each other for the better part of 120 minutes. Millie Bobby Brown and Kyle Chandler are joined by the likes of Alexander Skarsgård (Big Little Lies) and Brian Tyree Henry, whose role is unconfirmed but presence is always welcome. —khal
'No Time To Die'
Director: Cary Joji Fukunaga
Starring: Daniel Craig, Rami Malek, Léa Seydoux, Lashana Lynch, Ben Whishaw, Naomie Harris, Ana de Armas, Jeffrey Wright, Christoph Waltz, Ralph Fiennes
Distributor: Metro-Goldwyn-Mayer / Universal Pictures / Eon Productions
Release date: Apr. 2
What a weird title for such a momentous Bond film. No Time To Die is the 25th installment in the historic James Bond theatrical series and is also confirmed to be Daniel Craig's final time portraying the suave MI6 agent. Directed by Cary Joji Fukunaga (True Detective Season 1), word is that we will be getting a new Agent 007, Nomi (played by Lashana Lynch), and a new villain, Safin (Mr. Robot's Rami Malek). Along for the ride are Jeffrey Wright (Westworld) and Ana de Armas (Knives Out), as well as a host of insane locations and exquisite vehicles that will no doubt be blown up for our enjoyment. With an April 2 release date, we can only hope that we'll be able to go outside and see this film on the big screen as it's intended. —khal
'Mortal Kombat'
Director: Simon McQuoid
Starring: Ludi Lin, Joe Taslim, Tadanobu Asano, Jessica McNamee, Mehcad Brooks, Lewis Tan, Josh Lawson, Chin Han, Hiroyuki Sanada
Distributor: HBO Max / Warner Bros. Pictures / New Line Cinema
Release date: Apr. 16
The iconic Mortal Kombat video game franchise has spawned a bevy of fighting games, comic books, and more, as well as two feature-length films. The third installment is also set to reboot the franchise, bringing the storied ultra-violence of the fighting game series back to movie lovers. There isn't a lot known about the plot of the film, but many of your favorites are along for the fight, including Sub-Zero, Liu Kang, Raiden, Sonya Blade, Jax, and Shang Tsung. There's even word that the Fatalities—the gory death sequences that gamers can pull off after winning matches—will be making their way into the film. With this hitting HBO Max as well as theaters, it will make it easier for more squeamish viewers to bury their heads in a pillow when the blood starts to spew. —khal
'A Quiet Place Part II'
Director: John Krasinski
Starring: Emily Blunt, Cillian Murphy, Millicent Simmonds, Noah Jupe, Djimon Hounsou, John Krasinski
Distributor: Paramount Pictures
Release date: Apr. 23
After the box office success of 2018's A Quiet Place, it wasn't long before Paramount Pictures announced that a sequel was in the works. John Krasinski was called on to return to direct the sequel and write the full screenplay since the first film's screenwriters, Scott Beck and Bryan Woods, did not sign on for Part II. Actors Emily Blunt, Millicent Simmonds, and Noah Jupe will reprise their roles. The Office alum will return as Lee Abbott and will appear in flashback sequences. Cillian Murphy and Djimon Hounsou have also joined the cast. The storyline follows the Abbott family as they adjust to their new life after their significant loss in the first film. The mom and her three kids will venture out of their home searching for people who will help them survive the monsters they fought in the first installment but will face new dangerous threats. The movie studio initially planned to release the sequel in March 2020, but postponed it twice due to the coronavirus pandemic. If all goes well, fans will be able to catch A Quiet Place Part II in theaters in April 2021. —Karla Rodriguez
'Black Widow'
Director: Cate Shortland
Starring: Scarlett Johansson, Florence Pugh, David Harbour, O-T Fagbenle, William Hurt, Ray Winstone, Rachel Weisz
Distributor: Marvel Studios
Release date: May 7
Even though fans of Marvel's Cinematic Universe will have a few Disney+ shows breathing life back into the franchise, it's insane to think that COVID-19 made the wait between 2019's Spider-Man: Far From Home and Black Widow so long. Similar to Captain Marvel, Black Widow is a story from the past about Black Widow (Scarlett Johansson) having to confront a past she thought she'd left behind. Rising stars like Florence Pugh are onboard, as well as the always-capable Rachel Weisz, but one of the most intriguing additions to this story is Taskmaster, a mysterious character from the Marvel Comics world with the ability to mimic his opponents' moves, making him a huge threat to Black Widow and her crew. We guess. We're not even 100 percent confirmed on who will be portraying Taskmaster, let alone how this story fits into Phase 4 of the MCU. Time will tell if Marvel Studios will cave to a Disney+ release or go through with a theatrical release.  —khal