The Best Thanksgiving TV Specials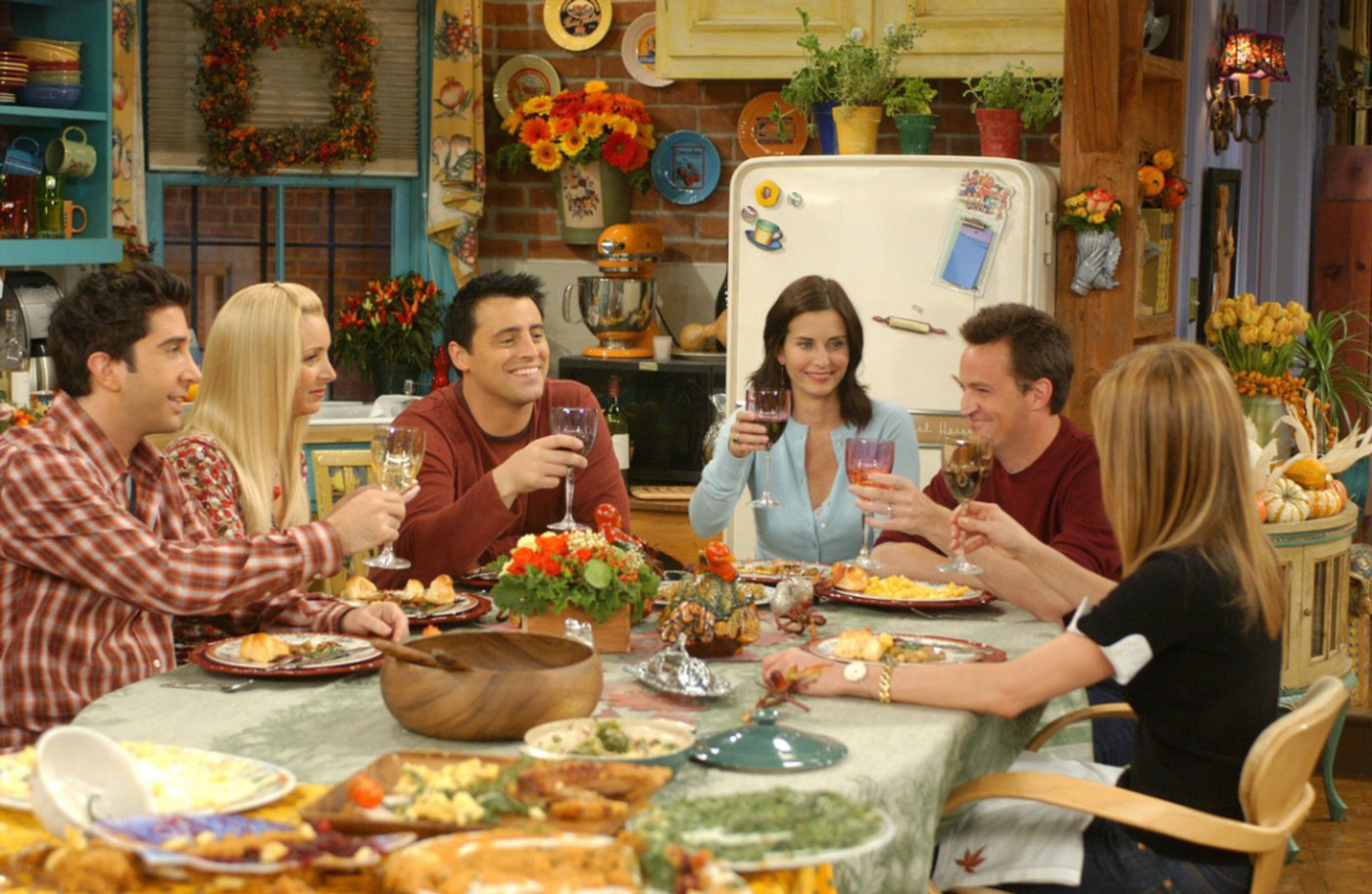 Thanksgiving is an interesting holiday. Putting its colonialist roots aside, it's usually just a weekend of stressed-out people cooking for a big drunk group of family members who don't usually spend that much time together. But it's also a uniquely American tradition, and that means that TV is an integral part of the whole thing.
There are a lot of traditional TV episodes that are almost as synonymous with the holiday as turkey and yelling at your racist uncle: the football game, the Macy's Thanksgiving Day Parade, A Charlie Brown Thanksgiving, and even a dog show or two. But another tradition, and one that we believe is a hell of a lot more fun, is the selection of Turkey Day episodes of your favorite TV shows. It's a staple of the old-school network family sitcom, but shows on premium cable or streaming platforms often take a crack at the subgenre too.
Thanksgiving episodes of your favorite TV shows are the best; the reality is most of us will, at some point during our family Thanksgiving weekend, want to rip our hair out due to spending so much time with our "loved" ones. There's nothing better to do in those situations than watch another family, even a fictional one, be even more dysfunctional than your own. This kind of escapism is probably healthier than trying to win arguments with your parents or drink until you can't remember everyone's names, so you should definitely consider it.
Sneak away at some point after Thanksgiving dinner, maybe bring a trusted sibling or cousin or dog with you, and indulge in some of television's best Thanksgiving specials.
It's Always Sunny in Philadelphia: "The Gang Squashes Their Beefs" Season 9, Episode 10
This is the perfect episode for a diehard Sunny fan mostly because it's kind of a compilation of the most on-brand Sunny moments and guest characters, but there's a Thanksgiving food fight in there too. The basic premise is that Mac, Dennis, Charlie, Dee and Frank eventually realize they can't enjoy some of their favorite things like hoagies or the director's cut of Thunder Gun Express because they just have "too many beefs all over town" and, as Dennis puts it, "it's jamming us up." The episode plays out like a competition wherein the viewer has to guess just which horrible thing the gang did to a whole list of fan-favorite guest characters from the show as they try to win them over by cooking them a Thanksgiving feast. It's got some great visual gags—Charlie cooks only beef and squash, Mac brings dirt and a hatchet, Dee wipes a slate clean—but the best part is just the revisiting of all the things that make Sunny what it is.
Master of None: "Thanksgiving" Season 2, Episode 8
It goes without saying that this is one of Master of None's strongest episodes—it won a freakin' Emmy after all. It's also a great Thanksgiving vignette because it manages to squeeze in all of the relevant aspects of the holiday: the family time, the fond memories you have of it as a kid, and the more recent, less fond memories of what spending too much time with your family actually feels like as an adult. But the episode's true value is that it's one of the most touching half-hours ever dedicated to the nuances and struggles of Black, queer life on television. It focuses on Denise (played brilliantly by Lena Waithe), her memories of Thanksgiving, and how her mom and aunt's complicated feelings about her sexuality as it relates to their race.
Fresh Off the Boat: "Huangsgiving" Season 2 Episode 8
A funny, witty show about cultural differences like Fresh Off The Boat was always going to ace its Thanksgiving episode, since the holiday is so distinctly American and ripe for ironic commentary, but "Huangsgiving" is really better than it has any right to be. Beginning with an ominous yet traditional call from Jessica's mother at 5:30 a.m., informing her that she will be hosting Thanksgiving this year instead of her sister Connie, the ensuing antics perfectly capture the haphazard and stressful reality of cooking Thanksgiving dinner for your entire family. It's also got a dash of family drama, which anyone who has ever celebrated Thanksgiving can attest to being a true trademark of the holiday.
Orange Is the New Black: "Fucksgiving" Season 1, Episode 9
The Thanksgiving episode of Orange Is The New Black's first season was a particularly strong one in a particularly strong season, but at least part of that is because the very concept of the holiday highlights just how hard prison life is. It's an episode marked by Piper's growing loneliness and need for affection, juxtaposed with her growing attraction to and flirtations with Alex, which end up with Piper in solitary. But the best parts of this show were always all the other storylines besides Piper's, and the episode also delivers on that front. It highlights Taystee's apprehensions about leaving and entering the real world when she knows she has no skills and has spent most of her life in prison. It keeps up one of the running thread throughout the entire show, drugs in the prison, and Red's attempts to keep the girls she has maternal affection for clean. It's got Taystee and Poussey dancing together, solidifying the fact that those are two of the best two characters ever created. It's classic Orange Is The New Black, and it's worth a re-watch.
How I Met Your Mother: "Slapsgiving" Season 3, Episode 9
However you might feel about the show (let's get it out of the way: the ending was messy and unsatisfying), there's no denying that early episodes of How I Met Your Mother can be truly enjoyable, especially when they get a silly as "Slapsgiving." There's all of the required Robin and Ted drama (they've recently broken up at this point in the season and are awkwardly trying to remain friends), but the real joy of the episode is what the entire series did so well: the long, slightly complicated bets and payoffs the four main characters constantly get themselves into. In this one, it's Marshall and Barney's "slap bet," and the hilariously tense moments that come from the mystery of when Marshall will deliver his final slap. It's silly and lighthearted, which might be the perfect salve for your Thanksgiving woes.
Arrested Development: "Indian Takers" Season 4, Episode 3
The most recent, Netflix-produced fourth season of Arrested Development received mixed reviews, particularly from diehard fans who felt some of the show's original charm had been lost in the seven years since it got abruptly cancelled. But "Indian Takers" still stands as one of the season's best, if only because it's the one in which television's most disastrously dysfunctional family, the Fünkes, attempt a Thanksgiving meal. It's not a Thanksgiving episode in the way the others on this list are—and they try to cook a duck, not a turkey—but it's still classic Arrested Development, full of witty, laugh-out-loud inside jokes and dark humor.
Everybody Hates Chris: "Everybody Hates Thanksgiving" Season 2, Episode 8
In an effort to take the pressure off herself, Chris' mother asks each family member to make one dish for Thanksgiving dinner. All seems like it's going to be fine until they realize no one put the turkey in the oven.
Friends: "The One with the Rumor" Season 8, Episode 9
It's hard to pick only one out of the 10 "Friendsgivings," but the episode better known as the "The One with Brad Pitt" is a must see. Will Colbert, played by Pitt, Jennifer Aniston's then-husband, is an old high school friend of Ross joining the crew for the holiday meal who ends up being the co-founder of the I Hate Rachel Green Club. Oh, and Joey eats an entire turkey by himself in Phoebe's festive maternity pants.
Seinfeld: "The Mom & Pop Store" Season 6, Episode 8
Everything that can go wrong goes wrong on Seinfeld and this episode is no exception. Jon Voight bites Kramer, Jerry ruins the Woody Woodpecker Thanksgiving Day Parade balloon, and Elaine temporarily loses her hearing. And all that happens the day before Thanksgiving. You can only imagine what the day of was like.