The Best Shows on Hulu Right Now (October 2020)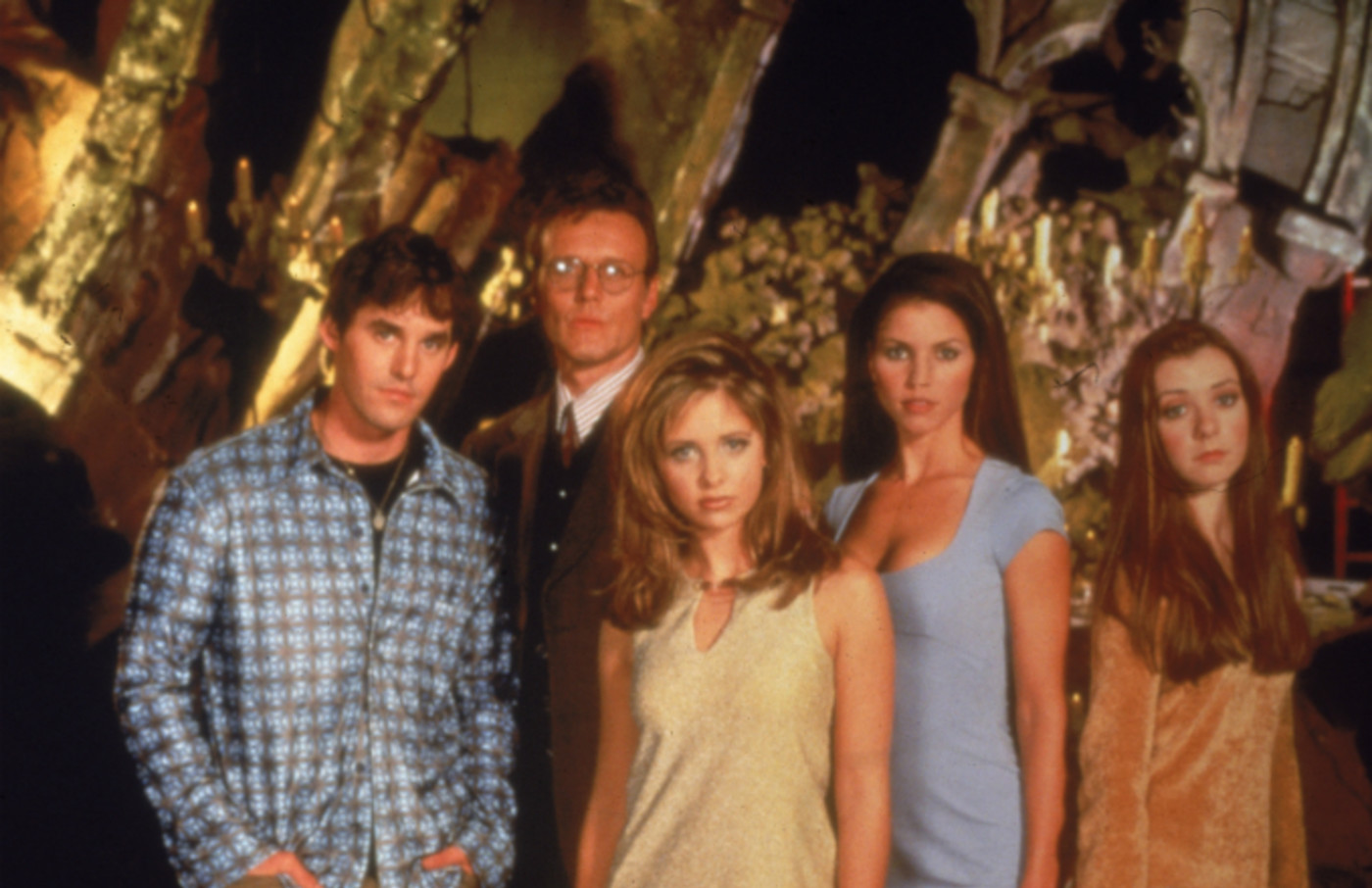 Last Updated: September 17, 2020
Netflix might be the go-to streaming service for all your TV show binge-watching needs, but don't sleep on Hulu, which has a ton of great TV shows to watch. With the fall season in full swing, it's the perfect time to get cozy and fill your time (and heart); why not watch a new drama or comedy on Hulu? 
From Freeform's Everything's Gonna Be Okay to crime classic Twin Peaks to Comedy Central hit Broad City, Hulu has the hook up when it comes to half-hour comedy series you love to watch. But that's not all; the streaming service also has hour-long dramas like This Is Us and Castle Rock, in case you're in the mood for a more serious episode (or five) of TV. And in addition to having an amazing selection of pre-existing series to watch, the platform has also welcomed its own original series for you to binge-watch, like the Elisabeth Moss-starring The Handmaid's Tale and coming-of-age comedy PEN15, which just finished its first season.
If you want to settle in for a bigger commitment, check out our list of the best movies on Hulu; you'll find the rom-com, off-the-wall comedy, or far-out sci-fi flick you need on the streaming service. Cycled through those? Check out our list of the best movies on Amazon Prime.
Otherwise, these are the best TV shows streaming on Hulu right now.
Dollhouse
Seasons Available: 2
Starring: Eliza Dushku, Dichen Lachman, Enver Gjokaj, Tahmoh Penikett
Before sci-fi and fantasy shows became all the rage, genre OG Joss Whedon and his go-to bad girl, Eliza Dushku, were busy delivering this criminally underrated classic. The Dollhouse program—a small group of volunteers, aka "Dolls"—have their minds wiped clean and are reprogrammed with personalities ranging from housewife to hitman in order to complete dangerous missions. But there's a glitch. Doll Echo (Eliza Dushku) is starting to regain a sense of self, and she doesn't like what she's become. As Whedon and Dushku revive their partnership from the days of Buffy the Vampire Slayer, the director's off-screen talent and the actress' on-screen intensity combine with a shorthand that makes the vast intricacies of identity arcs, shady corporations, and programmed assassins look easy. So if you're tired of jumbled plots and predictable characters, give Dollhouse a try. Sadly, it's only two seasons. But they're two of the best the genre has to offer.    
Woke
Seasons Available: 1
Starring: Lamorne Morris, Blake Anderson, T. Murph, J.B. Smoove

"Wokeness," like many social movements, is an idea often examined in terms of how white Americans relate to the concept, and only then how that relationship affects Black Americans. But what if that filter were removed? Well, you'd get Woke. After African-American cartoonist Keef Knight (Lamorne Morris) is violently arrested by police due to racial profiling, he begins seeing inanimate objects come to life in similar style to his own drawings. What's not similar is their message: racism, misogyny, and white privilege. After revealing his newfound visions to friends Clovis (T. Murph) and Gunther (Blake Anderson) Clovis hits him with the startling fact that he might very well be "woke." Creators Keith Knight and Marshall Todd do a great job in avoiding preaching at their audience, while Lamorne uses his superb comedic acting to thoroughly explore his character's battle between "keeping it lite" and doing the right thing. The show's unique feel comes from its willingness to let Black characters speak for themselves, offering a story that flows seamlessly atop its underlying message: that white Americans have the ability to choose to be woke, but Black people are robbed of that choice. Woke is that rare treasure that is as enjoyable as it is important. Don't sleep.
The Terror
Seasons available: 1
Starring: Jared Harris, Tobias Mezies, Ciarán Hinds

A new addition to Hulu, The Terror is a historical chiller (no pun intended). Based on the historical fiction novel of the same name, The Terror centers on a fictionalized account of real life explorer Captain John Franklin's (Ciarán Hinds) lost expedition to the Arctic in 1845. The ships HMS Erebus and HMS Terror were traveling south from the Arctic, seeking the Northwest Passage, before they both became icebound and their respective crews, including Franklin, went missing. The Terror imagines what happened to the two crews on this fateful expedition, as they try to survive starvation and freezing temperatures. The series is impressively moody and creepy, showcasing beautiful stark cinematography, contrasted with the increasing panic of the crew. The show also messes with your head: the crew begins to think there's some strange menace out there on the ice, but is there something really there? Finding out is only half the fun of prestige thriller The Terror; the other half is the great acting and stunningly bleak story.
Justified
Seasons available: 6
Starring: Timothy Olyphant, Walton Goggins, Joelle Carter
Whether you're an Elmore Leonard fan, a devotee of modern westerns, or just an all-around lover of great television, Justified has got your bases covered. After a run-in with the Miami mob, U.S. Marshall Raylan Givens (Olyphant) is reassigned to the last place on earth he'd want to go: his hometown in Kentucky. This exile from the big city is meant to prevent him from further ruffling any feathers, but that quickly proves futile as Givens' history reignites past feuds and his cowboy style of justice seems to finally meet its match against old-school outlaws. Worthy of a recommendation on quality alone, the series greatest strength is just how much it stands out in a sea of streaming. The unique coal country setting, the never before seen backwoods bad guys, and the general bad-assery always followed up by a ma'am or sir makes Justified a one-of-a-kind.
Buffy the Vampire Slayer
Seasons Available: 7
Starring: Sarah Michelle Gellar, Alyson Hannigan, Nicholas Brendon, Anthony Head

Before writer/director Joss Whedon transformed movies forever with The Avengers, his hit series Buffy the Vampire Slayer challenged the confines of small screen storytelling and changed TV as we know it. On the outside Buffy appeared a simple gimmick – tell the story of a high school student by day, vampire killing machine by night. What the show delivered though was far more layered. Broaching taboo topics such as depression, sexuality, drugs, and consent while marrying them to top-notch character development and the exciting storytelling Whedon is known for, viewers no longer had to choose between substance and entertainment. As 90s high school hallways fade into college and eventually adulthood, the supernatural challenges and complexity of real life issues that accompany them also grow, further bonding you to the characters in a way few shows have ever done, and undoubtedly offering an explanation as to why Buffy has retained such a fervent following almost seventeen years after its finale. Whether you're a fan of modern-day prestige TV or basic cable frills, the truth is it's unlikely either would exist in their current form were it not for Buffy. Another truth – even after 20 years of new series following the blueprint, Buffy remains the cream of the crop.
Everything's Gonna Be Okay
Seasons Available: 1
Starring: Josh Thomas, Kayla Cromer, Maeve Press

Australian comedian Josh Thomas still isn't much of a star in the US, but has received plenty of critical attention for his celebrated (yet still criminally underseen) television series Please Like Me, which he created and starred in (and is also on Hulu). Hopefully he'll have his time in the limelight thanks to his new show on Freeform Everything's Gonna Be Okay. The comedy drama follows Nicholas (Thomas), who takes care of his sisters Genevieve (Maeve Press) and Matilda (Kayla Cromer) after the death of their father. Life quickly becomes complicated when Nicholas begins dating a new guy, Genevieve becomes angsty, and Matilda deals with the reality of being an autistic teenager. Like Please Like Me, Everything's Gonna Be Okay finds the perfect blend of comedy and drama, alongside some smart character writing: every character feels more realistic than most characters on television, and that's not even counting Matilda, who's probably the most complex autistic character ever seen on television (and played by an autistic actor to boot). Everything's Gonna Be Okay is one of the best new shows of 2020, and is more than worth a watch. 
High Fidelity
Seasons Available: 1
Starring: Zoe Kravitz, Jake Lacy, Da'Vine Joy Randolph

2000's High Fidelity was a great adaptation of a bestselling novel, with a great John Cusack performance at its center. When remaking the story of a man who details his heartbreaks alongside his music snobbery for 2020, the choice was made to gender flip the story, instead focusing on a woman named Rob, played by Zoe Kravitz (coincidentally the daughter of Lisa Bonet, who is in the original film). The result is a thoroughly modern take on the source material, with Rob detailing her heartbreaks (some of them with women) alongside music snobbery perfect for 2020 (expect many opinions on Frank Ocean). Fresh off a supporting performance on Big Little Lies, Zoe Kravitz shines in what's her first major lead role, giving life to Rob and making her character just as thorny and complex as Cusack's Rob two decades ago. Combine her performance alongside a charming supporting cast, smart romantic comedy writing, and a great soundtrack and you have one of the first great shows of 2020.
You're The Worst
Starring: Aya Cash, Chris Geere, Desmin Borges, Kether Donohue

The best longform romantic comedy to grace television in ages is now available in its entirety on Hulu. You're The Worst isn't your typical romantic comedy series: it follows two people who are, well, the worst. Gretchen (Aya Cash) is a lazy, vain PR executive and Jimmy (Chris Geere) is a self-serious writer. After sabotaging the wedding of an ex, Jimmy hooks up with Gretchen and despite their efforts to keep their relationship strictly sexual, they begin to fall for each other and begin to give a healthy relationship a try. You're The Worst is remarkable in that it manages to create a believable, constantly entertaining romantic comedy that ran over five seasons. The show also tackled mental health issues ranging from depression to PTSD to much critical acclaim. A romantic show for the cynic within all of us, You're The Worst is dirty, funny, and dramatically complex all in equal measure.
Wu-Tang: An American Saga
Starring: Ashton Sanders, Shameik Moore, Dave East, Siddiq Saunderson

2019 is a veritable year for depictions of the rap group, with the referent Showtime documentary Of Mics and Men, as well as the more recent Hulu dramatic miniseries Wu-Tang: An American Saga. Created by RZA and Alex Tse, the miniseries follows the formation of the group in New York City in the nineties, during the height of the crack epidemic. Bobby Diggs, aka The RZA (Ashton Sanders from Moonlight) turns to rap as a means of escaping the drug trade, and teams up with several young black men also caught between music and drugs, eventually forming the rap group. RZA's real life involvement with the show gives it a deeply personal feel, and makes the New York setting feel all too realistic. The performances are top notch as well, especially standouts Sanders, Shameik Moore (Into The Spider-Verse) and Joey Bada$$. Wu-Tang: An American Saga is the perfect love letter to rap history for any self-respecting rap fan.