The Best Shows on Hulu Right Now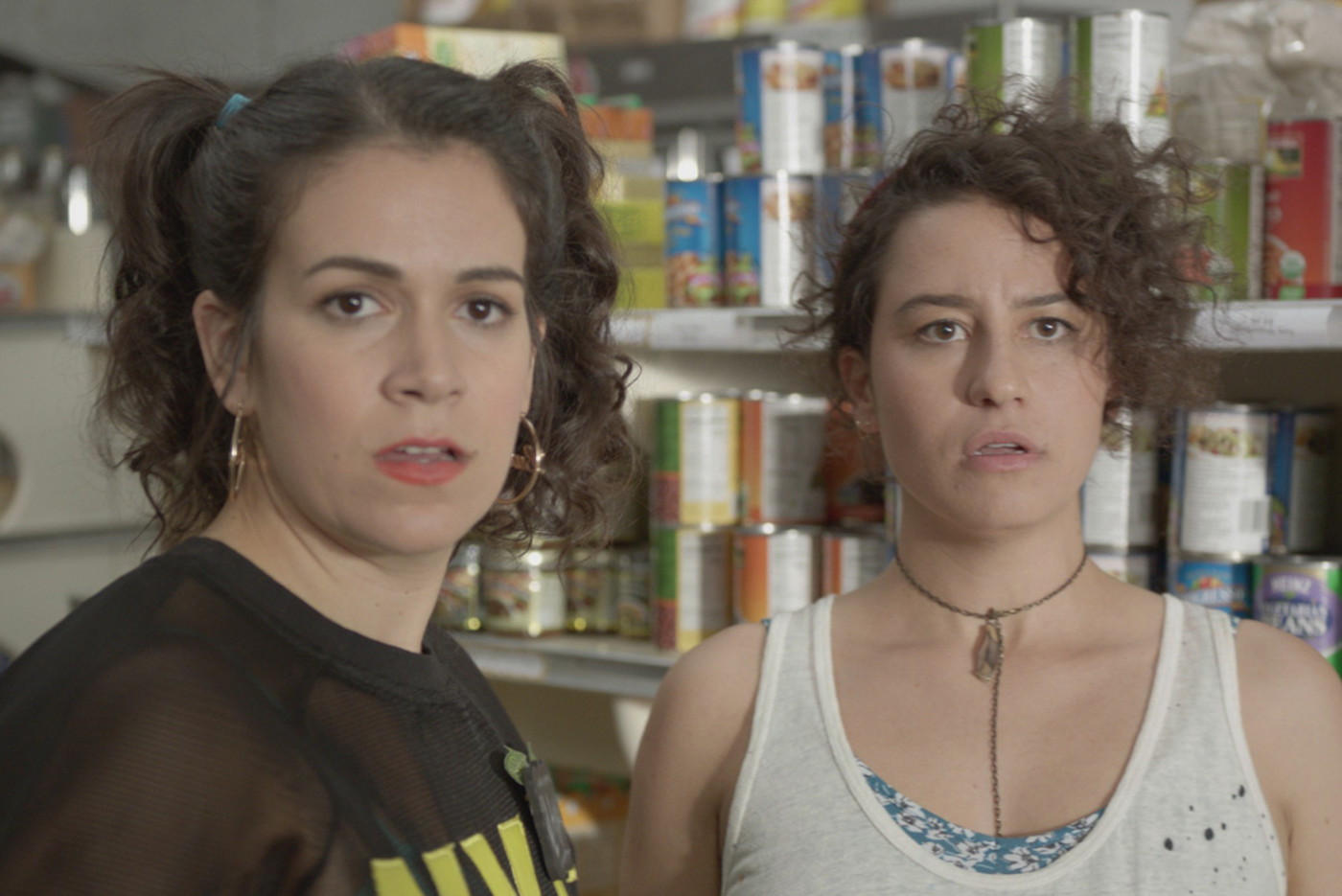 Netflix might be the go-to streaming service for all your TV show binge-watching needs, but let it be known that there are a ton of great TV shows to watch on Hulu, too. Now that Game of Thrones is over, you probably need something to fill your time (and heart), so why not try out a new drama or comedy on Hulu? 
From ABC's black-ish to NBC's (formerly Fox's) Brooklyn Nine-Nine to Comedy Central hit Broad City, Hulu has the hook up when it comes to half-hour comedy series you love. But that's not all; the streaming service also has hour-long dramas like This Is Us and Castle Rock, in case you're in a more serious mood. And in addition to having an amazing selection of pre-existing series, the platform has also welcomed its own original series for you to binge-watch, like The Handmaid's Tale and coming-of-age comedy PEN15, which just finished its first season.
If you want to settle in for a bigger commitment, check out our list of the best movies on Hulu; you'll find the rom-com, off-the-wall comedy, or far-out sci-fi flick you need on the streaming service. Cycled through those? Check out our list of the best movies on Amazon Prime.
Otherwise, these are the best TV shows streaming on Hulu right now.
Veronica Mars
Seasons available: 4
Starring: Kristen Bell, Enrico Colantoni, Jason Dohring

A cult favorite TV show in the early aughts, Veronica Mars was way ahead of its time. The UPN/CW/now Hulu original show follows the titular teenage private detective (Kristen Bell) as she investigates cases alongside her father Keith (Enrico Colantoni) in the fictional town of Neptune, California, known for its staggering systemic classism and racism. Veronica and Keith regularly fought for the have-nots in a town full of haves, including Veronica's on-and-off rich boyfriend Logan Echolls (Jason Dohring). Veronica Mars was celebrated for its dynamic protagonist, its riveting mysteries (including the murder of Veronica's best friend in the first season), and its neo-noir atmosphere. Though a critical and fan favorite, the series was canceled in 2007. After a shockingly successful Kickstarter campaign for a movie released in 2014, Hulu announced it would be bringing back Veronica Mars for a limited series, which premiered this year. Already known for its incisive focus on social justice, Veronica Mars just feels right in 2019, as an investigation into a bombing reveals that the town of Neptune has (of course) only become more corrupt in the years since we last saw our heroine. Veronica Mars is an addictive delight that might just feature Kristen Bell's best ever performance.
Hey Arnold!
Seasons available: 5
Starring: Alex D. Linz, Don Castellaneta, Francesca Marie Smith

A favorite amongst '90s kids, who doesn't love Hey Arnold!? The show follows the titular fourth grader, who lives with his grandparents and navigates big city life alongside his friends and classmates. A remarkably low concept series, Hey Arnold! is more of a hangout show than anything, following some well drawn and entertaining characters who exist in Arnold's world, including his street smart best friend Gerald and bully Helga, who harbors a secret crush on Arnold. Many episodes took a memorable, surreal edge as well, focusing on Arnold's grandparents tall tales, which often revolve around supernatural circumstances. Much of the brilliance around Hey Arnold! is how real the characters feel, a rarity for Nickelodeon shows during an era that often went for more heightened, comedic tones. Hey Arnold! captivated you as a child, and you'll be surprised how much it captivates you as an adult.
Brooklyn Nine-Nine
Seasons available: 6
Starring: Andy Samberg, Melissa Fumero, Andre Braugher, Chelsea Peretti
 
Critically beloved but underrated on its original channel, Brooklyn Nine-Nine was unfortunately cancelled by Fox in 2018. Fortunately, NBC picked it up the next day, and new episodes become available on Hulu on a weekly basis. The sitcom follows the lives and comedic exploits of the police officers working at Brooklyn's fictional 99th Precinct. Andre Braugher's performance deserves special attention, as he kills every line given to him as Captain Holt. Brooklyn Nine-Nine continues to be one of the best sitcoms on TV in its sixth(!) season, thanks to its tight character work and strong joke writing, and the series has officially been renewed for a seventh season.
Twin Peaks
Seasons available: 2
Starring:  David Lynch, Kyle MacLAchlan, Sheryl Lee

Twin Peaks is another TV classic to get #educated on. The '90s drama follows the murder of homecoming queen Laura Palmer and the subsequent FBI investigation into her death. Directed by notorious weirdo David Lynch and starring all-time bae Kyle MacLachlan, Twin Peaks teeters between surreal procedural and a nightscape of the worst horrors imaginable. While it's incredibly terrifying, it's also incredibly funny, with some of the most memorable characters in TV history. If you rock with the OG, you can also check out 2017's Twin Peaks: The Return, Showtime's continuation of the saga.
The Handmaid's Tale
Seasons available: 3
Starring: Elisabeth Moss, Yvonne Strahovski, Joseph Fiennes

The first season of The Handmaid's Tale is rightfully critically acclaimed because of its terrifying and clear eyed depiction of the terrors of Gilead. But how would the show fare after all of the source material had been adapted? Turns out, pretty well. The second season follows Offred's (Elisabeth Moss) increasingly complicated life, amd hints at an unlikely alliance with Serena Waterford (Yvonne Strahovski), as she finally begins to regret her complicity in this nightmare world. The show hasn't become any easier to watch, but its complex and varied portrayal of women always makes it worth watching. Now in its third season, The Handmaid's Tale proves it can still work wonders beyond the original source material.
The Terror
Seasons available: 1
Starring: Jared Harris, Tobias Mezies, Ciarán Hinds

A new addition to Hulu, The Terror is a historical chiller (no pun intended). Based on the historical fiction novel of the same name, The Terror centers on a fictionalized account of real life explorer Captain John Franklin's (Ciarán Hinds) lost expedition to the Arctic in 1845. The ships HMS Erebus and HMS Terror were traveling south from the Arctic, seeking the Northwest Passage, before they both became icebound and their respective crews, including Franklin, went missing. The Terror imagines what happened to the two crews on this fateful expedition, as they try to survive starvation and freezing temperatures. The series is impressively moody and creepy, showcasing beautiful stark cinematography, contrasted with the increasing panic of the crew. The show also messes with your head: the crew begins to think there's some strange menace out there on the ice, but is there something really there? Finding out is only half the fun of prestige thriller The Terror; the other half is the great acting and stunningly bleak story.
Ramy
Seasons available: 1
Starring: Ramy Yousseff, Amr Waked, Hiam Abbass

Ramy's your average guy living in New Jersey, trying to figure out who he wants to be. What makes him different from your average indie character trying to navigate their lives to the tune of The Shins is that he's Muslim, and trying to honor his religious values and reconcile them with the increasingly complicated world he lives in. Ramy is the brainchild of creator and star Ramy Yousseff, who is the latest comedian to create a show based on his life and experiences. The show examines not only Yousseff's life, but the lives of his family and friends. Ramy is notable for being one of the few current shows examining spirituality and religion in a meaningful way with regards to its protagonist. That it's in service of Islam, a notoriously misunderstood religion, makes it a healthy addition to an increasingly diverse TV landscape.
Catch-22
Seasons available: 1
Starring: Christopher Abbott, Kyle Chandler, Hugh Laurie

An adaptation of the book of the same name that you didn't read in high school or maybe college, Catch-22 is a limited series that brings the book's famously anti-war message to life. Captain John Yossarian (Christopher Abbott) is a World War II bombardier who wants out of the war, but finds himself in an impossible situation. The "Catch-22" law says that he can only leave the war if he's deemed clinically insane, but if he willingly wants to leave the war, he will be deemed clinically sane and be forced to stay in the war. This ludicrous contradiction is the center of this off-kilter comedy that also features Kyle Chandler, Hugh Laurie, and George Clooney, who is also an executive producer on the series. Catch-22 perfectly captures the satirical edge of the novel while expertly adapting it to television, thanks to its stunning visuals and perfect casting.
The Act
Seasons available: 1
Starring: Patricia Arquette, Joey King, Calum Worthy

One of Hulu's most popular shows at the moment, The Act is the latest hit true crime series. Based on a chilling BuzzFeed article, The Act follows the real-life story of teenager Gypsy Rose Blanchard (Joey King) who murdered her mother, Dee Dee Blanchard (Patricia Arquette) after learning that she fabricated the illness Gypsy Rose supposedly suffers from. This act of fabricating an illness so that a loved one stays with someone is part of an all too real medical condition known as Münchausen syndrome by proxy. This shocking story has now been adapted by the writer of the article it's based on, and the TV version is as faithful and strange as you'd expect. Patricia Arquette is unrecognizable as Dee Dee, and Joey King shows off a solid performance in a difficult role as Gypsy Rose. The Act is a hard to watch yet expertly made addition to the annals of true crime television.