The Best Action Movies of All Time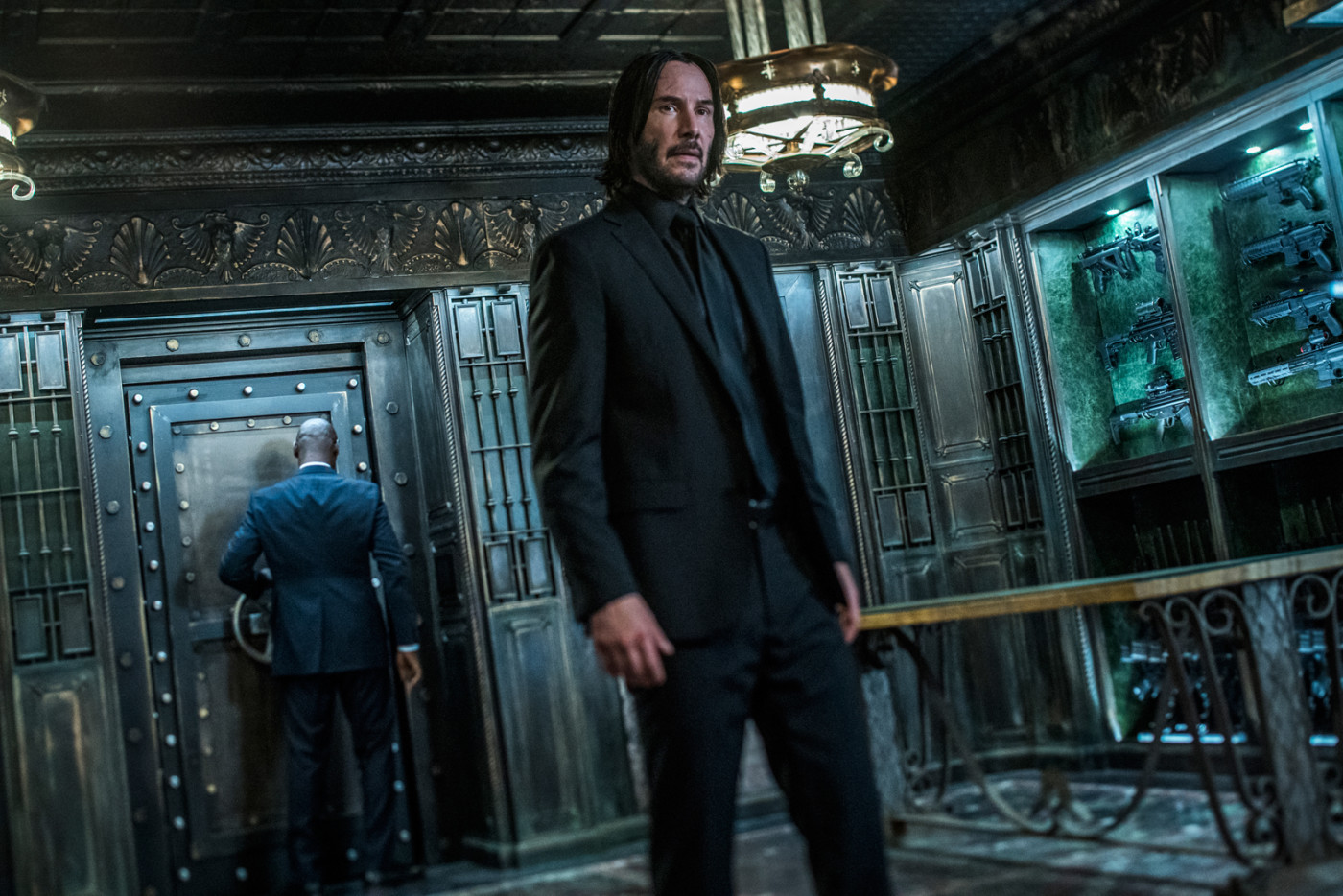 The greatest action movies of all time span across generations. Of course, some of the current picks include the most recent Marvel and Mission: Impossible films and the Oscar-nominated Mad Max: Fury Road. But there's a ton of action-packed cinema from over the years to choose from, that overlaps with genres ranging from sci-fi to comedy to thriller to, unsurprisingly, martial arts. Sure, you've got go-tos like the Indiana Jones classic Raiders of the Lost Ark or Arnold Schwarzenegger's filmography, which somehow includes the Terminator franchise and Total Recall, but why not check out some of the other best action movies of all time? If you're into big-budget adventure, killer action sequences, and superhero movies, we've got just the list for you. These are the best action movies ever.
John Wick: Chapter 3 — Parabellum (2019)
Director: Chad Stahelski
Starring: Keanu Reeves, Halle Berry, Laurence Fishburne, Mark Dacascos, Asia Kate Dillon, Lance Reddick, Anjelica Huston, Ian McShane
The Keanu Reeves-led series seems to outdo itself with every new chapter, putting the haggard assassin John Wick in danger via a dizzying array of villains in wilder locales. With Parabellum, we get everything from the viral horse ride through the streets of NYC to Wick and Sofia (Halle Berry)—along with her two dogs—ripping through the streets of Casablanca to the Battle of the Continental. Wick's murdering people with knives, in pools, and with his bare hands; it's a beautiful display of ultraviolence that's perfect for theaters. It kinda started out as a film about the death of a dog, but turned into a series that puts Keanu's staying power on full display.
Mad Max: Fury Road (2015)
Director: George Miller
Starring: Tom Hardy, Charlize Theron, Nicholas Hoult, Hugh Keays-Byrne, Rosie Huntington-Whiteley

Mad Max: Fury Road is a lot of things, but it is primarily a great action movie. Expect fiery, loud car chases, explosions, actually scary villains, and high stakes. Set in a post-apocalyptic universe, the film manages to be wildly violent without turning gratuitous. There's a lot of CGI, but it doesn't overpower the movie, and feels like it belongs there. There are some legitimate climate change concerns in the background (a nuclear holocaust is unlikely, but water access is already a major concern, as are the wars being aged over oil). The film explores the intersection of a real crisis scenario and raw power—how far we'll go to keep it, and how strong oppositions can be. Last but not least, it's pretty damn feminist, which is rare in quality action movies, so it's an all-around great watch, worthy of the 17,000 Oscars it was nominated for (it actually won six and was nominated for 10, including Best Picture).
Avengers: Infinity War (2018)
Director: Anthony and Joe Russo
Starring: Robert Downey Jr., Chris Hemsworth, Mark Ruffalo, Chris Evans, Scarlett Johansson, Benedict Cumberbatch, Don Cheadle, Tom Holland, Chadwick Boseman, Paul Bettany, Elizabeth Olsen, Anthony Mackie, Sebastian Stan, Danai Gurira, Letitia Wright, Dave Bautista, Zoe Saldana, Josh Brolin, Chris Pratt

Its counterpart Endgame was obviously the more fan service-y of the series, but Infinity War packed a cruel, Infinity Gauntlet-clad punch. The Russo Brothers took the "War" in the title seriously, with this film basically being one prolonged intergalactic battle. From Thanos taking out the Hulk with ease to Iron Man and company taking on Thanos' children in the streets of NYC to the epic confrontations on Titan and in Wakanda, this film gathered all of the pieces of the decade-long MCU puzzle and set them on fire.
Raiders of the Lost Ark (1981)
Director: Steven Spielberg
Starring: Harrison Ford, Karen Allen, Paul Freeman, John Rhys-Davies, Ronald Lacey, Denholm Elliot

Impressionable '70s babies  learned a lot from Raiders—what "archaeology" means, how much fun whips can be, and that Nazis melt like a nice Gruyère. Above all, Indiana Jones taught us that swagger goes a long way.
Taken (2008)
Director: Pierre Morel
Starring: Liam Neeson, Maggie Grace, Famke Janssen, Xander Berkeley, Katie Cassidy, Leland Orser

An ex-spy dusts off his mayhem and sadism skills so he can save his daughter from European human traffickers. Suburban high schools: incorporate this movie into your freshman-year curriculum at once.
Mission: Impossible — Fallout (2018)
Director: Christopher McQuarrie
Starring: Tom Cruise, Henry Cavill, Ving Rhames
The Mission: Impossible series is practically synonymous with the phrase "best action movies." The sixth installment of the Tom Cruise-led franchise, Mission: Impossible — Fallout features all of the running, shooting, and jumping out of planes you'd expect, and fully lives up to the greatness of its predecessors. The 2018 summer blockbuster is a rousing rollercoaster ride, jam-packed with intense fight scenes, jaw-dropping explosions, and seamless rooftop jumps. Cruise makes it all look easy, and that's why it's so good.
The Matrix (1999)
Director: Larry and Andy Wachowski
Starring: Keanu Reeves, Laurence Fishburne, Carrie-Anne Moss, Hugo Weaving, Joe Pantoliano

The inspiration for countless camera tricks and slow-the-action-waaaaay-down shootouts, The Matrix managed to do what Speed and Point Break couldn't: make Keanu Reeves seem human (albeit only compared to a horde of intelligent computer programs, but still). Widely regarded as one of the greatest sci-fi films of all time, The Matrix is arguably also one of the greatest action flicks of all time.
Captain America: Civil War (2016)
Director: Anthony Russo, Joe Russo
Starring:Chris Evans, Robert Downey Jr., Scarlett Johansson, Sebastian Stan, Anthony Mackie, Don Cheadle

Captain America employs its heroes' superpowers masterfully, celebrating each individual's abilities and personalities instead of conflating them. The best example is the climactic fight scene at the airport: the Scarlet Witch directs magic to spice up the smaller fights; Black Panther is the fiercest competitor in hand to hand combat' Ant-Man grows huge and throws around an airplane; Captain America is all brawn; Spider-Man is cheeky and throws webs in just the right places at just the right moments; Iron Man is behind the explosions and witty one liners. There are cars flying from the sky and buildings collapsing all around them and it works because it still sets the heart racing. Commercially, it does what it needs to do: leave you craving for more Marvel.
The Bourne Ultimatum (2007)
Director: Paul Greengrass
Starring: Matt Damon, Julia Stiles, David Straithairn, Edgar Ramirez, Scott Glenn, Joan Allen, Albert Finney, Colin Stinton, Joey Ansah

The last of a trilogy that improved with each sequel, Ultimatum's relentless cat-and-mouse chase turns a train-station stroll into a pulse-quickening pursuit, a coffee-table book into a brutal weapon, and Matt Damon into the ultimate ass-kicking machine. That was a lot of hyphens, but you get the drift.