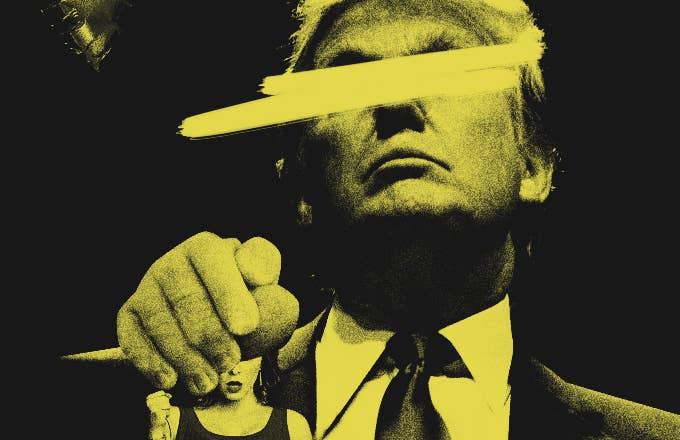 When the Crazy Ex-Girlfriend writers set out to create a new romantic foil for co-creator and star Rachel Bloom's comically eccentric heroine of their CW musical comedy, they went for broke: A lean, handsome and smart (if smarmy) rich daddy's boy who freely drags on all of her insecurities.
In short, they created a douche. But the thing is, a douchey TV character is no longer simply a douche. A douche now has political connotations. A douche could now be shorthand for a Donald Trump supporter. 
"We conceived of him when the primaries were happening and he's very pragmatic to the point of being cold," Aline Brosh McKenna, Bloom's co-creator, recounts of the character Nathaniel, played by Greek's Scott Michael Foster. "And, all of a sudden, we were shooting those episodes after Trump had gotten elected and it seemed like we had designed this Trumpy guy...Rachel and I came in after watching the first cut of the episode and [said] what happened? We made a handsome Trump guy in the middle of this show."
Nathaniel's non-PC POV stayed for the show's second season, which wrapped earlier this month. He even had a song called "Let's Have Intercourse" that opens with the lines "Unfortunately I want to have sex with you/Don't know what happened; Maybe you lost some weight." Brosh McKenna admits isn't the "most feminist song," but it's an accurate depiction of what these characters would say to one another.
"There's a difference between the characters insulting each other and the show endorsing that," she clarifies, adding that she thinks that, in real life, both sides of the aisle have been overly cruel to each other lately. 
Crazy Ex-Girlfriend isn't the only TV series struggling with depicting stories in Trump's America. Jane the Virgin creator Jennie Snyder Urman spoke last year about rewriting a scene in the wake of Pussygate and her CW telenovela's dialogue routinely pokes at the proverbial Commander in Chief bear (in addition to right-leaning theories on immigration and abortion). Stacy Rukeyser, the showrunner of Lifetime's UnREAL, said in an email that the third season of her soapy sendup of The Bachelor will focus on Caitlin FitzGerald's Serena, the "Feminist Suitress"—an idea already in place before the election but also one that will allow them to show a "strong, successful career woman who for some reason, is still single—and no one is more mystified about why that is than she."
"There were some who believed the struggles of this modern woman were almost obsolete in the day and age when Hillary Clinton was (surely) about to become our next president," Rukeyser says of the thinking back then. "But I believed, quite strongly, that some of the vitriol Hillary faced on the campaign trail was proof that nothing is more scary to many Americans than a smart, successful, strong woman. Now, our story seems more timely than ever."
But while shows like UnREAL and Crazy Ex-Girlfriend exist in rather bipartisan worlds, this TV season in particular sees a crop of programming that firmly advocate left-wing ideology. The question of whether these series will help or hurt the cause—and whether toning things down inflicts upon an artist's vision—when airing in our vitriolic climate was de jour at the winter Television Critics Association press tours in January, where networks hosted panels of directors, writers, producers and stars to promote new and noteworthy shows.
"Personally, the urgency that I approach storytelling, the issues that are out there, they've been out there," American Crime creator John Ridley said while on stage at TCA to promote the third cycle of his always divisive anthology. "I'll just say for me, this story would have been told irrespective of who was in the Oval Office."
He added that this season, which was well into production by election night and goes deep into the lives of the (largely immigrant) communities who pick your fruits and vegetables, is "not about tweaking or changing or try to be 'oh so current' that we miss the bigger picture of the longer game."
Dustin Lance Black, who created ABC's upcoming When We Rise and is seemingly incapable of not sounding like he's standing on a soapbox every time he gets a microphone, told the TCA audience of his LGBT-positive activist miniseries, "I didn't write this show for half a country. I think, if Donald Trump actually watches this show, I think he might like the show." Still, he relented that "let's be real, I don't think that I think there's a lot of people who voted for Donald Trump who will love this show."
Some series, like CBS All Access' The Good Fight, did go back to the writer's room in light of the November 8 results. Even the producers of WGN America's Underground were asked if the election made them change anything about their 19th century-set abolitionist drama for it second season. (They didn't; co-creator Misha Green said during her show's panel that "I think this country was built on racism and sexism, and I think our...president is again going to be racist and sexist").
Ironically, it seems the only show that is not focusing on Trump is the one that's arguably the most fit to include him: FX's Cold War-era set spy drama, The Americans.
"If Donald Trump hadn't become Donald Trump...we might have been able to do that," The Americans executive producer Joel Fields told Complex and a cluster of other reporters at TCA, adding that he and co-showrunner Joe Weisberg "can't imagine a way of doing that [now] that doesn't seem absurdly self-conscious."
While all of this could put TV at a standoff with the rest of America, the Crazy Ex-Girlfriend creators hope that—at least as far as their comedy is concerned—it'll actually bring us closer together.
"Our show is a love story and it's about the pursuit of happiness and that's a common thing among all people," Bloom says. "We ultimately have empathy toward our characters, which I think is what we need to have toward other people right now who don't have the same viewpoints that we have.