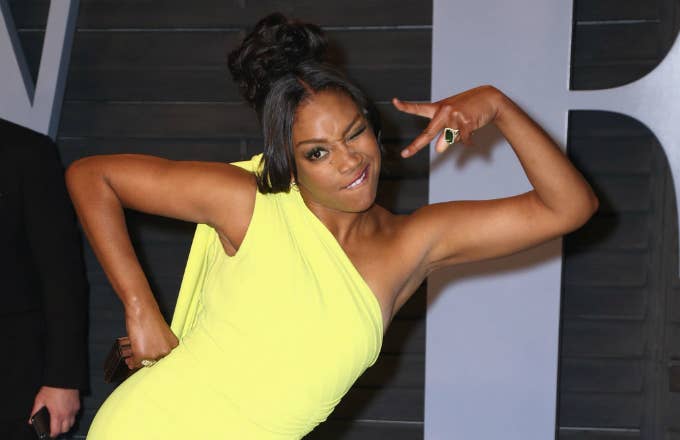 Tiffany Haddish has one more reason to hit the Nae Nae.
Variety reports Haddish will lend her voice to The Lego Movie sequel. It hasn't been announced who Haddish will play, but it's promised to be a "starring role" in the film that also stars Chris Pratt, Elizabeth Banks, Channing Tatum, and Will Arnett.
With the latest addition, Haddish's schedule continues to be stacked. It seems like every time we turn around, she's being named for another project. (And we wouldn't have it any other way.)
Haddish stars opposite to Tracy Morgan in the TBS comedy series, The Last O.G., which airs on April 3. She's also slated to have a lead role in Tyler Perry's The List, Night School with Kevin Hart, and a gritty comic book adaptation series, The Kitchen, with Melissa McCarthy. But that's far from it all. She's also attached to three more comedy films Uncle Drew, Limited Partners, and The Temp along with a satirical thriller, The Oath.
Haddish will also work on a Netflix adult animated series, Tuca and Bertie. On top of all that, she inked a deal with Netflix as well as a two-year deal with HBO. Now, after making history as the first black female comedian to host Saturday Night Live!, she's set to do it again as the first black woman to host the MTV Movie & TV Awards in June. Next up, she's eyeing an Oscars hosting gig. But hey, more Haddish, less problems. And she's ready too.
The Lego Movie sequel is set to be released on Feb. 8, 2019.