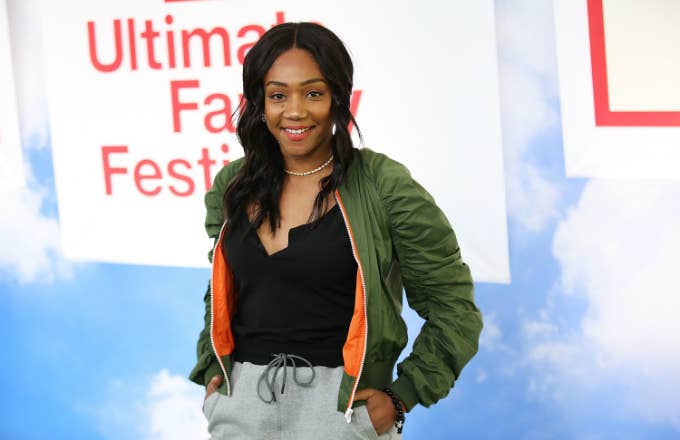 As the cliché but inarguable anguish of another Monday washes over you, why not alleviate the bullshit with another Beyoncé story from Tiffany Haddish?
The latest Beyoncé x Haddish tale, included in a new GQ Styleprofile, involves an unidentified actress and their peculiar utilization of the human mouth's ability to chomp. "There was this actress there that's just, like, doing the mostest," Haddish said when recounting the December 2017 party incident. "She bit Beyoncé in the face . . . So Beyoncé stormed away, went up to Jay Z, and was like, 'Jay! Come here! This bitch!'— and snatched him."
For the remainder of the party, Haddish kept having encounters with the unnamed actress, including one in which Haddish was told to cease her dancing. When Bey and Jay walked by her later on, she joked that she was going to "beat somebody ass" at their party. Beyoncé urged Haddish to, you know, not do that. Then the two took a selfie. As the party was coming to a close, Haddish asked Beyoncé at the bar for some clarity on that bite situation.
"She was like, 'Yeah,'" Haddish said of asking B straight-up if she was bitten. "I was like, 'She gonna get her ass beat tonight.' She was like, 'Tiffany, no. Don't do that. That bitch is on drugs. She not even drunk. The bitch is on drugs. She not like that all the time. Just chill.'"
Caity Weaver's full profile on Haddish is definitely worth your time. Find it here.
Last week, we were gifted with the news that Haddish had joined the cast of the upcoming Lego Movie sequel. Haddish will voice a lead role in the film alongside co-stars Elizabeth Banks, Chris Pratt, Will Arnett, Channing Tatum, and more. The first Lego Movie was phenomenal, so expectations are quite high.