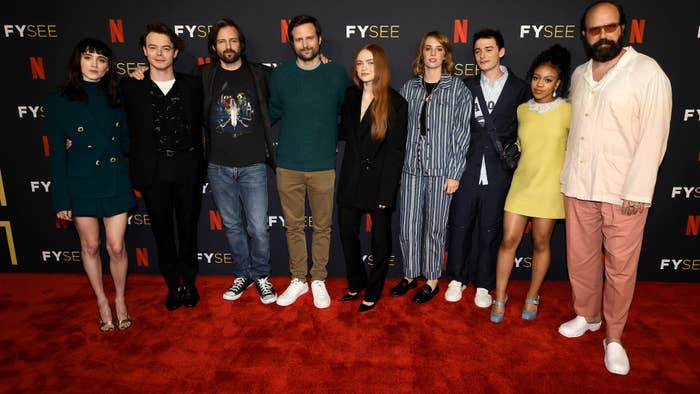 Prior to the rush for the Volume 2 episodes of Stranger Things 4, the show actually set Nielsen streaming records for the week of May 30-June 5.
Per the Hollywood Reporter, the show set the highest weekly total for any streaming series since they first started being tracked two years ago. With a total of 7.2 billion viewing time for that week, it's one of the most successful weeks for a streaming show to date. 
When the first volume debuted on Netflix, the show amassed 5.14 billion minutes of viewing for the week of May 23-29. That means it's only gotten more popular in its second week. The previous record was set by Netflix's Tiger King in March 2020. Excitement and hype for the show is at all-time high, despite taking a lengthy break between seasons due to the COVID-19 pandemic. Hype is so high, in fact, that Netflix faced some issues when Volume 2 arrived on Friday.
As Variety pointed out in an overnight report, self-reported instances of Netflix being down for some users saw a peak at roughly 3 a.m. ET, which coincides with the release of Stranger Things 4: Volume 2. 
As seen in this Downdetector graph, there were indeed just under 10,000 reports of Netflix outages around that time. The site, which tracks reports of outages across a number of services, notes that it only "only reports an incident" in this manner if the volume of individual reports is "significantly higher" than the usual rate for any given provider. This particular issue appears to have been taken care of in about 20 minutes.
In a recent long-form chat, also for Variety, Stranger Things creators Matt and Ross Duffer were asked whether fans should expect the show to again take the split-format approach with its upcoming fifth (and final) season. As Matt explained, this year's split was largely due to prior delays, resulting in the final pair of episodes that have now premiered not being completely finished even just before their availability on Netflix.
Splitting the season in half, Matt added, was a "forced experiment" and it remains to be seen how the final season will play out.
"I'm excited that we still basically have what is a massive movie to drop in July. … We'll see how it goes in whether we do that again but a lot of it's gonna be dictated by the story," he said.
Coinciding with Volume 2's rollout is the release of the similarly upsized Stranger Things 4 (Original Score From the Netflix Series) album. The double-disc collection from the always-on-fire duo of Kyle Dixon and Michael Stein is a synth-soaked bath spanning nearly three hours in length. Listen below via Spotify.