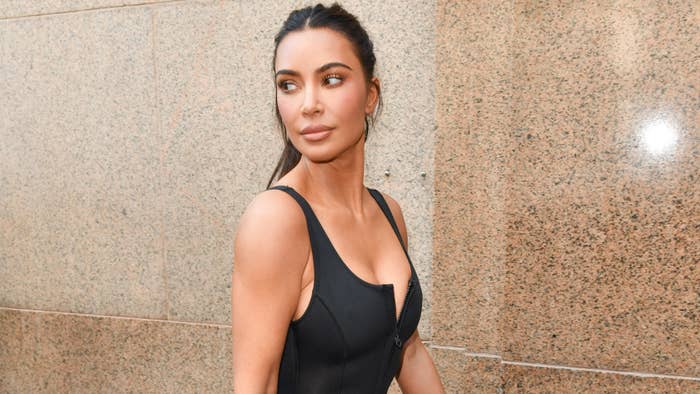 The third season of Hulu's The Kardashians has premiered, bringing with it a closing segment featuring Kim Kardashian opening up about her former husband Kanye West's "insane narrative" and "lies."
To be clear, it's not easy to pinpoint when, exactly, any given moment from the series actually happened. Given context clues and other hints, however, it's likely the first batch of new episodes from this season are all comprised of footage captured somewhere in the final third of last year.
As anyone who even remotely pays attention to the world around them knows, the final months of 2022 (starting in October) saw Ye delivering a series of escalating anti-Semitic remarks, all leading up to an Alex Jones interview in December in which he praised Hitler.
All that to say, it's not clear at which point in Ye's self-inflicted downfall Kardashian's remarks from the Season 3 premiere were taped; though she specifically mentions her ex-husband's sex tape remarks and Drake claims, as well as his comments about her mother Kris Jenner, she doesn't specifically cite anything else.
"You know, there's been a lot going on with Kanye right now and things are going on in the media radio shows and interviews," Kardashian said in a confessional interview during the final six minutes of the episode, available on Hulu now. From there, Kardashian's remarks are delivered via a combination of continued confessionals and in a filmed conversation with her mother Kris.
"Even through all of the craziness of everything that Kanye says about us, I never comment," she told Jenner. "I never post. Like, he has made up the most insane narrative about you and the tape. We stay silent, we stay silent. Through all the lies, all the stuff."
In a confessional, Kardashian added that she now assumes "everything" she sends Ye via text message will end up being made public.
"I think I can handle anything," she said. "I just get really heartbroken for my mom, that she has to deal with so much, you know, from so many different sides of people coming at her."
Returning to the conversation, Jenner noted that Kardashian "can't control" another person, adding that Ye is "doing this to himself." Kardashian then opened up in greater detail about her struggles at the time, as well as the inherent difficulty of having to maintain a peaceful front for the sake of the children.
"But even just like how he looks so down on me for, like, my tape and brings it up all over town, all over the media," Kardashian said. "Like, thanks for reminding people once again. All of his shenanigans—I don't even know what the fuck to call it (editor's note: Jenner at this point chimes in to call it 'rhetoric')—is gonna be far more damaging to the kids one day than my tape will ever be. AndI have to sit here and not say anything, ever, because I know one day my kids will appreciate that and I know that is the best thing for them."
Kardashian said she must remain her former husband's "biggest cheerleader" in the eyes of the children; "one day," however, they will "see for themselves." It's at this point, she explained, that she will "answer whatever they want" about their father.
"The one that was supposed to protect me and still does interviews saying they will be my forever protector is the one that is hurting me the most," Kardashian added. "He was the one that started a rumor that said I was hooking up with Drake, having an affair our whole marriage. He accused me of that publicly. So the person that's supposed to protect me the most publicly would accuse me of having an affair throughout our whole marriage. I really can't wrap my head around how he is a protector."
Engaging in a "public feud" is something Kardashian said she will never do. At any rate, she believes she "stuck with this for the rest of my life." In the closing seconds of the new episode, Kardashian became visibly upset, telling the camera she didn't want to discuss this topic any further.
"What's making you cry?" someone out of frame is heard asking, to which Kardashian responds, "Everything."
As the episode itself makes clear immediately after this exchange, this discussion is "to be continued."