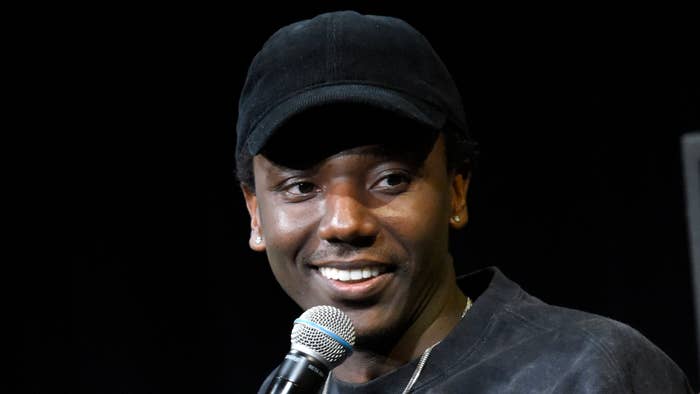 Dave Chappelle has picked "an odd hill to die on," per fellow comedian Jerrod Carmichael.
In a new interview withGQ Hype, Carmichael spoke on the generational differences in how people offer words of support amid major life milestones, using his 15-year-old niece as an example.
"I love this generation," he said in the new interview with Frazier Tharpe. "I actually fuck with them, and fuck all those comedians that are going so hard against them." From there, Carmichael—whose Sundance-premiered directorial debut On the Count of Three is out now—got more specific, particularly on the topic of so-called "cancel culture" and the larger myth he says is surrounding it.
"What does that mean, that people are mad on Twitter? Everybody's fine. These grown men are fine," he said. "I think, a lot of times, people who offer nothing truthful or meaningful about themselves then complain about society at large and create this boogeyman. It's like, listen, that's the most urgent thing in your life? God bless you. I'm tired of hearing it."
Addressing Chappelle's recent controversies and stand-up material that's been widely criticized as transphobic, Carmichael brought up the issue of legacy, wondering aloud why Chappelle would want this to be what may be remembered most about his work.
"Chappelle, do you know what comes up when you Google your name, bro? That's the legacy? Your legacy is a bunch of opinions on trans shit? It's an odd hill to die on," he said. "And it's like, hey, bro. Who the fuck are you? Who do you fuck? What do you like to do? Childish jokes aside, who the fuck are you? It's just kind of played. But he's choosing to die on the hill. So, alright, let him."
Carmichael made similar comments about Chappelle's most recent work during a Hot 97 interview earlier this month, noting Chappelle had now spent "like, three specials talking about other people's shit." He also mentioned Louis C.K. and Ricky Gervais, as well as the broader idea of how comedy has greater resonance when "personal stakes" are involved instead of material focused solely on other people.
Elsewhere in the new GQ piece, meanwhile, Carmichael provided a fascinatingly vivid summary of what he called "one of the greatest moments" of his life: a party at Leonardo DiCaprio's house during which the Oscar-winning actor passed him a joint while he and Quentin Tarantino both praised Jerrod's art.
Carmichael also discussed being in Wyoming during the artist formerly known as Kanye West's Ye sessions, addressed how people took a portion of dating commentary from his recent Rothaniel special "and ran with it," and much more. Read Frazier's full piece here.
Both On the Count of Three and Rothaniel are out now. While the latter is available to stream via HBO Max, the former—also starring Christopher Abbott, Tiffany Haddish, Henry Winkler, and J.B. Smoove—can currently be found via the VOD service of your choice.
See a clip from the acclaimed film below.