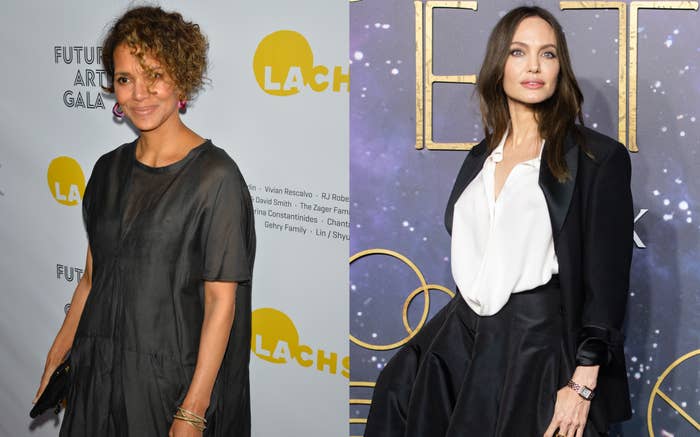 Oscar winners Halle Berry and Angelina Jolie are set to star in the upcoming action flick Maude v Maude. 
The plot is currently under wraps, but the movie is intriguingly described as a "Bond vs. Bourne" type of story. Deadline said the project was under an "intense multi-studio bidding war" before Warner Bros successfully nabbed it. 
Shadow in the Cloud and Avatar: The Last Airbender series veteran Roseanne Liang will direct. The two former Marvel actresses were also named producers, with Berry and production partner Holly Jeter's banner HalleHolly, Jeff Kirschenbaum, and Joe Roth's umbrella RK Films on board. Scott Mosier is set to write the screenplay and will executive producer alongside Liang. Filming locations and an official start date have yet to be announced. 
The two legendary actresses are more than familiar with the genre. Jolie appeared in many kick-ass assassin films, from Mr. & Mrs. Smith (2005) to Salt (2010), while Berry's credits include Catwoman (2004) and John Wick: Chapter 3 (2019).
Jolie will soon portray the American-born Greek soprano Maria Callas. The biopic is "based on true accounts, [and] will tell the tumultuous, beautiful, and tragic story of the world's greatest opera singer, relived and reimagined during her final days in 1970s Paris," per Deadline. 
Berry recently spoke on the fact that since she won her Oscar 20 years ago, a Black woman has not been awarded Best Actress. "It didn't open the door," she said in an interview. "The fact that there's no one standing next to me is heartbreaking."
In 2002, Berry became the first Black woman to win an Academy Award for Best Actress for her performance in Monster's Ball. In her speech, she spoke about her achievement and the ability to open doors in Hollywood for people who look like her.