Florence Pugh Reflects On 'Indie Film' Fans Being 'Pissed Off' She Joined The MCU
The 27-year-old actress claimed people said "she's gone forever."
Getty
Florence Pugh attends the reopening of The Landmark at Tiffany & Co 5th Avenue on April 27, 2023 in New York City. (Photo by Taylor Hill/Getty Images)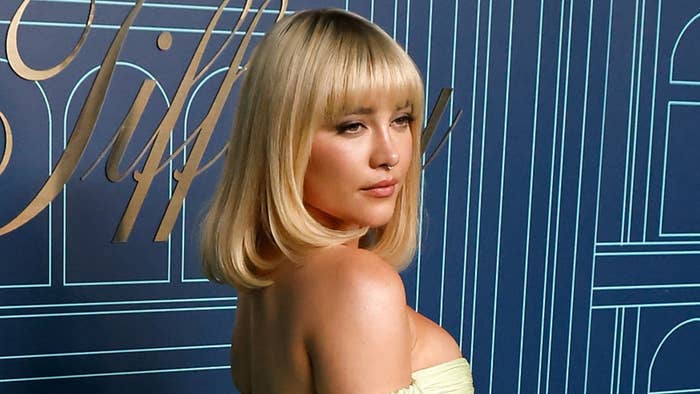 Florence Pugh has revealed people in the independent film community were not too happy that she joined the Marvel Cinematic Universe.
In a new interview with Time magazine, Pugh explained that many people thought she was "gone forever" after making the jump to the MCU, but that wasn't the case. According to the 27-year-old, nothing had changed besides her schedule.
"So many people in the indie film world were really pissed off at me," Pugh said. "They were like, 'Great, now she's gone forever.' And I'm like, no, I'm working as hard as I used to work. I've always done back-to-back movies. It's just people are watching them now. You just have to be a bit more organized with your schedule."
The actress made a name for herself in several smaller films such as Lady Macbeth, Midsommar and her Oscar-nominated performance in Little Women. Pugh joined the MCU as Yelena Belova in the Scarlett Johansson-led Black Widow and reprised the role in the Disney Plus series Hawkeye. She is scheduled to return as Yelena in the upcoming film Thunderbolts.
However, Pugh didn't completely abandon the independent market as she starred in Sebastian Lelio's Netflix drama The Wonder and most recently headlined Zach Braff's indie directorial effort, A Good Person.
This isn't the first tPugh spoke about the lukewarm reactions to her joining the MCU. In March, Pugh told Total Film magazine that people said she was never going back to the independent community.
"It always kind of wound me up," she said. "Because I think there's beauty in all types of those films. There's beauty in the massive, epic storylines like 'Dune,' like Marvel, like even 'Oppenheimer' that I did. They're amazing, mega movies.
"And then there's also beauty in all these little ones that not everyone is going to see, but are going to affect the right person at the right time," Pugh continued. "I've never, ever only thought that I was going to just do one type of movie. I've always known that I want to dabble in all areas."