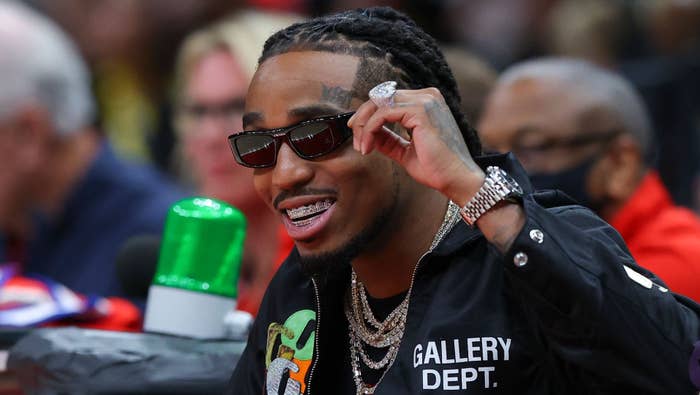 Quavo is set to star in new action thriller film called Takeover, which will be produced by Quality Control's new film branch Quality Films, Deadline reports
The Migos rapper has dabbled in acting in the past, making cameo appearances in Atlanta, Narcos: Mexico, and Black-Ish. But Takeover will mark his first starring role. In it, he'll play Guy Miller, a super slick former crook who's trying to get his life back on track, when it becomes derailed by opportunities that bring him back into Atlanta's dangerous street racing scene.
Trioscope will mesh live-action scenes with animation, after the company signed a co-production deal with Quality Films last March.
"I'm really excited for this opportunity, especially shooting in my hometown of Atlanta," Quavo said in a statement. "This film is an ideal opportunity to further delve into my craft, and I can't wait to see how the action plays out in this animated environment."
The film is written by Jeb Stuart, who has previously written for classic action flicks such as Die Hard and The Fugitive. Brandon Easton will also contribute to the script. Directing duties will be handled by Trioscope Chief Creative Officer Greg Jonkajtys, who directed Netflix's The Liberator.
"The film brings together the industry's most talented visionaries both on and off the screen," Quality Films head Brian Sher told Deadline. "We're thrilled to deliver an unparalleled edge-of-your-seat ride that will introduce many viewers to a world they never knew existed."