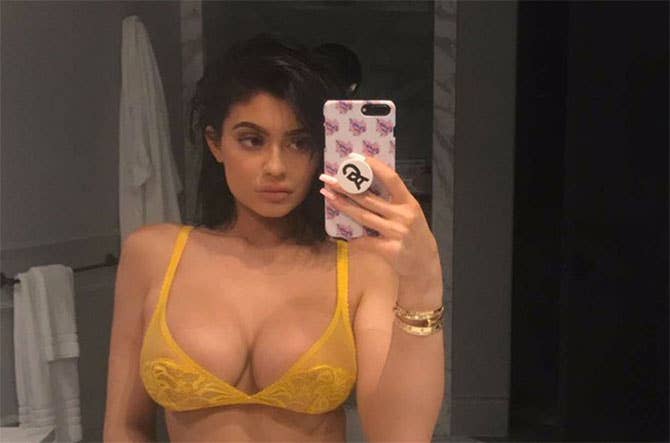 No one has ever been shy about accusing the ladies of Keeping Up With the Kardashians fame of having work done to their bodies. Whether they're grounded in reality or not, accusations have dogged different members of the Kardashian and Jenner clan throughout the years.
She may only be 19, but Kylie Jenner hasn't been able to avoid those whispers, either. Jenner famously denied having lip injections done, only to eventually admit to the procedure and open up about the insecurity she felt with that part of her body.  And she's also been forced to deal with a series of boob job rumors over the last few years.
Kylie has steadfastly denied having a breast augmentation done whenever she has been accused of it. But a new photo she shared on social earlier this week is kicking the rumor back up again.
It's completely possible Jenner had a massive, sudden, and late development with her body—but nobody is buying it. And though this appears to fly in the face of what she has said publicly, most of her fans just seem to want her to cop to the truth, instead of continuing to pretend it's not a thing.
She went from mosquito bite to very poisonous spider bite 🤔💀
Just tell the truth...u got a boob job... It's okay girl
Kylie I would respect u 100% if you could just admit you've had shit done girl like come on now
Though it's great fodder for discussion if hyper-analyzing a woman's development is your sort of thing, at the end of the day it's her body. If she wants to get implants in her chest or anywhere else, that's her call, just as it is regarding whether she wants to share that information with the public. Hell, she could get metal tentacle implants that make her look like Doc Octopus from Spiderman and it still wouldn't really be anyone's business but hers.
Jenner deserves your scrutiny for plenty of other things—that line of problematic shirts she caught shit for is right at the top of the list—but this isn't really one of them.