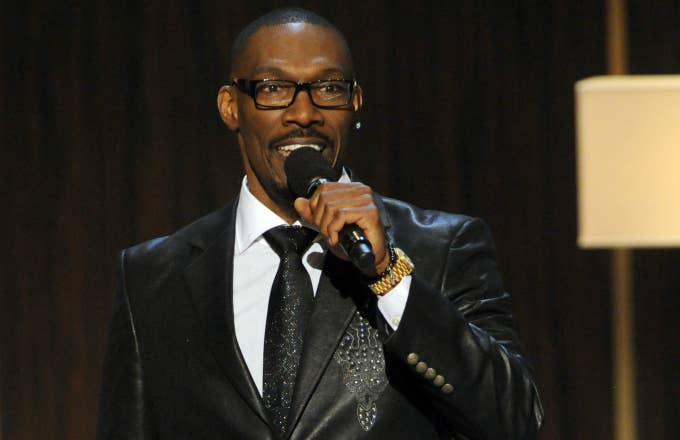 Charlie Murphy will be best remembered for his star-making performances on Chappelle's Show, but he is more than just his stories about Rick James and Prince. Even his catalog on that show is a little more diverse than you might remember: he once played an Oscar the Grouch parody in the show's adult version of Sesame Street.
It's a shame it often takes tragedy to reflect on the full scope of a performer's career, but we wanted to shine some light on some of the hidden gems from Murphy's career so fans of his work on Chappelle's Show can experience all the big-talking comedian had to offer.
Ed Wuncler III in The Boondocks
Murphy was the voice of this drunken ex-military member trying to readjust to life in America after being discharged from active duty in Iraq. It is low-key the most political role Murphy was ever involved in; Wuncler III is tapped by his grandfather to be President in 30 years, but his elder relative claims he will "still be a fucking idiot" even if he is the President. The bumbling character was widely seen as a parody of former President George W. Bush, who managed to rise to power mostly thanks to the wealth and power of his family. —Kyle Neubeck
Sticking up for Eddie Murphy during Delirious
With his brother in the midst of one of his stand-up sets, Charlie was unhappy with a woman who had the nerve to interrupt the performance. So he did what any proud brother would do in that moment: he told her to shut her damn mouth.
Murphy's boisterous voice people would come to know and love stopped the show, and Eddie led the crowd in a round of applause while attempting to catch his breath. He did not reveal the identity of the yeller, but it's pretty easy to figure out now. —Kyle Neubeck
Eggy in Mo' Better Blues
In a prelude to the one-liners he would later become famous for, Murphy appeared briefly in Spike Lee's Mo' Better Blues, launching a string of insults at Lee's character as they debated over what time to let patrons into the club. His character, Eggy, was emphatic about his role in the decision and let Lee know he wasn't going to be pushed around in a way only Charlie Murphy can. —Kyle Neubeck
Jimmy in Harlem Nights
Murphy always seemed to find a way to appear in his brother's movies, and the 1989 classic Harlem Nights is no exception. Murphy played a 1920s henchman named Jimmy who was working for Richard Pryor's character Ray. In the film, Jimmy helps his boss by orchestrating an accident that took out a rival mobster named Richie. Though Murphy's role was minor, it marked the comedian's big-screen debut as well as his formal introduction to black Hollywood. 
"I starred in Harlem Nights, where I was allowed to be at the table with Richard Pryor, Redd Foxx, Della Reese, Robin Harris," Murphy told the Huffington Post in 2012. "I was able to work side-by-side with these people and able to pick some of their energy." —Joshua Espinoza
Gusto in CB4
Before he got swagger-jacked by a rapper looking to make a name for himself, the real Gusto from CB4 was Charlie Murphy, whose moniker was stolen by Chris Rock when the authentic edition went to jail.
Beyond his stellar performance in the movie, Murphy's character was immortalized in Nas' classic record, "The Message," when the Queensbridge rapper opened the track with the line, "Fake thug, no love, you get the slug CB4 Gusto." Getting your character's name-dropped in a rap song is as strong as endorsements get. —Kyle Neubeck
Co-writing Vampire in Brooklyn
Vampire in Brooklyn is one of the most underrated vampire movies ever made. Charlie co-wrote it and Wes Craven directed it! What? What more can be said? It's not one of Eddie Murphy's best movies, but it's one of those movies I still watch whenever it comes on. Shouts out to John Witherspoon and Kadeem Hardison, who turned out some memorable performances, and also a shout to real life vampire Angela Bassett; a woman who never seems to age. ​—Angel Diaz​
Co-writing and slapping Kevin Hart in Paper Soldiers
Paper Soldiers is another underrated movie that Charlie was involved in, and is, without a doubt, Kevin Hart's most enjoyable film to date. Charlie not only co-wrote the script, he also played a detective investigating a home invasion ring Kevin was a part of. The slap above is probably the most memorable part from Charlie's performance. —Angel Diaz
Vic in Black Jesus
Honestly, Charlie could've won an Emmy for his role as Jesus' earthly foe Vic. As the superintendent​ of the housing complex Jesus and his friends frequented, Charlie's character spent his time spoiling their fun with genius wit, and feverish pettiness. It was always cool to see him getting new opportunities after the unfortunate way Chappelle's Show ended.​ —Angel Diaz​
Leroy Smith
As legend goes, Michael Jordan was cut from the varsity basketball team his sophomore year in high school as the last spot went to a taller player, Leroy Smith. Jordan Brand took inspiration from this event and launched a "Leroy Smith" version of the Air Jordan 1 in 2009. The shoe will go down as one of the ugliest sneakers that the brand ever made, but the promotional commercials that accompanied the release starred Charlie Murphy and were comedic gold. Murphy plays a middle-aged Smith who's the host of a hilarious series of basketball skills DVDs that includes karate kicks and flamethrowers. —Matthew Welty
Voice of Jizzy B the pimp in GTA: San Andreas​
I don't really remember how often CJ ran into Jizzy the Pimp but I do remember the first time he meets him. Charlie's voice is so distinct, you just laugh as soon as you hear it. He's chillin' in his strip club flanked by two chicks impressing them with his all-mink way of life: mink carpet, mink curtains, mink everything. He's like the Denzel of comedy; Charlie played himself in every role. —Angel Diaz