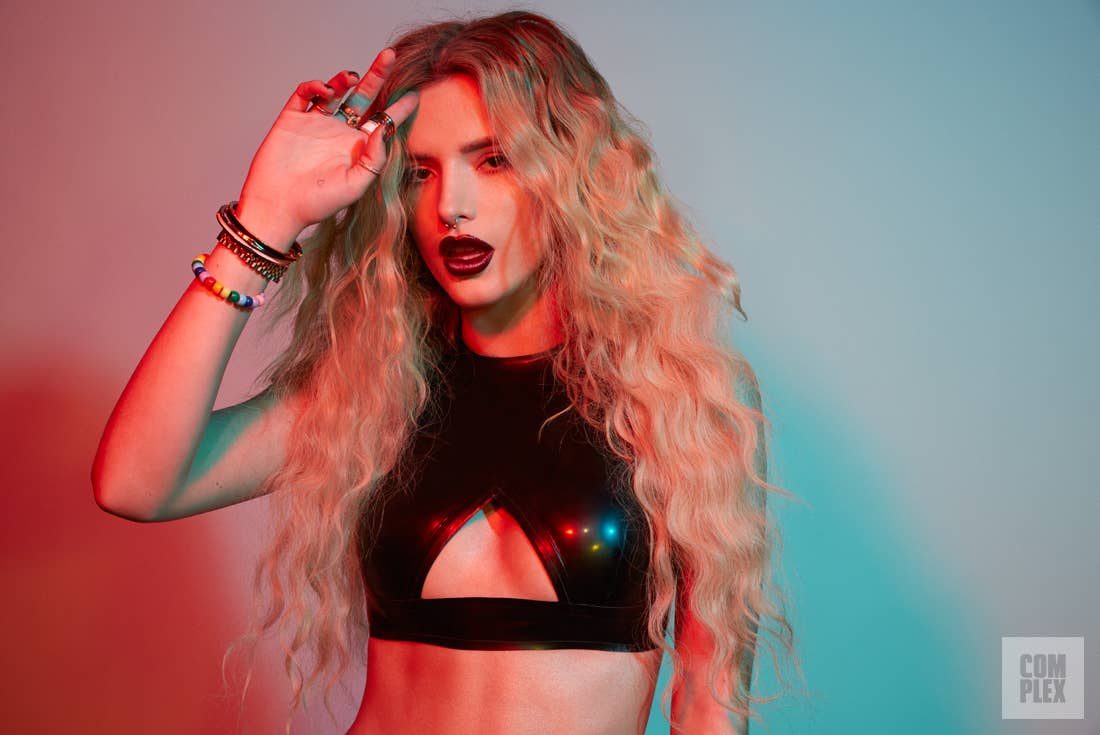 Bella Thorne is a fucking weirdo. That's not meant to be a slight or an insult. It's en vogue for celebrities to be "just like us" with their everyday eccentricities; "weirdness" has begun to feel false. It often comes off like a facade, a ploy to get us to see their latest romcom space blockbuster, or to make us feel like we "get" them while they are singing with James Corden driving around the CBS lot. Thorne's weirdness, on the other hand, seems like the real deal. Yeah, maybe that can be gathered from being one of her 15.7 million followers on Instagram watching the 19-year-old actress puttering around her day-to-day. But she'll also readily admit to it in real life. "I'm the weirdest person ever," Thorne says. "People meet me and they're like, 'Woah I've heard things about you—but you're, like, really weird." 

That's not immediately apparent on this May afternoon in Los Angeles, however, as Thorne breezes into a photo studio with her assistant. Wearing a baggy blue sweater, ripped jeans, and a necklace with a silver key at her neck, she gives off major stoner babe vibes with her undone mermaid hair and un-made-up face, clutching a bag of Chik-fil-A. Everything is careless, minus a pair of seriously fierce snakeskin boots. 

She greets everyone hello and compliments me on my choker. Before sitting down to tear into her sandwich, Thorne pauses to contemplate the complicated politics of eating Chik-fil-A, who have dangerous viewpoints. "They have good chicken sandwiches," she groans. "You motherfuckers—can't you just be nice people?!" 

Thorne's talking about the upsetting politics behind a seemingly innocent chicken sandwich, but her comments could just as well be targeted at the paparazzi who have been flocking and fictionalizing her every move in the last year or two. The Famous in Love star's brazen antics and outrageous social media presence have transformed her into a tabloid darling—which isn't always a good thing. As always, the truth is much more complicated, and Thorne seems to land squarely somewhere in the middle between what the tabloids have made her into and who she actually wants to be.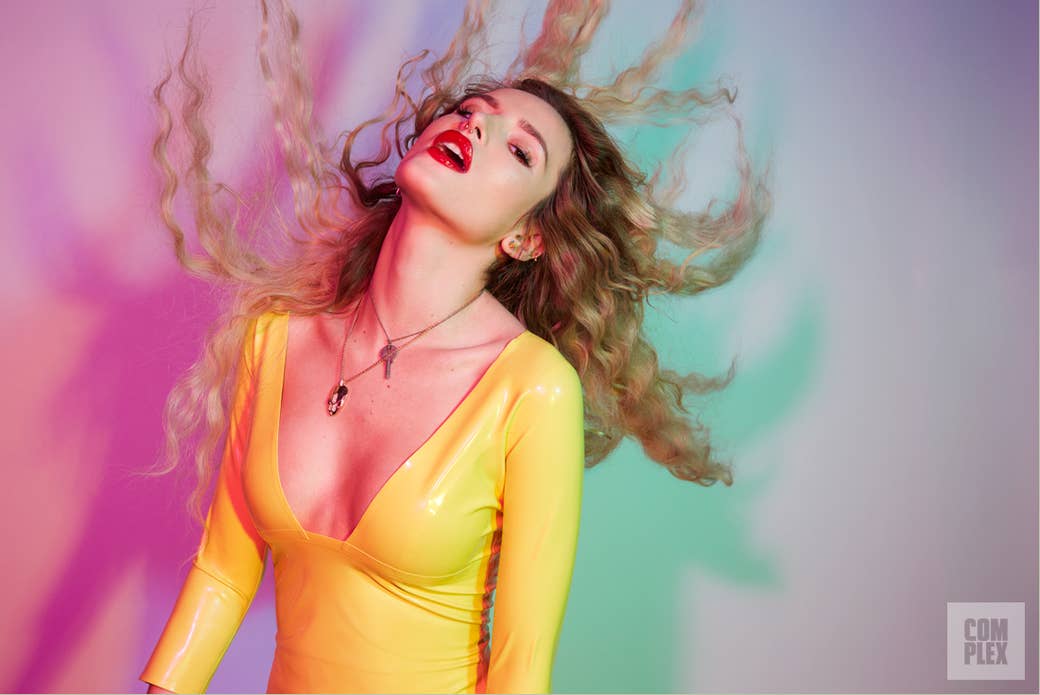 Thorne was born in Pembroke Pines, Florida to Tamara (a horror writer) and Delancey Reinaldo Thorne. Her father passed away in 2007 in a tragic car accident, leaving behind Thorne and her three siblings. She addressed the emotional and financial impact of the incident on her family in a 2015 interview with Seventeen. "I've never really talked about it. I wasn't hiding it, and it wasn't like, 'Oh, I'm embarrassed because we don't have money.' It was, 'Oh, we don't have money, so we're going to work that much harder.' … It's a different hunger when you want your family to eat."

Thorne's been acting since a young age, appearing on Entourage and playing a young Taylor Townsend on The O.C. She continued having increasingly bigger roles on shows like Big Love and the short-lived My Own Worst Enemy (alongside Twilight's Taylor Lautner). She finally broke out in 2010 on the Disney comedy Shake It Up alongside Zendaya. During Shake It Up's three seasons, Thorne starred in other Disney originals and worked on music, releasing a couple pop singles that made the Billboard charts. 

Once her Disney days were over in 2013, Thorne began working on differentiating herself from her contemporaries while growing up in the spotlight. She's made memorable appearances in teen films like The Duff and TV shows like MTV's Scream, but she hadn't truly had her starring turn until earlier this year with the lead on Freeform's Famous in Love. Thorne plays Paige Townsend, a college student plucked from obscurity in a casting call that lands her the lead role in a Hunger Games-esque film. It's easy to see the parallels between Thorne and Paige (whom Thorne jokes is the IRL version of the heart-eye emoji), as both have dealt with the perils of navigating fame and the industry at an early age. "There is still some Paige in me," Thorne muses in between bites of her chicken sandwich as her makeup artist smoothes out her skin. "When I do very Hollywood stuff, or I'll go to a party that big shots are at, I'm like this deer that can barely walk on the ice. I'm like, 'Oh, hi. Oh, hello, so-and-so.'" 
But, at the same time, Paige's naivete also irritates Thorne—to the point where she asked the show's writers to change the character's reaction to finding out that her friend Cassie was working as a topless maid. "Originally that scene was written a very different way. She was just really judgemental about the topless maid [situation]," she says. "Originally I felt so bad for the Cassie character, because I was like, my character is being such a cunt right now. That's literally what I said. I was like, 'I don't want to do the scene, I don't want to say these lines. This doesn't sound feminist at all.'"

Famous in Love's season finale is airing tonight, and it promises more of the Hollywood drama of the last nine episodes. Thorne can't yet speak to a potential season two renewal ("I can't answer that question!"), but she does openly discuss her hopes for her character going forward. She wants Paige "to evolve," she says. "Paige really does want the best [but] she does say stupid shit and do stupid shit because she doesn't know how to handle this life."
In the last couple years, Thorne's popularity has grown—and not so much because of the acting she's doing. Notoriously outspoken on social media, Thorne has become the darling of British gossip rag The Daily Mail, which covers her every move, from the sheer shirts and short shorts she's been seen in or the men she's been photographed with. As of late, the tabloid frenzy is at a fever pitch: In May, Thorne was seen on a dinner date with none other than Kourtney Kardashian's baby daddy, 34-year-old Scott Disick. Weeks later, they were seen "canoodling" at the Cannes Film Festival—until Thorne abruptly left France, tweeting: "Yo this #cannes fancy life isn't for me." 
Today, as her brows are filled in and shaped and blemishes hidden away, Thorne shakes her head and sighs at the mention of The Daily Mail and Disick. She explains her introduction to Disick came via one of the many famous men sliding into her DMs asking to attend her popular parties, which she throws at the rave-themed home she shares with her sister Dani and Dani's boyfriend, Justin. "I throw a lot of house parties, and that's how I meet these people. They come to my house party and they're like, 'Yo, I heard you're having a party,' and I'm just like, 'Okay, French Montana. Hi, French.' That's how I met Scott—he came to a house party of mine [with French] and I was like 'hi'."

Ironically, although Thorne and Disick met at a party, partying was what ended their brief friendship.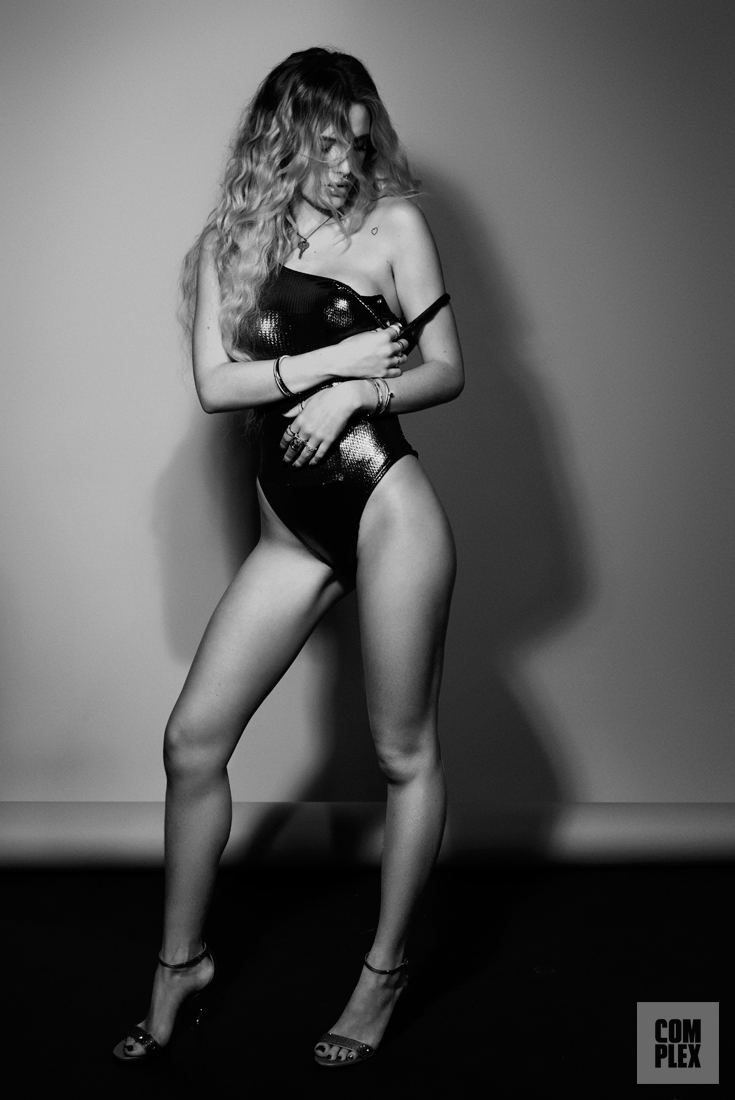 "Scott is really nice, sweet, charming. I don't drink, and he really drinks a lot. And it just ended up ...I just wasn't down. I was like, 'I gotta leave.' We were [at Cannes] a day and a half before I was like I'm booking my flight and leaving. I love to go out and have fun, I love to fucking dance, but I just don't party hardcore like that and it was way too much for me. I was like, 'Woah, this is not the way I live my life, bruh.'" 
Thorne also insists that the photos of the two of them laying all over one another poolside are not what they seem, especially the one that appeared to show Disick grabbing her breast. "Honestly, my nipple came out of my bikini and he tried to fix it for me and it looks like he's grabbing my boob. That's very nice of you to actually not sit there and stare at my nipple because my boobs are big—they come out of my shirt all the time! You can't keep those suckers down."
"[Coming out] really wasn't meant to be a big deal, it was kind of just meant to be like, 'Yo, by the way I'm bisexual if you didn't already know. If it wasn't obvious.'"
Unlike many other celebrities, Thorne is willing to be insanely candid about the media's stories about her; she primarily uses her social media accounts to dispute or dish about reports about her personal life. "It's hard because everybody's like, no don't comment on it. But I try to use [social media] to speak up because it just genuinely irks me. I'm just like, 'I can't believe I'm reading this right now, like this is absurd. You sketchy-ass bitches. Where'd you hear that?'" 

Thorne also uses social media to connect with her fans, like when she came out as bisexual on Twitter last summer. Thorne didn't think it was a big deal personally, but she did expect the media to make it one. "I was like, okay, this is gonna get blown up into this and that, but you do need more people out there being open and honest. My fans, they need that. It really wasn't meant to be a big deal, it was kind of just meant to be like, 'Yo, by the way, a little side note: I'm bisexual, if you didn't already know. If it wasn't obvious.'" 
She got a lot of support from her fans (and less support from industry people, she says), and now Thorne wants to continue to use her huge platform (6.61 million followers on Twitter, 15.7 million on Instagram) to positively influence people, taking on topics from mental health to how toxic masculinity can be. "A lot of people come up to me on the street and tell me I've changed their life in some way. It is so fucking dope when somebody's like, 'Hey, I have dyslexia, you make me feel more comfortable,' or, 'I've been bullied and you help,' or 'I'm bisexual and I can come out to my parents.' The hatred online is worth this—because on the other side of the hatred is the positive side, and it is so fucking awesome."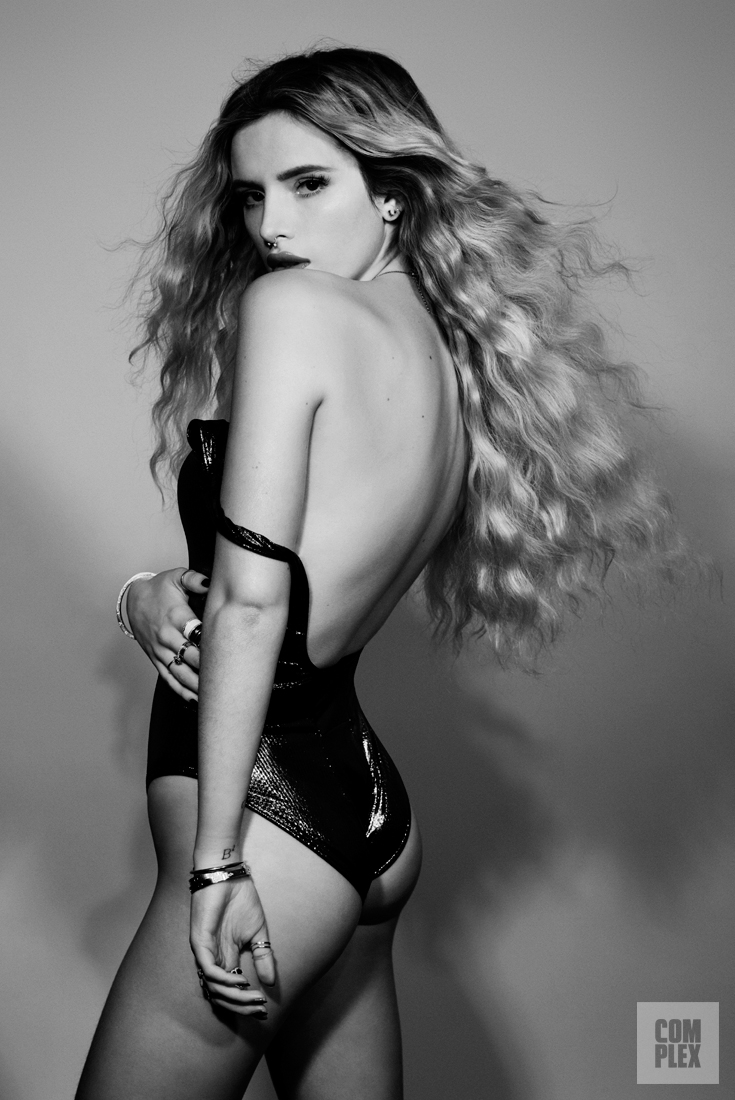 At this point in our conversation, Thorne has been transformed into a glamazon, all smoky eyes and glimmering lips. She takes a quick break before having to be lubed up to get into the racks of latex tops, dresses and gloves. After requesting Joan Jett for background music, Thorne shakes her hair out adjusts to the camera. She jumps up and down to the music, throwing her hair around like she's the lead of a Joan Jett cover band, flipping the camera off. The attitude is one of defiance, the same attitude that fuels all her work. When she speaks about Cannes, Thorne says she wouldn't go again merely because of a dude. "Next time you see me at Cannes it'll be because I have a film there."
Thorne's IMDB page states that she has no fewer than nine projects slated for the next two years. 
One of those is You Get Me, a Swimfan-esque thriller premiering on Netflix on June 23 in which Thorne plays Holly, a sexy, new-to-town girl who spends one fantasy night with Tyler, a guy she met at a party. In true Fatal Attraction (which Thorne loves, FYI) style, Holly gets dangerously obsessed. Thorne's delightfully unhinged as the manic Holly, and as a big fan of the horror/thriller genre, this part was a joy for her to do. "I always like seeing the girl just be a badass. Even though I wouldn't say my character is a badass—she's kind of murder vibes, but for a moment there she kind of is a badass. You don't realize how bad her intentions are."
There's also Assassination Nation, a dark thriller about four teen girls who become highly scrutinized after their personal information is leaked by hackers, and, The Death and Life of John F. Donovan, the first English language feature from Cannes darling Xavier Dolan (whom Thorne calls a "literal genius")—, which is likely to hit the festival circuit as early as this fall. The film stars some of  the best talent out, including Natalie Portman, Susan Sarandon, Kit Harington, and Jessica Chastain. Thorne plays the assistant to Chastain's gossip reporter villain. For all you #ChastainHive members out there, Thorne's right there with you, positively gushing about working with the Academy Award nominated actress, who also invited her to the recent Women's March. "She is a fairy godprincess mother angel heaven. She oozes glitter from her pores. Working with her, I had to catch myself from opening my mouth too far. I couldn't even help it."

Much like Chastain, Thorne has been vocally outspoken about getting more women involved in film behind the scenes. She's currently writing a TV series that she'd love to sell to HBO. It's a dark, horror take on evil stage parents that Thorne sees herself starring in and perhaps even directing. When I express my surprise that the topic hasn't been done on TV before, Thorne replies, "Nobody take my idea you motherfuckers!"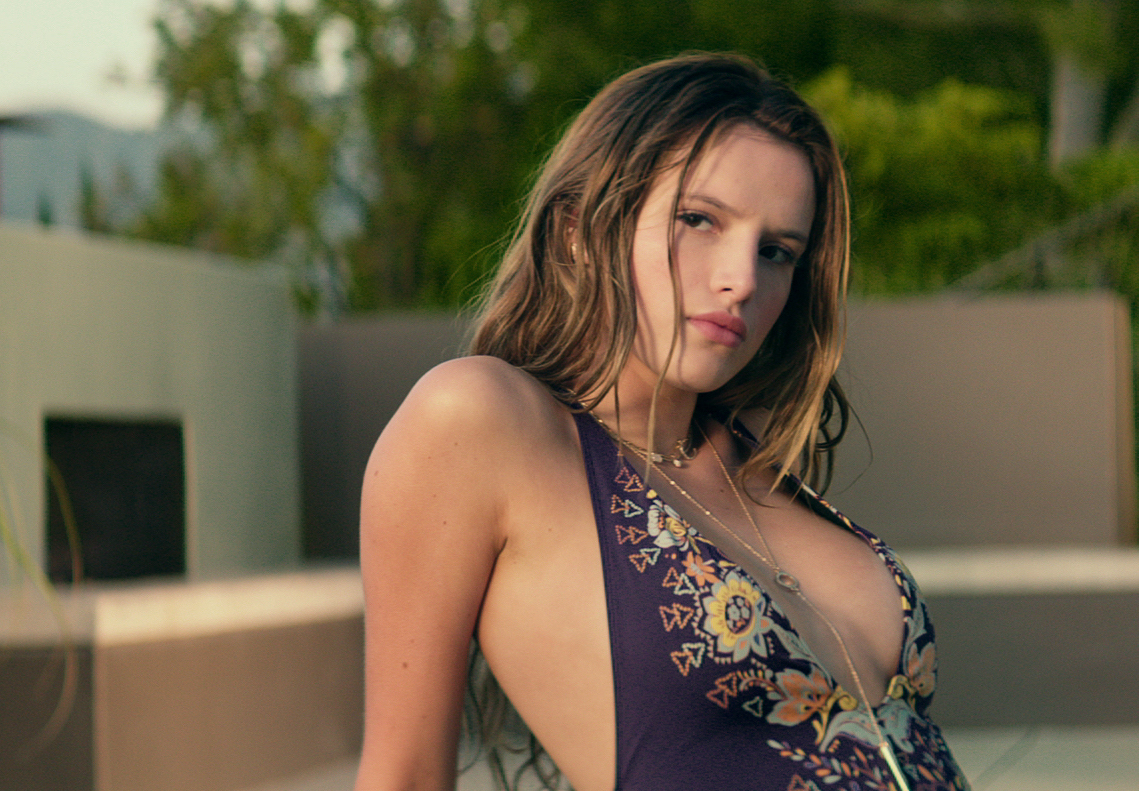 She's also been dabbling in music again, recently writing a song, which she describes as "sad, then angry and mean and aggressive." Thorne has many ties to the EDM community (her sister Dani is a DJ) and has been recording with various producers and musicians on the scene as well. A lot of her fierce work ethic seems to come from having the constant support of Dani—whom she describes as her twin. Dani, who is four-and-a-half years older, is the most constant source of light in her life, Thorne says. "She's amazing in every single way possible. She is a very big hippie and when you're in this business it helps to have somebody that is very positive and really turns your light around. She basically raised me. I am so fucking lucky that I do have her. Most of my family has passed away, so at least I have somebody that I'm so close to from my family." 

While Thorne's mother and two other siblings aren't mentioned, the absence of them from her life seems to hang in the air. There's a look of understanding Thorne and I share at her mention of not loving the holidays—especially when we share the depressing movies we watched this past holiday season (a cat documentary on Thanksgiving for her, Gone Girl for me on Christmas). "Oh wow. We seem like we could get along," she says. 

While she has her sister and sister's boyfriend, Justin, to support her, Thorne also has her ex-boyfriend actor Gregg Sulkin, whom she dated for a year and has known since she was 12. After the Disick tabloid free-for-all, Thorne was spotted out with Sulkin, immediately causing speculation that she had ran back to her ex. Not the case, says Thorne: The two were celebrating Sulkin's recent birthday with a showing of the new Baywatch (during which Thorne says he fell asleep—a recurring habit she describes as adorable). She only has lovely things to say about Sulkin. "Gregg and I are so close—we hang out all the time. Gregg helped me grow up and helped me through such an important and impactful time in my life. He has such great intentions. This guy is in-fucking-credibly nice and obviously ridiculously good looking and funny and charming." 

Thorne's a consummate professional while being photographed, but that doesn't mean she's not afraid to nix a red and cream latex dress that looks like something from the set of American Horror Story. Later, she cackles maniacally when she accidentally pulls out a long blonde hair extension and insists on photo evidence of the moment. Despite all her confidence in front of the camera, there are tiny moments where she'll gingerly place a hand on her latex-covered stomach or pull down on the sides of a high-cut bodysuit. In those moments she's a regular, self-conscious 19-year-old, not one living her entire life in the spotlight. But then, just like that—snap—she's bouncing right back into mugging for the camera, having her assistant take video for her Instagram and talking about her favorite TV shows (Sense 8 and Falling Water), movies (White Chicks and Fear—"That roller coaster scene, I could masturbate to that scene") and astrology. She doesn't believe in dating her own sign—she's a Libra. But she insists that she always dates Geminis. "Geminis are my shit. I fucking love you two-faced guys." 
"[Scott] really drinks a lot...I just don't party hardcore like that and it was way too much for me. I was like, 'Woah, this is not the way I live my life bruh.'"
Speaking of two-faced guys, Thorne loves The Joker. Yes, the Batman villain, and yes, not in an entirely platonic way. "I have a weird obsession with the Joker. For some reason the Joker turns me on so much. And like every actor that plays him is just unbelievably amazing in that role. Like, you're so fucking good and also you're really attractive without all this makeup on and now you're just depicting the Joker in a really attractive way."

Thorne's film-related fetishes don't end there. When asked who she'd like to work with, she immediately says Quentin Tarantino, of course, but she doesn't stop there. "I've been in love with Quentin Tarantino since like I was 8. I think I adapted a foot fetish from him because he has one in his movies and there's all these beautiful sexy shots of girls' feet [in his films] and I'm just like, wow." 

She's met Tarantino several times over the years—most recently at The Hateful Eight premiere. Thorne jokes about her inner monologue while talking to him there. "I would marry you. I literally would marry Quentin Tarantino. Like I love you, dude."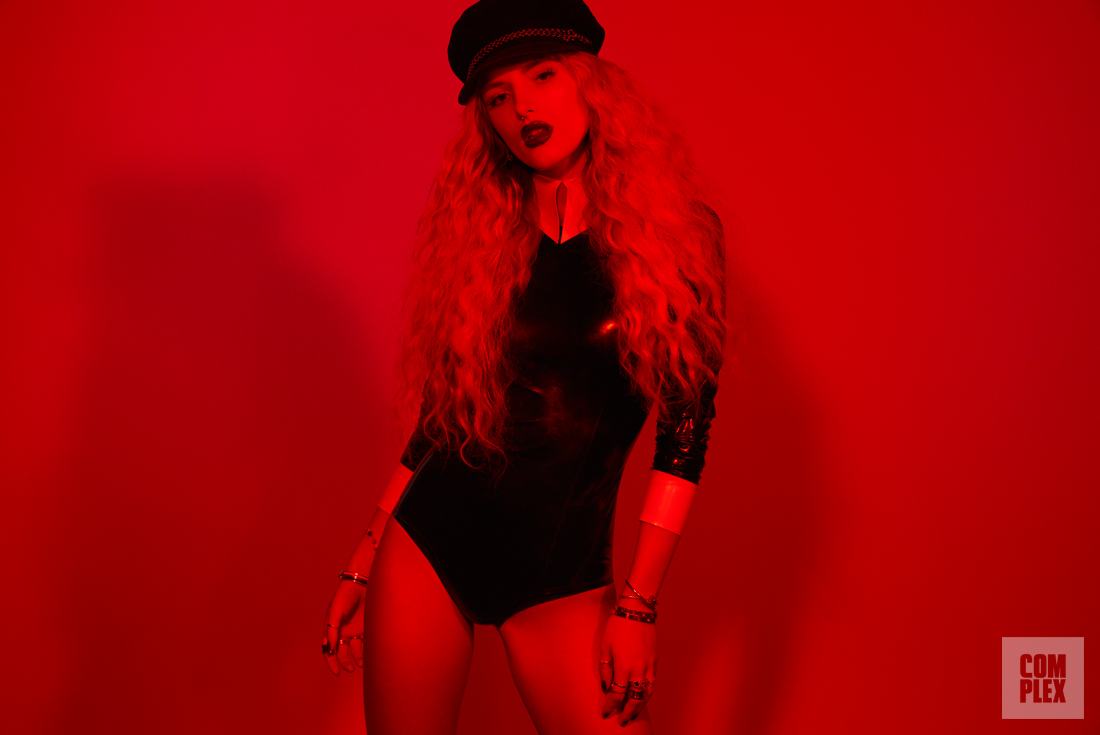 So what will Bella Thorne's life look like at 30? She muses the question; you can see it rolling around in her head. "I just hope that I'm fucking happy. I've spent so much of my life—in different areas of my life I was so unhappy. I wasted my whole childhood growing up. Mostly, I just hope I keep changing people's lives and I hope I don't get to a jaded point. I hope when I'm 30 I'm not bent up about the media. That'd be such an unhappy life to live: You're gonna be 30 and worry about what people are saying online." 

But Thorne doesn't have to worry about being jaded just yet. She captures some more photos for IG as the shoot wraps up and she spends a significant time poring over the results of the shoot with the photographer. After she de-latexs herself and roughly wipes off the bright red lipstick from her lips, we hug goodbye. A couple hours later I watch her IG story. After multiple posts of her swathed in all the latex, pouting sexily for the camera, she's back in her baggy blue sweater, silver key at her neck, fully blissed out, singing along to the radio as her assistant drives her back to her rave-themed house, where one dog and seven cats reside (three with L names and four new kittens with F names). Despite the pressure of the paparazzi and the perils of young fame, Thorne seems happy with where she's currently at. "I have a house, I have a roof over my head, I have amazing people around me, I have my sister and her boyfriend, I have my best friend Kira, I have really good people. And I'm just working. And I fucking love to work and I love to write and I love to act." And on Instagram at least, she looks wonderfully, weirdly happy to go and do just that.