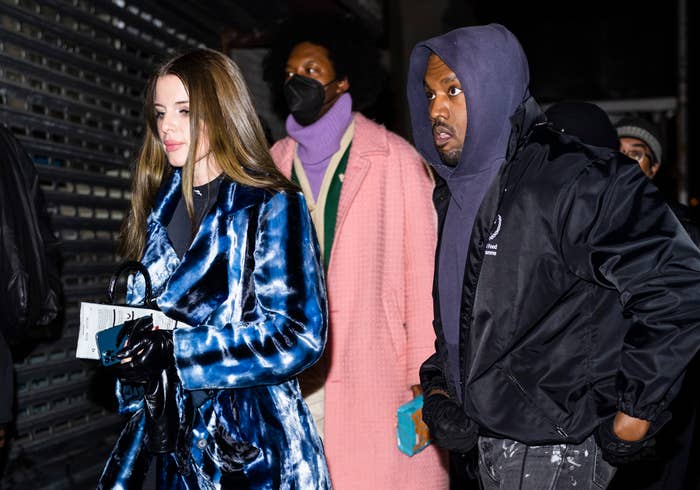 When an article in Interview magazine dropped featuring photos of Kanye West and actress Julia Fox on Thursday, Jan. 6, a collective gasp was heard all over social media. The pair were first spotted together on a date in Miami on Jan. 1, after reportedly meeting at his New Year's Eve party. The first date quickly turned into a second when they flew out to New York City to go watch Jeremy O. Harris' Tony-nominated Slave Play on Broadway, followed by dinner at Italian restaurant Carbone. A magazine feature after date No. 2, is unusual, but so is everything else West is involved in. The Uncut Gems actress opened up to Interview about their budding romance saying they had "an instant connection" when they met at the party. 
"His energy is so fun to be around. He had me and my friends laughing, dancing, and smiling all night," she shared. "We decided to keep the energy going and fly back to New York City to see Slave Play. Ye's flight landed at six and the play was at seven and he was there ON TIME. I was impressed. After the play we chose to do dinner at Carbone which is one of my favorite restaurants. Obviously." The magazine also shared various photos of the pair together that quickly started making the rounds all over social media, and Fox revealed that West made her feel like a Disney princess during their second date: "At the restaurant, Ye directed an entire photoshoot for me while people dined! The whole restaurant loved it and cheered us on while it was happening. After dinner Ye had a surprise for me. I mean, I'm still in shock. Ye had an entire hotel suite full of clothes. It was every girl's dream come true. It felt like a real Cinderella moment." 
The photos showed Ye fitting the actress into new clothes and there are some steamy ones of her straddling him as he laid on the floor, with clothing racks surrounding them. "I don't know how he did it, or how he got all of it there in time. But I was so surprised. Like, who does things like this on a second date? Or any date!" Fox added. "Everything with us has been so organic. I don't know where things are headed but if this is any indication of the future I'm loving the ride." On Friday, Jan. 7, things got a little more official after Ye shared a video of Fox walking in an all-black ensemble on his Instagram Story. Unlike his ex, he rarely shares any content on Instagram unless he's promoting a new event or his Sunday Services, so this is new territory for him. 
This sudden fling is unfolding just a month after West made a public plea to Kim Kardashian by calling out her name at his Free Larry Hoover concert with Drake in Los Angeles, California. He changed the lyrics in "Runaway" to: "I need you to run right back to me, baby, more specifically, Kimberly." That grand expression of his love seemed to fall on deaf ears, and Kardashian filed legal documents the following day to make her "officially single." The KKW Beauty founder has been dating Pete Davidson for a few months now after her stint as a host on Saturday Night Live in October. The unlikely pair have been spotted out and about in Staten Island and all over New York City, and the comedian has also been spending more time in California with his new girl when he's not in his hometown filming for SNL. Davidson and Kardashian were recently spotted on a quick trip to the Bahamas and while she hasn't posted photos of him on social media, things seem to be progressing and going well between them. There's no telling whether their relationship is just a rebound or them simply having fun, but it looks like Kardashian is happy where she is and seems unfazed by her ex's recent outings. Prior to Fox, the music mogul was also reportedly dating a model named Vinetria as he was attempting to reconcile with his ex, but Kardashian was reportedly confused by it all. "She thinks it's strange that Kanye keeps saying he wants her back, but all the while he's got the model at his Malibu house," a source told Page Six at the time. 
Based on their aesthetic, vibes, and their overall personas, Fox and Davidson actually make more sense as a couple. But this is not really about them, is it? This is about one of the most famous couples of all time going their separate ways after nearly a decade together and attempting to find their own paths without each other. But on the outside, it feels we're watching a race of who can find happiness quicker—and that includes seeing them date other people. Kardashian might be all smiles in her recent outings, but her relationship with Davidson doesn't seem to make sense to the public. The makeup mogul and the comedian couldn't be more different, and he's unlike anyone we've seen her date in the past. He has a long history of dating some of the most beautiful women in the business so it makes sense on his end. On the other hand, his laid-back personality seems fitting with where she is currently. While people were caught off guard when Kardashian and Davidson were first spotted together, West and Fox dating didn't feel as shocking. He has also had a penchant for beautiful, curvy women, like his ex-wife and ex-girlfriend Amber Rose. West filling a hotel suite with brand-new designer clothes for his new girl to wear also isn't new or unique—that's just simply what he does for any woman that's the object of his affection. 
Keeping Up With the Kardashians fans might remember the time Ye did similar things for his now ex. He changed Kardashian's wardrobe, helped her clean out her closet and introduced her to the high-end fashion world she didn't quite have access to back when she was known as just a reality star. Fox may have felt like Cinderella during the clothes fitting, but for Kardashian, those big, over-the-top expressions of love eventually weren't enough. She openly said she chose divorce in order to find quieter, smaller forms of intimacy that she said would be more meaningful to her than anything else. In a 2021 episode of the final season of KUWTK, she said she was on a search for "complete bliss" as she approached 40, and said she found herself wanting more out of her marriage, especially in terms of companionship, since at the time the rapper was living in Wyoming. "I never thought I was lonely. I always thought that's totally fine, I could just have my kids, my husband moves from state to state," she told her mom, Kris Jenner, at the time. "And I just am on this ride with him, and I was OK with that and then after turning 40 this year, I realized like, 'No, I don't want a husband that lives in a completely different state to me.' I thought, 'Oh my God, that's when we're getting along the best,' but then that is sad to me, and that's not what I want."