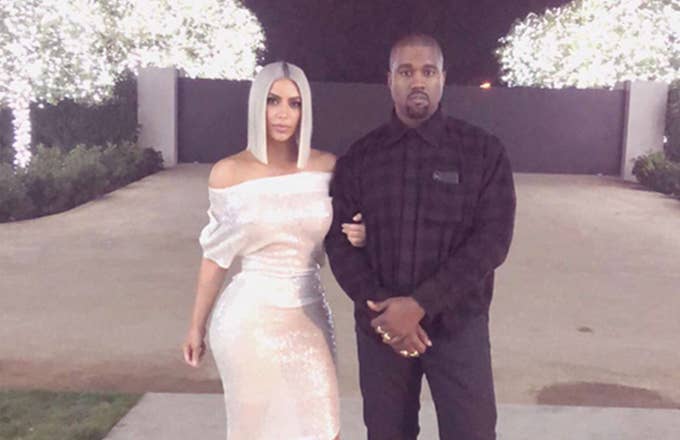 As 2017 came to a close (praise be!), I think it's fair to say that all of us were eager to ring in a new year and a new vibe. And while last year may have been kinder to the rich and famous, celebs weren't lazy about giving 2018 the warm welcome it deserves.  Here's how a few of them kicked off the New Year.
Gabrielle Union turned up down south of the border in Punta Cana, Mexico. Union looked muy guapa frolicking on the beach. And it looks like fellow beach babe, Olivia Munn also stopped by to say hello.
Will and Jada celebrated their 20th wedding anniversary. Aw! And Will commemorated the extra special day with a heartfelt post on Instagram.
Bella Hadid spent the first part of New Year's Eve doing what models do best, lounging in a hot tub in Aspen, before she headed over to Dave Chappelle's New Year's Eve concert at the L.A. Forum. As TMZ reports, Chappelle's show was quite the celebrity affair last night. Stevie Wonder, Bobby Brown, Jeff Ross, Michael Strahan, Tony Gonzalez, Odell Beckham Jr., Johnny Manziel, and Drake were all in attendance for some LOLs.
Mariah Carey was a diva, in the truest sense of the word. Not only did she return to Dick Clark's New Year's Rockin' Eve at Times Square for her redemption, but she also asked for tea in the middle her performance. Later on in the show, TMZ reports than Ryan Seacrest came to her rescue with the beverage.
Britney Spears also performed Dick Clark's New Year's Rockin' Eve, although her two songs appear to have been pre-taped. There's also the fact that seems to be lip-syncing the entire time, and at one point, it even looks like she has gum in her mouth. (Mariah must have been clutching pearls!)
David Beckham and his sons appeared to take in some fun in the sun, before he and Brooklyn got real turnt later on in the night.
Cardi B was the center of attention on New Year's Eve–not that we're surprised. 2017 was real good to Cardi, and she closed the year much like spent it: on stage.
Diddy and DJ Khaled keep things on-brand (literally) and co-hosted a Ciroc NYE event.
Sam Smith slayed wearing a sequined dress, and we're very into it.
And last but not least, America's other first couple, Kim and Kanye welcomed 2018 together amongst friends, family, and a shit ton of holiday lights.