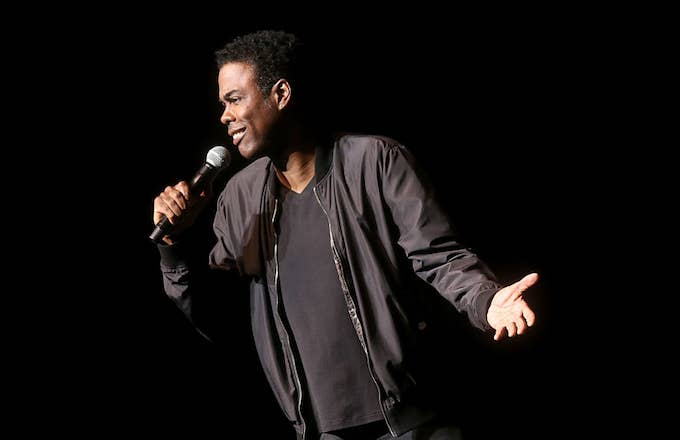 Chris Rock has become the latest celebrity to stand behind Colin Kaepernick, the former San Francisco 49ers quarterback who has yet to be signed after repeatedly taking part in a peaceful protest by kneeling during the national anthem at football games.
In an Instagram post, Rock called out the inappropriate reasons why Kaepernick has been effectively ignored by the NFL teams this year. Rock makes a case for Kaepernick to have been picked by "one of the bad teams," the "good teams" who are just a "stable quarterback away from being a Super Bowl contender," teams that rely too heavily on their quarterbacks, and even the "good teams."
Rock then goes on to lament the fact that Kaepernick has been left out of the NFL this year by pointing out that athletes often receive special treatment, wherein teams and fans alike overlook their politics or lives outside the field. "I've met Colin a few times and I don't think he's one of the bad ones," Rock wrote. "But you have to admit that in the world of sports where we give actual criminals a fifteenth chance this guy shouldn't be denied the right to ever play again."
Rock isn't the only person with a platform speaking out in support of Kaepernick. Jay Z, Cardi B, and fellow football players Richard Sherman of the Seattle Seahawks and Aaron Rodgers of the Green Bay Packers have voiced their support.
Just last night, Jay Z performed at the Meadows Music and Arts Festival in Queens, New York and dedicated "The Story of O.J." from his new album 4:44 to Kaepernick and "anyone that was held back and you overcame."
Even Cardi B went off-script during the VMAs in August to call out Kaepernick. "As long as you kneel with us, we'll stand with you, baby," the "Bodak Yellow" rapper said.
Sherman appeared on ESPN's First Take in March and said that he found it "difficult to see" that Kaepernick had yet to be signed "because he's played at such a high level, and you see guys, quarterbacks, who have never played at a high level being signed by teams." Sherman went on to make the point that many are also making: "It has nothing to do with football. You can see that. They signed guys who have had off years before."
Nevertheless, Kaepernick's protest remains a touchy subject for the media. Kid from Kid 'N Play took part in a controversial comedy skit that parodied the quarterback. Fox Sports presenter Jason Whitlock posted a photo of Kid wearing a large afro wig and impersonating Kaepernick and caused a lot of backlash. Many were upset, and Kid later apologized, emphasizing that he does stand with Kaepernick. Kid's statement read, in part:
"The skit and photo were not meant to disrespect Colin's message or political stance. Rather, we wanted to spoof the media's treatment of him and the circus that has been created. I understand that Whitlock has been a vocal critic of Colin so the optics of the photo have got me looking crazy. Anyone who knows me knows where I stand on Colin Kaepernick — exactly where he stands."