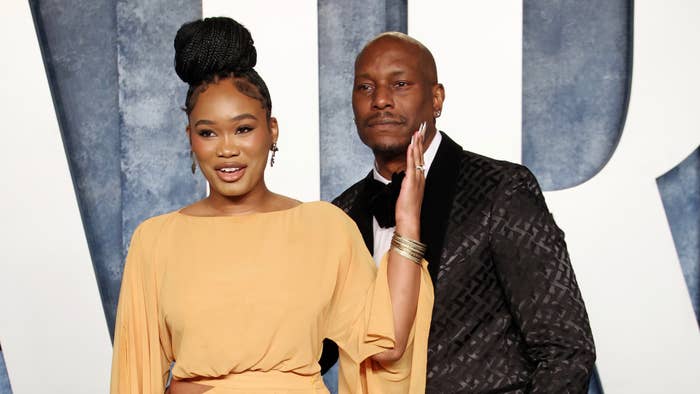 Earlier this week, Tyrese took to Instagram Live to shed more light on his relationship with Zelie Timothy—a model/influencer he began dating in 2021. When asked how the two met, Tyrese told viewers he connected with Zelie by sliding into her DMs. Zelie then quickly added that Tyrese wasn't her "type at all," and revealed she was initially more interested in another Fast & Furious star.
"My type was actually Paul Walker. Rest in peace," Zelie said about the late actor while rubbing her boyfriend's head. "But [Tyrese] wasn't my type at all. And my type is not 'white.' I'm just saying I was more interested in Paul."
Tyrese seemed visibly upset over the comments, and told his girlfriend, "Don't touch me." Zelie ignored the cues and proceeded to twist the knife.
"Even when I met [Tyrese], I was like, 'Eh, he's kind of old,'" she continued. "I just like his smile. It's pretty cool. His personality … His personality was OK."
"This went really bad," Tyrese said. "This just went really bad really fast. I'm getting off Live."
But Zelie wasn't finished.
"He didn't understand the Instagram model thing, so he would always talk down on Instagram models," she said, as Tyrese recapped her comments.
"So you wanted the homie; you didn't want me," he added. "You said I'm old."
"I never said I wanted the homie, I just said he was cuter," she continued. "You know all this already. I wasn't your type either. So relax. And, yeah, so now we're here, and it's an actual, somewhat of a love story, which is crazy."
Some Instagram users called Zelie's remarks "mean" and "disrespectful," while others were convinced the couple was simply joking. And judging by the full Q&A stream, it's clear it was all in good fun.
You can check out the clip below.
Tyrese confirmed his relationship with Zelie two years ago, shortly after announcing his split from his now-ex-wife, Samantha Gibson. The two celebrated their anniversary earlier this month.
"She was fresh out of something, and I was too… Most found themselves thinking you were a bandaid… You are… THE SEXIEST chocolate bandaid ever…," he wrote on Instagram. "2 years today we said YES to taking this unexpected beautiful journey through the highs and the lows. I just want you to know over and over again privately and publicly. I love you and appreciate you and thank you for holding my hand and loving me through this journey…."
Tyrese appeared in several Fast & Furious installments alongside Walker, beginning with 2003's 2 Fast 2 Furious. He reprised his role as Roman Pearce in 2011's Fast Five, 2013's Fast & Furious 6," and 2015's Furious 7, which was also Walker's final role. Walker died in a single-car collision in 2013. He was 30 years old.