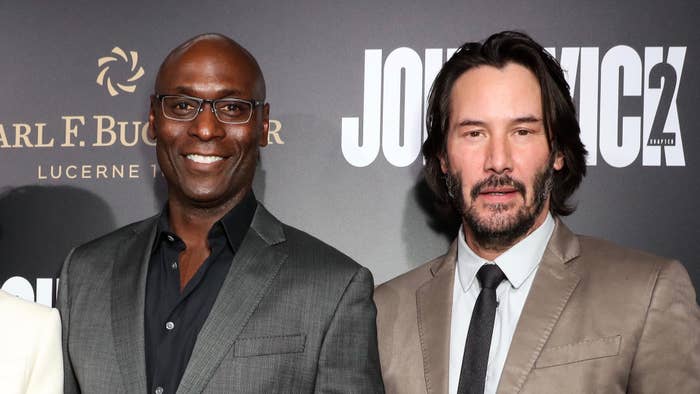 The Canadian actor paid tribute to his co-star in a statement to E! News this weekend, just a day after Reddick was found dead inside his Los Angeles home.
"We are deeply saddened and heartbroken at the loss of our beloved friend and colleague Lance Reddick," Reeves said in a joint statement with John Wick 4 director Chad Stahelski. "He was the consummate professional and a joy to work with. Our love and prayers are with his wife Stephanie, his children, family and friends. We dedicate the film to his loving memory. We will miss him dearly."
Though the details surrounding Reddick's death have not been revealed, his publicist told outlets he died from natural causes.
The tragedy occurred as Reddick was promoting John Wick: Chapter 4, which will hit U.S. theaters next Friday. The film's distributor Lionsgate also issued a statement in response to the 60-year-old actor's death. 
"The world of Wick would not be what it is without Lance Reddick and the unparalleled depth he brought to Charon's humanity and unflappable charisma," the company wrote. "Lance leaves behind an indelible legacy and hugely impressive body of work, but we will remember him as our lovely, joyful friend and Concierge. We're stunned and heartbroken, and our deepest condolences go to his beloved family and his fans all around the world."
Reddick appeared in all four installments of the John Wick franchise, portraying Continental Hotel concierge, Charon.
In the day since his death was confirmed, a number of Hollywood figures have paid tribute to the Baltimore native on social media. 
"Lance Reddick was an incredibly nice guy, and an incredibly talented actor," director James Gunn tweeted. "This is heartbreaking. My love goes out to all his family, friends, and collaborators."
"A man of great strength and grace. As talented a musician as he was an actor," wrote Wendell Pierce, Reddick's co-star on The Wire. "The epitome of class. Ansudden unexpected sharp painful grief for our artistic family. An unimaginable suffering for his personal family and loved ones. Godspeed my friend. You made your mark here. RIP."
Reddick's wife, Stephanie Reddick, expressed gratitude for all the supper she and her family have received over the last 24 hours.
"Lance was taken from us far too soon," she wrote on Instagram. "Thank you for all your overwhelming love, support and beautiful stories shared on these platforms over the last day. I see your messages and can't begin to express how grateful I am to have them."
You can check out some of the tribute posts below.