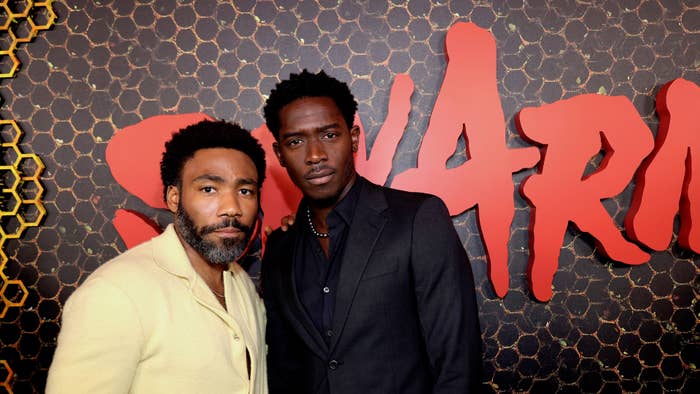 As someone who's been in the industry for nearly two decades, Donald Glover has had his fair share of run-ins with overly zealous fans.
"There was once after a show, a guy asked me to sleep with his girlfriend," the multi-hyphenate said during a recent red carpet interview. "I was busy. I was like, 'I don't know if this is a good idea.'"
Glover shared the story Tuesday's premiere event for Swarm, a Prime Video series that explores the dark sides of stan culture. The horror-thriller, co-created by Glover and Janine Nabers, centers on a young woman who becomes so obsessed with a pop star that she's willing to kill anyone who disrespects her idol.

Swarm stars Dominique Fishback as Andrea "Dre" Greene; Chloe Bailey as Marissa "Ris" Jackson; Nirine S. Brown as pop star Ni'Jah; and Damson Idris as Khalid. During Tuesday's premiere event, Idris was also asked to recall "the craziest fan interaction" he's ever had.
"Someone once ran up to me and began to let me know exactly why we're married," he said. "Why we have a bunch of kids together, and the food I ate that morning with her."
You can hear Glover and Idris' full comments below.
All seven episodes of Swarm Season 1 are available to stream now on Prime Video.