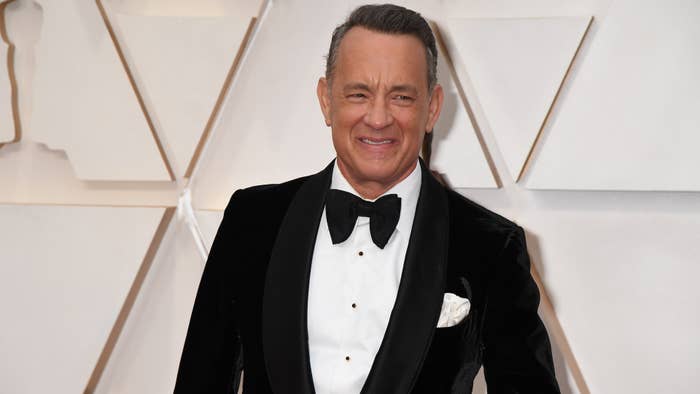 UPDATED 3/27/20 at 7:41 p.m. ET: A source told E! News the couple has returned to their Los Angeles home after two weeks of quarantine in Australia.
UPDATED 3/12/20 at 11:01 p.m. ET: Tom Hanks and Rita Wilson say they're taking it one day at a time.
Hanks took to Twitter on Thursday night to share an update from Australia, where they remain in isolation after testing positive for coronavirus. The actor shared some words of encouragement and expressed gratitude toward the people Australia who have taken "such good care of us."
"We are taking it one-day-at-a-time," the post read in part. "There are things we can all do to get through this by following the advice of experts and taking care of ourselves and each other, no? Remember, despite all the current events, there is no crying in baseball."  
See original story below.
Tom Hanks and Rita Wilson have tested positive for coronavirus.
Hanks took to Twitter to provide an update about the situation. 
"Hello, folks.  Rita and I are down here in Australia. We felt a bit tired, like we had colds, and some body aches.  Rita had some chills that came and went. Slight fevers too. To play things right, as is needed in the world right now,  we were tested for the Coronavirus, and were found to be positive.
Deadline reports Hanks was in Australia as pre-production was getting underway on the untitled Baz Luhrmann-directed film about Elvis Presley. Hanks was set to play Presley's longtime manager Colonel Tom Parker. 
In a separate statement, Warner Bros., the company behind the untitled Elvis film, would only acknowledge that someone tested positive for coronavirus, and that they were working with Australian health agencies to figure out the next steps on how to remedy this issue. 
"We have been made aware that a company member from our Elvis feature film, which is currently in pre-production in The Gold Coast, Australia, has tested positive for COVID-19 (coronavirus)," the statement reads. "We are working closely with the appropriate Australian health agencies to identify and contact anyone who may have come in direct contact with the individual.  The health and safety of our company members is always our top priority, and we are taking precautions to protect everyone who works on our productions around the world. The individual who tested positive for COVID-19 is currently receiving treatment."
Tom Hanks' son Chet took to IG to address the news. "Yeah, it's true," Chet said in the clip. "My parents got Coronavirus. Crazy. They're both down in Australia right now because my dad was shooting a movie down there but I just got off the phone with them. They both are fine, they're not even that sick. They're not worried about it, they're not trippin' but they're going through the necessary health precautions, obviously."
Colin Hanks, Tom's eldest son, also took to IG to say he's "so grateful for the outpouring of support from everyone."
Hanks is the leading star in the upcoming film Greyhound, which was moved back to June 12 last week. It was originally scheduled to be released on May 8.