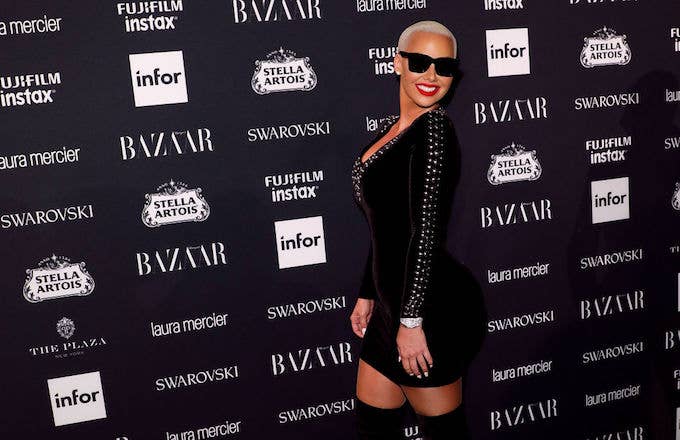 On Oct. 1, Amber Rose will hold the third annual SlutWalk at Pershing Square in downtown Los Angeles. With an estimated 20,000 people expected to attend, the event keeps getting bigger and bigger. However, this will be the first SlutWalk since Trump was elected. 
In a new interview with Broadly, Rose discussed whether the problems that SlutWalk was invented to battle against have gotten better since Trump has been in office. "It's definitely gotten more awareness," she said. "There are a lot more protests against racism and sexism. People just aren't taking that anymore because Trump is in office."
That response led Rose into a rant about her desire to have Trump's wife Melania attend the SlutWalk after she leaves her husband. "[Look at] how he treats his wife! I'm a huge fan of Melania [Trump]," she admits. "I just feel like I can't wait for her to get away from him and have her at my SlutWalk. She's so trapped in that situation where she doesn't want to be there. I wish she'd take control and leave his ass. That is going to be a great day." 
Back in May, Melania couldn't hide that she had just about enough of The Donald on not one, but two separate occasions. Just like the rest of us, Melania is probably counting the days until Trump is no longer in office, so that she can bid farewell to him for good. But when that day finally comes, the likelihood of seeing Melania at a future SlutWalk is still slim. Sorry, Amber.