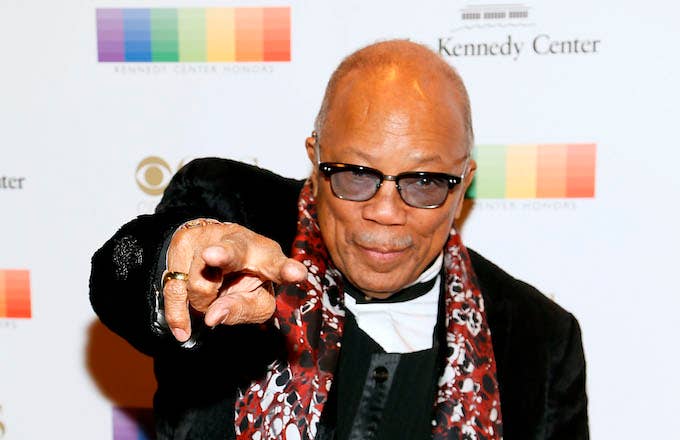 If you thought your love life was complicated, you haven't heard of the legend who is Quincy Jones.
The three-time divorcé isn't enticed by the idea of a traditional committed relationship. He'd rather keep his options open by casually dating multiple women at once. Luckily, he's found 22 beautiful women around the world who are down for the cause.
In a new GQ interview, the 84-year-old says that he's had his fill of committed relationships. "I was told not to marry actresses or singers. I ended up with two actresses, Peggy Lipton and Nastassja Kinski, and a superstar model. I didn't listen to all the advice."
With four Broadway plays, 10 movies, six albums, and a documentary in the works, Jones has the type of schedule that makes it impossible for him to be tethered to one location for long periods of time. So, he's got women all over the world at his beck and call. "[I got] girlfriends everywhere. Cape Town. Cairo. Stockholm—she's coming in next week. Brazil—Belo Horizonte, São Paulo, and Rio. Shanghai—got a great girl over there from Shanghai, man. Cairo, whew."
The women in question range from ages 28 to 42 (limitations given to him by his daughter Kidada and Rashida Jones). But most importantly, all of Jones' ladies know what they signed up for. When asked if the women know about each other, he responded, "Yeah, I don't lie. And it's amazing—women get it, man. Don't you ever forget they're 13 years smarter than we are. Don't you ever forget it."
As for women his own age, the Thriller producer isn't interested. "There's nothing…there's no upside [to dating a woman my age]. You gotta be kidding. I got me some technology out there...keep fat and old away from here. Buzzes if they're too old. But you'd be surprised.… These women, the young ones, are aggressive now. Oh my God, they're fearless, man. All over the world."
Welp, clearly honesty really is the best policy for Quincy.