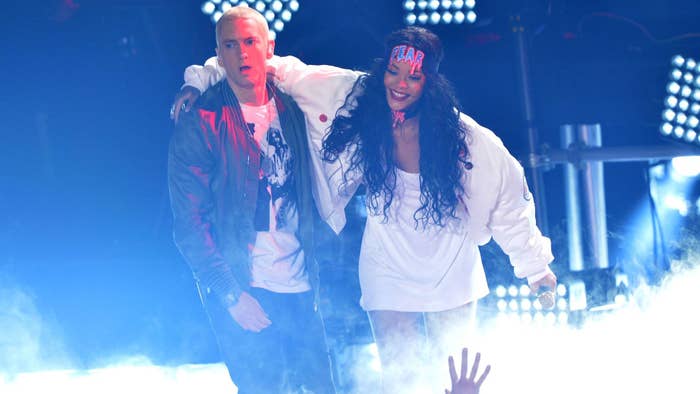 Mad Max: Fury Road is one of the most epic action movies of the last decade, and new information about the making of the 2015 film reveals Rihanna and Eminem were considered for roles.
An excerpt shared by Vulture from New York Times journalist Kyle Buchanan's upcoming book Blood, Sweat & Chrome: The Wild and True Story of Mad Max: Fury Road highlights how ​​​​​both music icons were in the running.
"Usually, actors turn up dressed very casually, but boy, Rihanna looked spectacular when she walked in," franchise director George Miller said when recounting the singer showing up to audition as one of the five Wives who Furiosa escapes with. "I'm not sure she was even aware of the content of the movie, so she dressed up as Rihanna, which was the right thing to do."
As for Em, Miller said they wanted him to be involved with the film after seeing his impressive performance in 8 Mile, but conversations never advanced to an audition.
"We did get in touch with him, though that's as far as it went because we were going to shoot it in Australia at that point, and he simply didn't want to leave home," Miller said. "I think he had the impression that if he could do it out of his home state, then he'd be up for it."
Rihanna and Eminem also weren't the only big name stars who Miller and casting director Ronna Kress were looking at. The book also reveals Margot Robbie and Jennifer Lawrence were considered to be a part of the five Wives during the 2009 casting call. Ultimately, Rosie Huntington-Whiteley, Riley Keough, Zoë Kravitz, Abbey Lee, and Courtney Eaton would make up that particular ensemble. 
Another iconic actor who was in the picture to be involved with Mad Max in some way was the late Heath Ledger, whom Miller said would often visit them in Sydney, Australia.
"The person who was foremost in my mind was Heath," Miller explained. "Every time he'd come through Sydney, he'd pop in and we'd talk generally about things and then we started to talk about Mad Max. We lost him, which was such a pity—not for Mad Max but because he was an exceptional person. He had a very powerful sense of inquiry and was amazingly humble."
Buchanan's book Blood, Sweat & Chrome: The Wild and True Story of Mad Max: Fury Road will be available to purchase on Feb. 22 here.