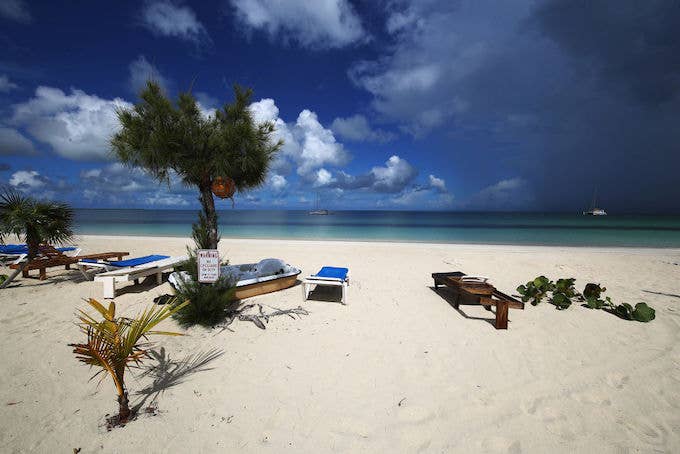 The hysteria surrounding the disaster that was Fyre Festival was only heightened by the Netflix and Hulu documentaries released this year. Billy McFarland and Ja Rule scammed the masses into thinking they could go scuba-diving with Bella Hadid, which prompted tons of festival-goers to flock to the Bahamas in the hopes of experiencing Coachella 2.0. However, ole Billy now owes approximately $26 million to the thousands who showed up to the barren campsite that was full of Amazon Prime boxes and flying tents. 
In an attempt to pay back the scammed ticket victims and defrauded investors, the Manhattan U.S. Attorney's Office will be auctioning off official Fyre Festival merch, and given the infamy of the situation, the T-shirts and sweatpants may well become collector's items. 
"We have an assortment of the 'real thing' Fyre Festival-branded tee-shirts, sweatpants, sweatshirts, hats, wristbands and medallions," a spokesman for the United States Marshals Service's Manhattan office told Vulture. "We know that there is tremendous interest in these items in the NY metro area in particular." Details surrounding when and where the auction will take place remains unknown. 
Although selling a bunch of snapbacks won't absolve the millions McFarland still owes, the proceeds will be divided based off of how much respective parties lost in the Fyre-y process. 
McFarland is currently serving a six-year sentence after he pleaded guilty to fraud in March of 2018. The FBI arrested the organizer after being sued by hordes of relevant parties and became further implicated in the investigation surrounding the music festival. McFarland ultimately took a plea deal and thus confessed to his guilt in federal court. Meanwhile, Ja Rule is planning another festival despite the Fyre shit show.