Men of the Cloth: The New Wave of Stylish Pastors Changing the Way We Look at Christianity
With a fresh approach to both dress and doctrine, and famous friends like Justin Bieber and Kanye West, these ministers are making the Bible thump. Complex Original
Image via Complex Original Miami's Jackie Gleason Theater is packed. Not just with thousands of people, but with the din of excitement and anticipation. "Make some noise!" cries Rich Wilkerson Jr. clutching not one, but two microphones. The crowd answers his request with a swell of applause and cheers. From his perch on a balcony above the crowd, Wilkerson makes his way down to the main floor to stand before an eagerly awaiting public. He takes the stage sporting suede boots, skinny drawstring Fear Of God pants, a reverse-layered faded black T-shirt and sweater, and a thin silver chain. With help from a world tour-ready sound system, Wilkerson commands the crowd like a charismatic conductor, motivating them to both thunderous cheers and introspective silence. But it's not a rock concert, and Wilkerson Jr. isn't a world-renowned musician. "Who's happy to be in church?" Wilkerson half asks, half proclaims. It's the first night of the 2015 Vous Conference (short for "rendezvous"), a 6-year-old "half ratchet, half righteous" three-day Christian meet-up that brings in guests from around the world to the iconic South Beach stage, and Wilkerson Jr. is just getting warmed up.
Wilkerson Jr., 31, comes out of Miami's Trinity Church, helmed by his father and lead-pastor Rich Wilkerson Sr. One of the city's most well known places of worship, the 55-year-old Christian church is where Wilkerson Jr. got his start, initially leading the "Rendezvous"—a gathering geared towards young adults in the Trinity congregation. Since its inception in 2007, the Rendezvous has grown from hosting 60 attendees to over 1,300 visitors weekly. Currently, Wilkerson Jr. leads his own ministry with Vous Church in Miami, under the Trinity Church banner. That reach, on top of his over 171,000 Instagram followers, his book, Sandcastle Kings: Meeting Jesus in a Spiritually Bankrupt World (which features cover art designed by Kanye West and the Donda Creative Team), and his upcoming Oxygen network reality show Rich in Faith (premiering on Dec. 9 at 10 p.m.) have made Wilkerson Jr. a key figure in a group of pastors who are shaking up Christianity today.
By at least some measures, the Christian faith could use a shake-up. According to a survey conducted by the Pew Research Center in May, the percentage of American adults who call themselves Christians has sunk from 78.4 percent in 2007 to 70.6 percent in 2014. Conversely, the number of adults who are religiously unaffiliated (atheist, agnostic, or "nothing in particular") has risen from 16.1 percent to 22.8 percent over the same period. Even as older millennials (born between 1981 to 1989) age, they're less likely to adopt religion.
Wilkerson Jr., Judah Smith of Seattle's The City Church, and Carl Lentz of Hillsong NYC, are appealing to a younger demographic by talking, and yes, dressing, like their flock. Judging by their famous parishioners, the appeal is working. Justin Bieber, who was originally introduced to Pastor Smith through his mother via sermons on tape, was coming off a tumultuous past couple years in his life that saw the pop star experience everything from a  breakup with longtime girlfriend Selena Gomez, to two-year's probation after egging his neighbor's house.
While Bieber didn't originally reach for the counsel of these spiritual leaders, he credits the support of Smith and Lentz while he was finding his way back into the fold. "Through [my] hard stage, they kind of stuck around," Bieber told Complex about his time with Smith and Lentz. "They were basically loving me from a distance, not judging me...I always respect that. When I got back to figuring some stuff out, I immediately gave them a call, like, 'Yo guys, sorry for being a dick.' They were kind of like, 'No bro,' and invited me to come hang with them. My life hasn't been the same since."
Stepping out to packed auditoriums wearing brands like Saint Laurent and Dries Van Noten, this new guard of swaggy preachers don't just look different than the stereotypically buttoned-up men of God, they're also reaching younger audiences in a way that their predecessors simply aren't. The major cities where they speak—Miami, New York, and Seattle—host multiple Sunday services with packed houses full of attentive listeners. With a natural and genuine interest in popular style and culture, along with a more contemporary perspective, they're changing how the current youth generation relates to Christianity.
"I'm like, 'What is a preacher supposed to look like?' I didn't know we had a uniform,
you know?"
—Rich Wilkerson, Jr.
Jerry Lorenzo, designer of Fear Of God, one of the most recognizable brands of the year, counts these pastors as both friends and advisors; Wilkerson Jr. officiated Lorenzo's recent wedding, along with the wedding of their mutual friend, Kanye West. For him, their clear recognition of popular culture and fashion is a window into what they teach every Sunday.
"It's important to be able to relate to your pastor on many levels; whether it's style or whether it's things happening in culture, [including] religion and your beliefs," says Lorenzo. "Having this relatable, approachable appearance is a way to immediately tear down a lot of walls between you and the people you're trying to reach."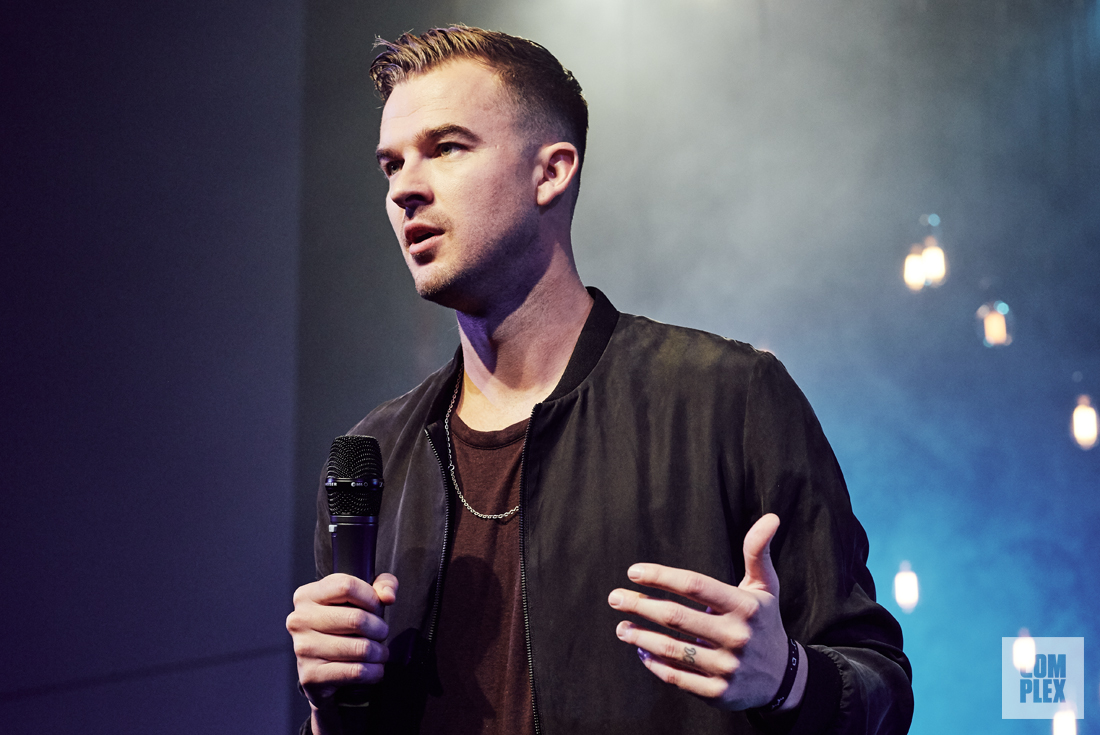 Wilkerson Jr.'s  sermons, which reference everything from Bob Ross paintings to Jay Z, endear him to a younger audience, as does his decidedly casual, if pricey wardrobe. "I don't find myself wearing blazers and stuff much," says Wilkerson Jr., "but on Sunday I just try to look sharp and try to hopefully not make it about an outfit." Even though it's not about an outfit for Wilkerson Jr.—a sentiment mirrored by Smith and Lentz—some question these pastor's modern style choices. "These days it's like, 'You don't look like a preacher,'" says Wilkerson Jr. "I'm like, 'What is a preacher supposed to look like?' I didn't know we had a uniform, you know?"
Thirty-seven-year-old Judah Smith, sometimes referred to as "Justin Bieber's pastor," also understands the struggle of not looking the part. "I think sometimes we are a little misunderstood," Smith says. "People could say, 'Oh, it's a huge advantage that you're wearing stylish clothes,' and I would say, 'Yeah, sometimes. But sometimes it's a challenge.' Again, we didn't sign up to wear fashionable clothes because we thought that would somehow give us a cool brand. That's never crossed my mind." As the voice behind the Seattle-area's City Church, he's always substance over style. "[Fashion is] just something that I enjoy. The last thing I want to do is make my fashion choices a distraction when I want to deliver the Greatest Story Ever Told."
Wilkerson Jr. agrees. "The message is that everyone should be OK to be who they are, and to uniquely walk out to be who God called them to be," he says.
For these preachers, "come as you are" is more than a relatable style choice; it's the core of their doctrines.  A common thread throughout their work is that the best path to tackle contemporary social issues is with a modern—and more important, non-abrasive—voice. "Some media wants us to use our pulpit to have a soapbox for social issues. I don't believe that's our job. I don't believe Jesus did that," Lentz told Huff Post Live. "When it comes to people's sexuality, I don't want to use a public forum to talk about private things."
Lentz, a 37-year-old leader of the Hillsong Church community originally based out of Australia, serves the NYC area. Regularly holding Hillsong services around Manhattan and at the Wellmont Theatre in Montclair, N.J. he can also be spotted all over social media, with over 250,000 Instagram followers witnessing him hanging out with and counseling stars like Bieber and Kevin Durant. Lentz declined to be interviewed for this piece.
Lentz notes that when celebrities attend his Hillsong services, his church makes an effort to prevent impromptu paparazzi photos and protect everyone's right to worship—famous or not. "Everybody deserves a chance to listen and grow without photos," Lentz told Power 105.1's "The Breakfast Club." Whether that's letting Bieber stay in his family's home in New Jersey, as Lentz has, or simply sending Bible verses via text, like Smith, even one of pop's biggest stars is just another face in the congregation—and that's a good thing. (Lentz has welcomed several decidedly less famous followers to crash at his place, from a nightclub bouncer in need to a sequestered drug addict.)
"We don't need to make this about services, gatherings, or external performances. When I stand and speak, I don't just take on a preacher voice,
I'm just who I am."
—Judah Smith
"My passion is to help everyone," Smith says. "And if that includes people in the limelight, then so be it. The pressure and the expectation and the scrutiny and the challenges [celebrity attendees] face are unique. They do need someone in their corner who wants nothing, and expects nothing, but who's just there to give, and love, and protect."
Celebrity attendees clearly bring attention to these preachers' respective churches, but that's not the reason any of these young spiritual leaders decided enter into their profession. "Someone recently told me, 'Hey, I really want to reach celebrities like you have,'" says Smith. "They meant well and that's fine, but I chuckled to myself. I never thought to myself  'I would like to pastor celebrities.' It was never a concept to me. I just wanted to help people."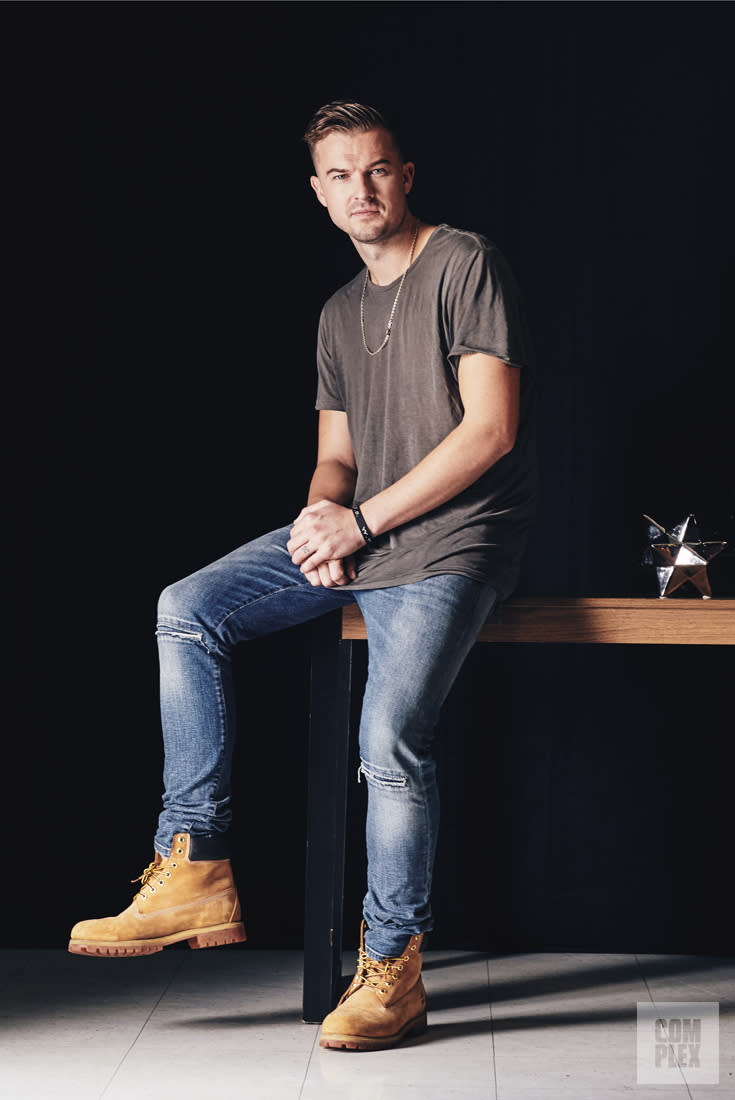 They're still men of God, even if they don't fit the aesthetic stereotype of one. "If anyone comes to service because of the way someone dresses...that's a pretty shallow reason to go to church or not go to church," says Wilkerson Jr. "We're here to do life with people, we've never had a strategy of looking cool or what should we wear, we're just who we are."
That's the aspect of their work that resonates most with their followers, even if their cutting edge wardrobes are what initially draws them in. Lorenzo insists that focusing solely on these preachers' personal style reduces not just their magnetism, but the work they do for others. "Style is a small piece to it," says Lorenzo. "To make that greater than what it is would be to belittle the character and the gifts these guys have. Their gifts are beyond being able to put on a pair skinny jeans or a blazer."
"Maybe people have misunderstood Carl, Rich, or myself, or our enjoyment of fashion," says Smith. "We don't need to make this about services, gatherings, or external performances. When I stand and speak, I don't just take on a preacher voice, I'm just who I am." When it comes to creating a tolerant and relatable environment for people to explore their faith, what's more Christian than that?