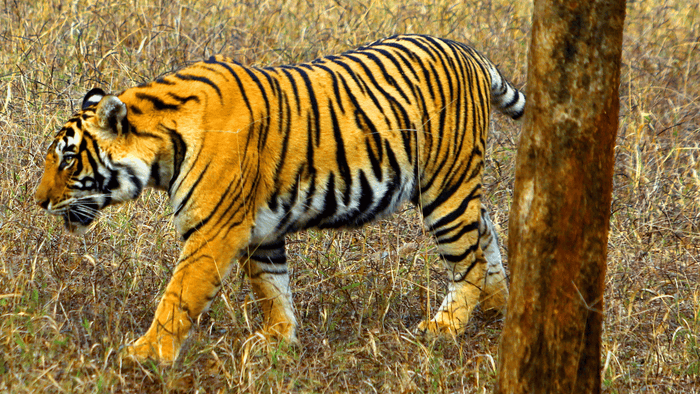 In a tale that likely dates back to the airing of the first-ever documentary, subjects (which is a fair term if you've seen the series) in Netflix's riveting seven-part show Tiger King: Murder, Mayhem, and Madness are upset about the way they were depicted by filmmakers.
According to Myrtle Beach Online, the owner of Myrtle Beach Safari, as well as others, are saying they've been misrepresented in the series following public backlash that has been aired against them since the show was uploaded to the streamer this past Friday. 
The docuseries mainly follows the story of animal exhibitor Joe Exotic (real name: Joseph Maldonado-Passage) who got himself a 22-year jail sentence after reportedly trying to hire someone to kill Carole Baskin, who operates her own big cat sanctuary in Tampa. We'll get back to her shortly.  
Tiger King features another unconventional supporting character/animal exhibitor, Bhagavan "Doc" Antle. Antle runs Myrtle Beach Safari.
Myrtle Beach Online mentions that Antle is heavily featured in the second of the series' seven episodes (and interviewed throughout). An ex-employee of Doc's, Barbara Fisher, says on camera that he ran his business in a cult-like manner, and that while she worked there some of his romantic partners were people who began working for him when they were teens. 
On Wednesday, Antle took to Instagram to post a picture alongside his staff saying that he wasn't happy with the way their operation was mentioned in the series. You can read the lengthy caption below. Comments on the post zigzag from statements of support to outright condemnation. 
The end Tiger King include notes from producers that Antle's facility was raided by the cops this past December. At the time Antle said the raid happened because three juvenile lions that were acquired by his facility came from a Virginia zoo that was being investigated for animal cruelty. That statement was backed up by law enforcement officials. 
An audio clip is also played in the series in which it's suggested that Antle may euthanize tiger cubs when they reach an age in which they can no longer interact with the public. According to the show, Antle never provided an answer to those accusations, though he previously denied them in an interview conducted by the Sun News. Those allegations are unproven. 
In addition to Antle's issue with the way he's portrayed, Baskin is also upset with how she came off. The series' third episode puts together what MBO suggests is "a significant amount of evidence suggesting she murdered her former husband, potentially feeding him to a tiger." That should be enough to entice you to watch if you haven't been swayed yet. 
Like Myrtle Beach Safari, Baskin also put together a lengthy post that appears to go point-by-point disputing assertions made against her in the doc. Baskin is the founder and CEO of the animal sanctuary Big Cat Rescue.  
"They did not care about truth," she says. "The unsavory lies are better for getting viewers."
Mainly she claims that she was misled by the docuseries' filmmakers. Erica Goode and Rebecca Chaiklin partnered up to make the film.
"When the directors of the Netflix documentary Tiger King came to us five years ago they said they wanted to make the big cat version of Blackfish (the documentary that exposed abuse at SeaWorld) that would expose the misery caused by the rampant breeding of big cat cubs for cub petting exploitation and the awful life the cats lead in roadside zoos and back yards if they survive," she states further. "There are not words for how disappointing it is to see that the docuseries not only does not do any of that but has had the sole goal of being as salacious and sensational as possible to draw viewers."
She also addressed the depiction of her previous doomed marriage to Jack Donald Lewis. "It has a segment devoted to suggesting, with lies and innuendos from people who are not credible, that I had a role in the disappearance of my husband Don 21 years ago," she continues. "The series presents this without any regard for the truth or in most cases even giving me an opportunity before publication to rebut the absurd claims. They did not care about truth. The unsavory lies are better for getting viewers."
Tiger King shows Joe Exotic repeatedly alleging that Baskin was responsible for Lewis' death while going on to say that she fed his remains to a tiger. Less gruesome by comparison, but still unflattering, the series also features claims by Lewis' ex-wife and daughters that she seized upon his death to take advantage of his finances. 
"This is the most ludicrous of all the lies," Baskin says before saying the rumors about Lewis' disappearance were perpetuated by his ex and daughters. "They spread this rumor that they thought I had ground Don up and fed him to the cats. And the media loved it. The meat grinder shown in the video was enormous. Our meat grinder was one of those little tabletop, hand crank things, like you'd have in your kitchen at home, like the one pictured here."
Speaking of exes, in addition to those two, TMZ reports that one of Exotic's former husbands, John Finlay, also wasn't thrilled about how he was represented. His concern doesn't seem quite as severe as the concerns of the above two (he's not accused of feeding anyone to a tiger), but instead his concerns appear to be cosmetic in nature. Specifically, he's miffed why his fixed teeth weren't shown on camera. Finlay's three-upper-tooth smile was seen in the show, but he said he got dentures in time for them to put that in their footage. That did not make the cut.
Finlay also told TMZ he wants to correct any misconception that his dental situation was caused by meth usage. He does admit in Tiger King that he had used meth, but he says his teeth were already an issue due to genetic reasons before that. Finlay says his shirtless depiction in the show was the idea of producers and that he simply went along with it. 
Another exotic animal exhibitor from the series, Jeff Lowe, has contrasted the approach of the previous three by simply taking the publicity in stride. Lowe had partnered with Exotic before Joe was arrested (he's also being sued by him), and though Lowe stated that he had concerns over how his "Sons of Anarchy lifestyle" would be viewed, he also switched the header of his business to "As Seen on Netflix Tiger King."