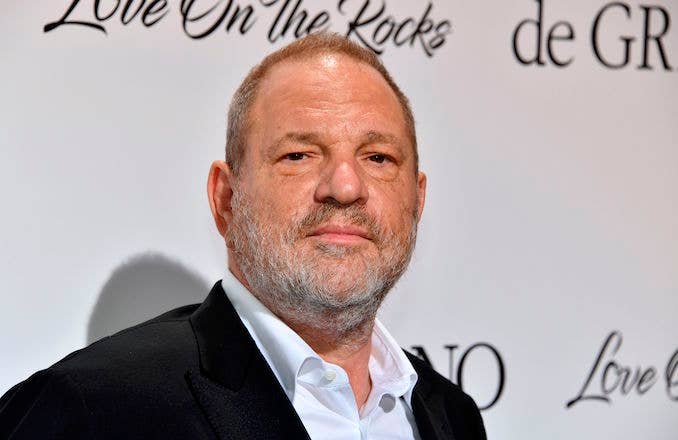 After a buyout deal with potential investors fell through last month (and then again this month), The Weinstein Company announced that it would be filing for bankruptcy. On Monday, they officially filed for Chapter 11, which means hopefully you didn't render any services to them for which you're awaiting payment. It could take awhile.
On Tuesday, a 394-page list was revealed which recorded the massive amount of creditors to whom the company owes money. As pointed out by Deadline, a number of people on the list are expected (meaning actors/directors who produced notable works for The Weinstein Company, like Quentin Tarantino, Kevin Smith, etc.) but several others sort of jump out to you when scrolling down that long-ass list.
As Deadline highlighted:
But some of the thousands of names on the 394-page list of people owed money by the bankrupt company jump off the page, among them David Bowie, Michael Bay, Malia Obama, Boris Becker, Ryan Coogler, Daniel Radcliffe, Robert De Niro and Darlene Love. (Check out the full, 394 page list here — you, too, may be on it.)
Yes, that is Malia Obama, Ryan Coogler, and David Bowie on that list. In addition to that wide range of people they're still on the hook to give payments to, they also owe money to Netflix, Amazon Studios, CBS, NBC, and ABC, as well as charities like the American Fund for AIDS Research, Autism Speaks, and the American Cancer Society.
As stated above, the company filed for Chapter 11 bankruptcy protection on Monday evening, and they reportedly plan to sell their assets in a section 363 sale. A bidder has come forward named Lantern Asset Management, who has posted an offer of $125 million in assumed liabilities, $15 million towards current projects, and (biggest of all) $310 million cash. This process is set to take place over the next several weeks.