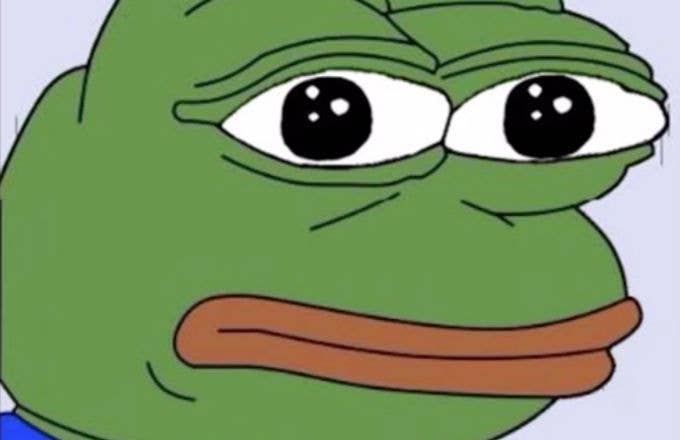 Pepe the Frog's creator is with Hillary Clinton and not Donald Trump, who the cartoonist says looks like a "smug" Pepe meme in a new interview published Wednesday.
The Pepe the Frog cartoon has been declared a hate symbol by the Anti-Defamation League for being "used by haters on social media to suggest racist, anti-Semitic or other bigoted notions." Pepe may have been co-opted for racist memes, but the cartoon frog's creator couldn't disagree more with the memes featuring the alt-right's amphibian of choice.
Matt Furie, Pepe's creator, made it clear to Esquire the racist and anti-Semitic Pepe memes don't align with his beliefs. Furie is actually voting for Hillary Clinton, though he did mention previously being a Bernie Sanders supporter.
Furie talked to Esquire about Pepe's origins as one of several characters for a comic book in 2005 called Boys Club. "The comic itself represents that post-college zone of living by yourself with a bunch of dudes and pulling pranks on one another," Furie said. "The vibe of the comic is very chill and mundane and absurd." Furie never expected what Pepe became. In fact, it's because of these inflammatory memes that Furie said he's been reluctantly introduced to things like the alt-right and "white nationalism."  
"The people who are driving this train are these anonymous Internet trolls who don't stand for anything except for nihilism and getting a rise out of whatever racist or sexist or disgusting thing they can do," Furie said. "It's just an idiotic joke. They kind of seem like this group that tried to intellectualize white power, and they've appropriated Pepe for that. It sucks, but I can't control it more than anyone can control frogs on the Internet."
Furie called ADL situation unfortunate and also lamented the fact his name is tied to the meme. But the artist said he's trying not to take it too seriously. Rather, he's just marveling at how "strange" it is that both Trump and Clinton's campaigns have taken notice of Pepe, for better or worse. "It's funny that it's become part of the national debate. It's really weird," Furie said.