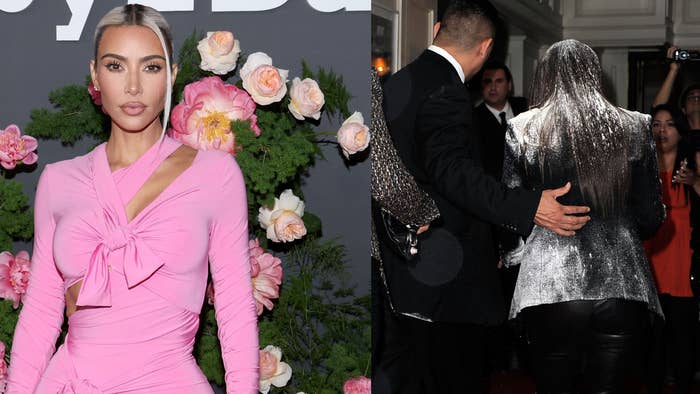 Back in 2012, headlines swarmed the internet after Kim Kardashian was flour bombed at her perfume launch at the London Hotel in West Hollywood. Now, the 42-year-old's former media strategist is claiming it was all a stunt. 
Detailing the incident in Channel 4's new documentary, The Kardashians: A Billion Dollar Industry, media strategist Sheeraz Hasan alleged he was in on the plan to help promote Kardashian's fragrance True Reflection, according to the New York Post. Hasan claimed that he received the reality star's permission to get flour bombed.
"'Okay this is what's going to happen, you're going to be fine, you're going to be safe, but we're going to create a media moment,'" Hasan said, allegedly recalling what he said to Kardashian. "'If we create media gold, guess what's going to happen? Everyone's going to be talking about your perfume, everyone's going to buy it.'"
At the time, Kardashian spoke with E! about the flour bomb incident, saying she was taken by surprise. "That probably is the craziest, unexpected… thing that ever happened to me." She went on to make light of the situation, explaining that she needed more makeup. "Like I said to my make-up artist, I wanted more powder, and that's a whole lot of translucent powder right there."
Ultimately, Kardashian did not press charges, and the attacker was later released from police custody. The incident was also documented on Keeping Up With the Kardashians. In the episode, the SKKN founder speculated that the attacker was an animal rights activist. The attacker was said to have shouted "fur hag" before throwing the powder at the reality star.
Hasan has also denied PETA's lack of involvement in the incident.