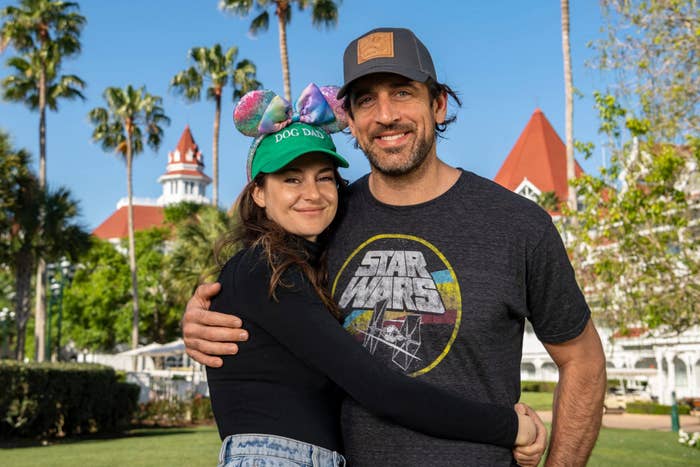 Aaron Rodgers penned a heartfelt note to Shailene Woodley and his Green Bay Packers team.
The 38-year-old quarterback took to Instagram on Monday, where he opened the sentimental post with the quote, "Gratitude is the wine of the soul. Go on. Get drunk." The next photo in his series of image shows him and Woodley cuddling on a couch, with his message following the pair's reported split last week. They got engaged just over a year ago and had been dating for two years.
"@shailenewoodley, thanks for letting me chase after you the first couple months after we met, and finally letting me catch up to you and be a part of your life," Rodgers wrote. "Thanks for always having my back, for the incredible kindness you show me and everyone you meet, and for showing me what unconditional love looks like, I love you and am grateful for you."
A source told People that Woodley and Rodgers had an amicable split and were too busy for the relationship, while another told In Touch Weekly that Rodgers was putting football first. TMZ also reported Aaron got "cold feet" over the pending nuptials and that the Emmy-nominated Big Little Lies actress felt "neglected." Rodgers revealed their engagement in February 2021.
In the same Instagram post, Rodgers also showed appreciation to his Packers family and thanked them for being his teammates. It's unclear at this point if he will remain in the NFL or retire—and whether he'll be with the Packers if he does choose to stay in the league.
"To my teammates, past and current, you are the icing on the beautiful cake we call our job; football," Rodgers wrote. "The friendships that we have will transcend our collective time in this game and I am so thankful for the role that each of you have played in making my life that much better. I love you guys, and cherish the memories we've made."