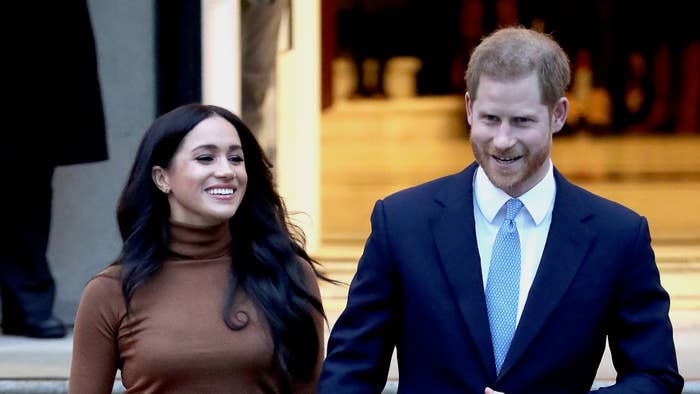 Prince Harry and Meghan Markle say they will drop the term "royal" from their branding. But they want it to be known that the move was completely their choice.
The couple announced the decision Friday in an online post that outlined their transition "to become financially independent." The post comes more than a month after Harry and Meghan confirmed they were stepping away from the Royal Family and would no longer receive public funds for official royal duties; though they emphasized their commitment to their family and vowed to "fully support Her Majesty the Queen."
Following Harry and Markle's announcement, Buckingham Palace released a statement claiming the couple would no longer use their Royal Highness titles, as they were no longer working members of the Royal Family. However, Harry and Markle's recent post states the Monarchy and Queen cannot legally prohibit them from using the term overseas—though they've decided to follow the directive and will refrain from using the word "royal" or any variation of the term in their branding.
"While there is not any jurisdiction by The Monarchy or Cabinet Office over the use of the word 'Royal' overseas, The Duke and Duchess of Sussex do not intend to use 'Sussex Royal' or any iteration of the word 'Royal' in any territory (either within the UK or otherwise) when the transition occurs Spring 2020," the post reads.
Harry and Markle have also dropped their applications to trademark the term "royal," which were "filed as protective measures and reflected the same standard trademarking requests as done for The Royal Foundation of The Duke and Duchess of Cambridge."