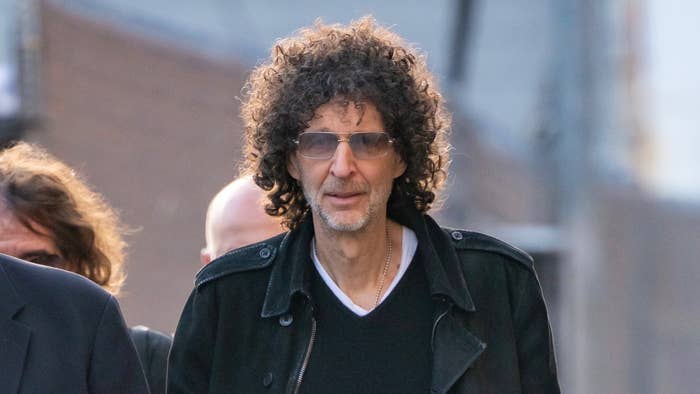 Howard Stern is calling out what he sees as hypocrisy in Hollywood. 
During Wednesday's episode of The Howard Stern Show, the 68-year-old shock jock took some time to address the recent on-stage attack of Dave Chappelle, and how it garnered a much different reaction than Will Smith slapping Chris Rock at the Oscars. 
"This guy jumped up on stage and attacked Dave Chappelle," Stern said during the broadcast, per Mediaite. "As soon as that happened, did they let him go back to his seat and laugh and sit next to his wife and then give them an award? No! They took him backstage, they broke his arms and hands so bad. They fucking beat the shit out of him."
Chappelle was attacked Tuesday night while performing at the "Netflix Is a Joke" festival at the Los Angeles Hollywood Bowl. The suspect—identified as 23-year-old Isaiah Lee—was filmed running on stage and tackling comedian, before he was apprehended by security. Cellphone footage showed the man being taken off stage, before celebrity attendees like Rock and Jamie Foxx rushed to assist the Half Baked star.
"Unlike the Academy Awards, Jamie Foxx came running out on stage and helped Dave Chappelle," Stern continued. "At the Academy Awards, everyone came over and consoled Will Smith — because it was live television and Hollywood didn't know what to do about Will Smith."
Smith made headlines earlier this year after he slapped Rock during the live telecast of the 94th Academy Awards. The viral moment took place while Rock was presenting the award for Best Documentary, and made a joke about Jada Pinkett Smith's shaved head.
"Jada, I love you, 'G.I. Jane 2, can't wait to see it," Rock said told Smith's wife, who was diagnosed with alopecia years ago. 
Moments after the joke, Smith walked onto the stage and slapped Rock across the face. He then returned to his seat in the audience and shouted, "Leave my wife's name out of your fucking mouth."
The incident has left fans and Hollywood figures torn. Some criticized Smith for resorting to violence over what they believed to be a relatively mild joke, while others praised him for standing up for his wife. Stern fell into the former category, and previously suggested Smith wouldn't have reacted that way had the joke come from a larger man like Dwayne Johnson or Jason Momoa.
"Listen! You don't treat Will Smith any different than they did the Chappelle attacker," Stern said on Wednesday's episode. "The audience at the Oscars gave Will Smith a standing ovation after the attack, that's the truth. It's on film, it's not fake news. They didn't break Will's hands, they shook them and it's wrong and they all should be ashamed of themselves."
Lee was taken into custody Tuesday night and charged with felony assault with a deadly weapon. Los Angeles police say the suspect was armed with a fake gun that contained a knife blade. Chappelle was not injured during the incident.
"Dave Chappelle celebrated four nights of comedy and music, setting record-breaking sales for a comedian at the Hollywood Bowl [...] He refuses to allow last night's incident to overshadow the magic of this historic moment," Chappelle's representatives said in a statement. "As unfortunate and unsettling as the incident was, Chappelle went on with the show."