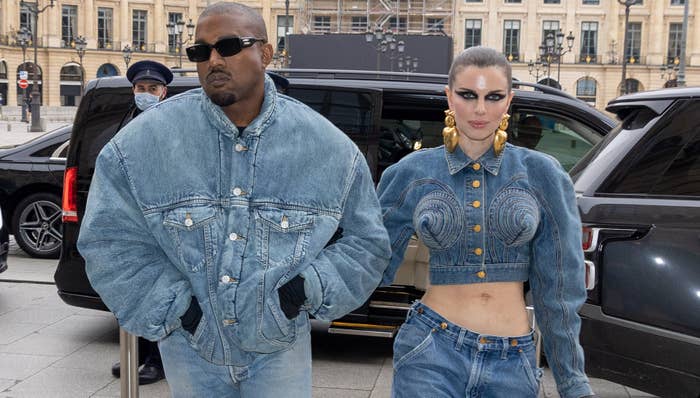 On the latest episode of her Forbidden Fruits podcast, Julia Fox shut down speculation that she's dating Kanye West for "fame," "clout" and "money."
"It's funny cause I'm getting all of this attention, but I really couldn't care," Fox explained. "People are like, 'Oh, you're only in it for the fame, you're in it for the clout, you're in it for the money.' Honey, I've dated billionaires my entire adult life, let's keep it real."
The actress added, "When I was younger, I was such an attention seeker. I mean like 'climb on top of the bar.' It was always like 'eyes on me.' I had to get on stage at the concert. I had to make everything about me –– every situation about me. And as I got older and did work on myself, now I don't need it or care for it or think about it. I don't read any of the headlines or even see [them]. I just don't really care."
Fox's comments arrive just a few weeks after the Uncut Gems star was first photographed with Ye, sparking dating rumors that Page Six has since confirmed.
"Julia and Ye are dating," a source told the outlet earlier this month. "They both just got out of their former relationships, and they've helped each other recover immensely… They're kind of kindred spirits, and it's cool to watch." 
Days after she and Ye were spotted on multiple dates, Fox shed more light on their budding relationship with Interview magazine.
"His energy is so fun to be around," she said. "He had me and my friends laughing, dancing, and smiling all night. We decided to keep the energy going and fly back to New York City to see Slave Play. Ye's flight landed at six and the play was at seven and he was there ON TIME. I was impressed. After the play we chose to do dinner at Carbone which is one of my favorite restaurants. Obviously."