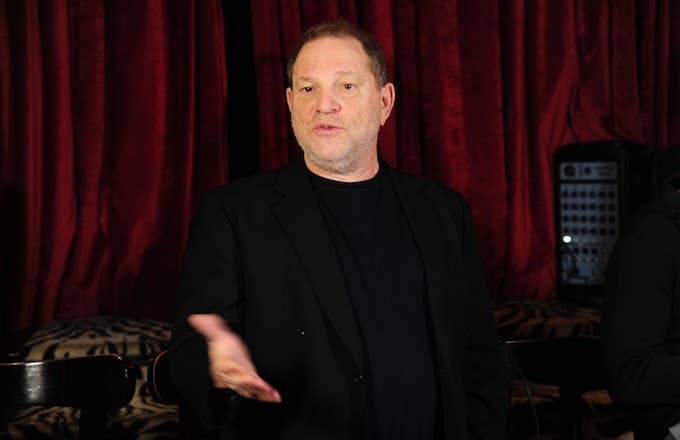 The Weinstein Company announced on Monday that it has officially filed for bankruptcy, which comes on the heels of co-founder Harvey Weinstein's numerous sexual abuse allegations.
Despite the bankruptcy, the film company locked in a "stalking horse" bid with Lantern Capital. According to Investopedia, it is "an initial bid on a bankrupt company's assets from an interested buyer chosen by the bankrupt company" so that other interested bidders cannot lowball the company's purchase price. If Lantern Capital becomes the Weinstein Co.'s new owner, it will be able to continue to produce TV shows and movies.
"The Board selected Lantern in part due to Lantern's commitment to maintain the assets and employees as a going concern," the company said in a statement, per Variety. "The Company hopes that this orderly sale process under the supervision of the Bankruptcy Court will allow it to maximize the value of the Company's assets for the benefit of its creditors and other stakeholders."
Along with the bankruptcy filings, the company also announced that it has removed all non-disclosure agreements (NDAs) with their employees, as part of an ongoing negotiation with New York Attorney General Eric Schneiderman. 
"No one should be afraid to speak out or coerced to stay quiet," the company continued. "The Company thanks the courageous individuals who have already come forward. Your voices have inspired a movement for change across the country and around the world."
Earlier this month, it was reported the Weinstein Co. was near bankruptcy after a deal to sell the company for less than $500 million fell through when a group of investors (led by billionaire Ron Burkle) decided to back out of the agreement. "[W]e have received disappointing information about the viability of completing this transaction," Burkle's partner Maria Contreras-Sweet said at the time. "As a result, we have decided to terminate this transaction."
According one source, Lantern Capital's bid is in the range of $300 million to $320 million, while another source put the number at almost $450 million. The exact price has not yet been confirmed.